Daniel Radcliffe's new Broadway project now has a cast album you can listen to
Merrily We Roll Along follows three friends' life journeys - but backwards
Daniel Radcliffe is back on Broadway, and he's not alone. Broadway's newest hit show Merrily We Roll Along features a trio of powerhouse actors, with Radcliffe, Jonathan Groff (Hamilton, Glee), and Lindsay Mendez (Wicked, Carousel) leading a cast through several decades of a story - backwards.
But that's not it - Stephen Sondheim and George Furth's Merrily We Roll Along has a weird history on Broadway as one of its most famous flops! So if you want to learn more about Broadway's newest hit revival, read on below.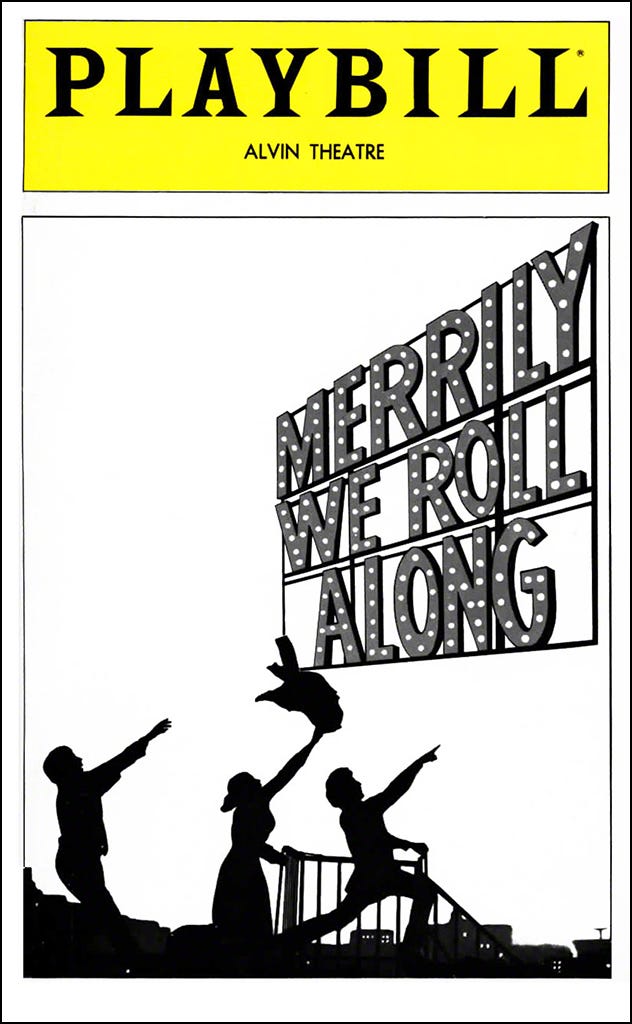 What is Merrily We Roll Along about?
Merrily We Roll Along follows best friends composer Franklin Shepard, lyricist Charlie Kringas, and writer Mary Flynn through their journey from young optimists to old cynics - but backwards. That means that the musical begins with Franklin Shepard's life falling apart and continues backwards through the decades to when friends were inseperable and have their whole lives ahead of them (it packs quite an emotional punch).
Who wrote Merrily We Roll Along?
Merrily We Roll Along has a book written by George Furth (who also wrote the book for Company) and music and lyrics written by Stephen Sondheim. The musical was based on a 1934 play of the same name by George S. Kaufman and Moss Hart. The current Broadway production is directed by Maria Friedman.
What is the history behind Merrily We Roll Along?
Merrily We Roll Along first premiered on Broadway in 1981, but it garnered negative reviews and closed after only 16 performances and 44 previews. The original production cast teenagers only, which meant that teens were playing full grown adults for most of the show, and because audiences were having difficulty telling the actors apart, they ended up wearing sweatshirts with their names on it in lieu of traditional costumes (none of this went over well).
The failure of the production split up the previously wildly successful team of producer Hal Prince and composer Stephen Sondheim all the way until 2003. Over the years, the show has been tweaked and rewritten with new songs, and has since found a much happier audience (professional productions usually go for hiring adults for the roles now as well as traditional costumes), though there probably hasn't been as successful a revival of Merrily as the current Broadway production.
Who is in the Merrily We Roll Along Broadway cast?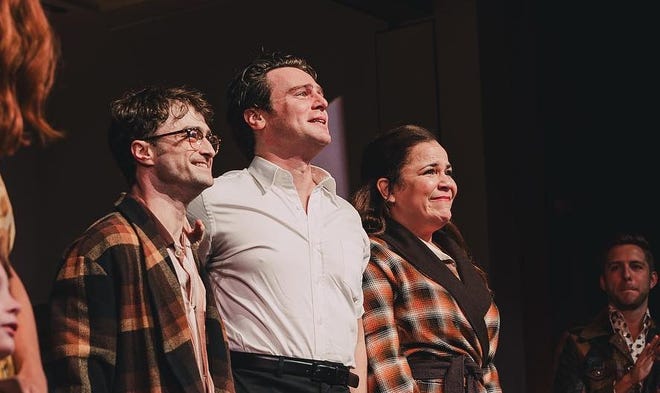 Jonathan Groff as Franklin Shepard
Daniel Radcliffe as Charlie Kringas
Lindsay Mendez as Mary Flynn
Krystal Joy Brown as Gussie Carnegie
Katie Rose Clarke as Beth Spencer
Reg Rogers as Joe Josephson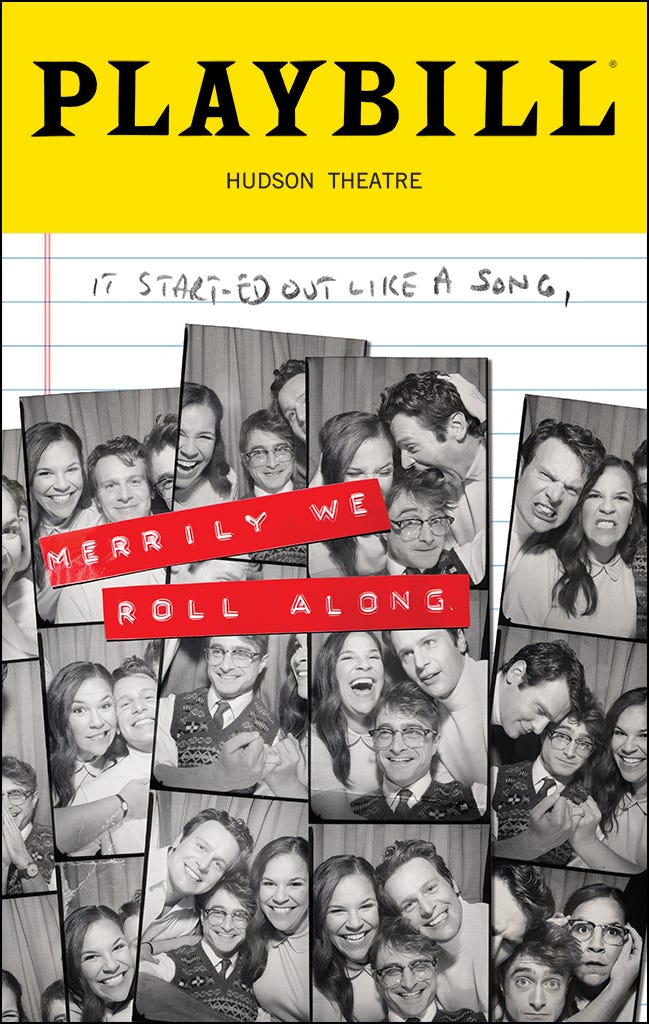 Is there a Merrily We Roll Along soundtrack?
Yes! The Merrily We Roll Along cast album has just released, and you can grab your copy now. Plus, there is a cast recording from the Original Broadway Cast, as well as a revival recording, and an Encores recording featuring the great Celia Keenan-Bolger (currently appearing in The Gilded Age) and Lin Manuel Miranda!
If you want some guidance on songs to listen to, we'd recommend checking out "Old Friends," "Good Thing Going," and "Opening Doors." Plus, if you like an overture, this is one of musical history's best.
Is there a Merrily We Roll Along movie?
There are two answers to this question. There is a Merrily We Roll Along documentary called Best Worst Thing That Ever Could Have Happened, and it follows the path of the original cast and short Broadway stint, and how that experience impacted Sondheim and producer Hal Prince's careers as well as the careers of its young cast. You'll recognize some familiar faces including Seinfeld's Jason Alexander, who was in the original Broadway cast of the show.
If you're looking for a more traditional film adaptation of the musical - one is on its way, albeit slowly. Boyhood director Richard Linklater is working on a decades-long adaptation of the Merrily We Roll Along musical with actors Ben Platt, Beanie Feldstein, and Paul Mescal. Unfortunately, because the filming of the movie is going to take a whopping 20 years, it's gonna be a long time before we see the movie on the big screen.
---
Goosebumps The Musical: Everything you need to know about Phantom of the Auditorium .