Marvel's Miles Morales: Spider-Man comic finale presents an optimistic future and a fitting end for Saladin Ahmed's run
Saladin Ahmed wraps up his critically acclaimed run on Miles Morales with an issue that looks to Spidey's future
As Spider-Man ends one chapter of his life, he looks forward to an optimistic future. This is quite a change for Miles Morales, a character who always seems to carry the burden of his past. Miles Morales: Spider-Man #42 is the final issue of the title before it relaunches with a new creative team with December. Writer Saladin Ahmed is joined by multiple artists for this final issue celebration. Carmen Carnero, Paris Alleyne, Ig Guara, Paco Medina, and Walden Wong pencil the issue, while Alitha E. Martinez, Natacha Bustos, and Christopher Allen handle inks.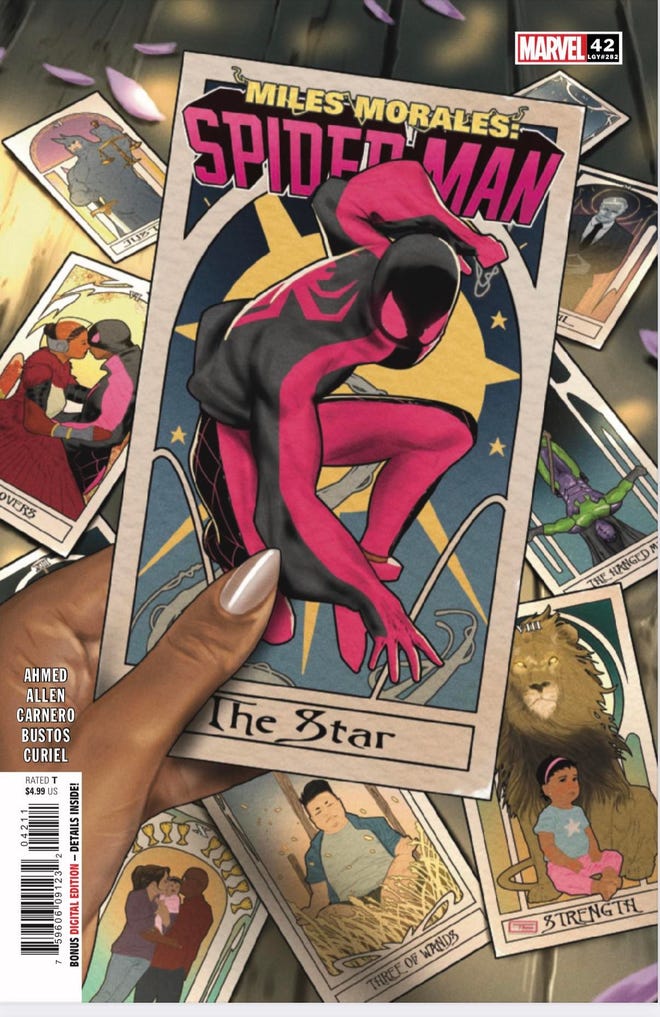 Spoilers ahead for September 28's Miles Morales: Spider-Man #42.
Fresh from an adventure across the multiverse, Miles writes in his journal contemplating the current state of his life. He recounts a recent visit he and his friends had to a fortune teller, and the vision of the future she gave him. Most of the issue shows us this look into Miles future. We're not told how far into the future we're looking, but since Miles' baby sister Billie is just learning to walk we can conclude it can't be more than a few months.
The future of Miles Morales, AKA Spider-Man
The future presented for Miles is an optimistic one. He's been chosen to give a speech at his school's award banquet, his relationship with Tiana Toomes continues to flourish, and he teams up with the Rhino to save a group of children who were kidnapped by the Snatcher. When the villain tries to mind control Miles, he is able to overcome the attack thanks to his mental fortitude. This causes Miles to reflect on his recent experiences, and how they've made him a stronger Spider-Man.
As Miles gives a speech at his school's banquet, it almost feels like a Saladin Ahmed is breaking the metaphorical fourth wall to talk about his time on the title. "Everything I've ever accomplished, I accomplished with help. Help from my friends. Help from my family. Help from the whole dang community. If I've accomplished anything, it's because of them. It's because of you. So thank you."
Is this the real future for Spider-Man, or just a possible future shown by a fortune teller? Time will tell, but the vision causes Miles to look inward. The teenaged superhero concludes that the pages of his life are still being written, and he intends to write the best pages he possibly could.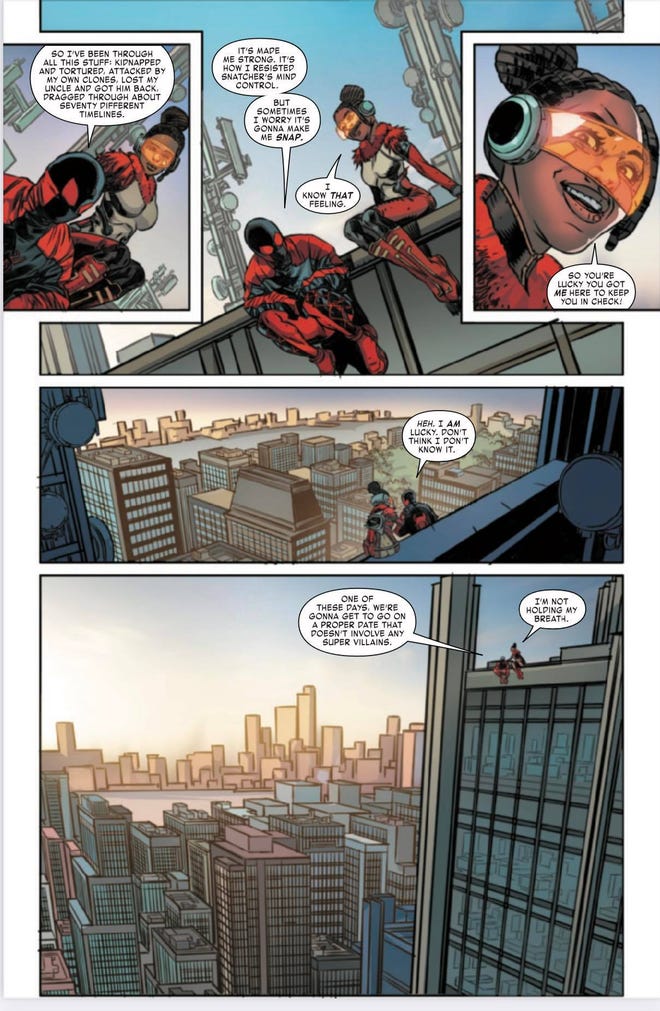 Miles Morales: Spider-Man #42 marks the end of Saladin Ahmed's run, which began in December 2018 with the launch of Miles Morales: Spider-Man. Ahmed took over the title after Miles' co-creator Brian Michael Bendis left Marvel to work on DC Comics projects. This made Ahmed the first writer to be scripting Miles' monthly adventures after the departure of his co-creator. Prior to writing Miles Morales: Spider-Man, Ahmed was a Hugo Award winning novelist known for his science fiction and fantasy prose. Ahmed's first assignment for Marvel was the ongoing series Black Bolt, which earned him an Eisner Award for Best New Series.
Miles flourished during Ahmed's amazing run. Ahmed gave Miles a baby sister, Billie Morales, in Miles Morales: Spider-Man #13. Ahmed introduced Tiana Toomes, the granddaughter of the Vulture who took on the superhero name Starling. Tiana would eventually become Miles' girlfriend, in a relationship that gave the book some of its most heartwarming scenes. Ahmed even gave Miles Morales his own Clone Saga, putting his own spin on one of the most controversial Spider-Man stories.
Ending with issue 42 was an intentional choice, as the number has been a significant one for Miles over the years. The spider that bit Miles was numbered 42, and the winning lottery number that got him a spot in Brooklyn Visions Academy was also 42. This is an homage to the famous baseball player Jackie Robinson, whose jersey number was 42. Like Robinson, Miles has broken racial barriers.
"It's always hard to say goodbye. But there are times when one must do so, and this is one such time," Ahmed wrote in the final pages of his farewell issue. Ahmed's goodbye message went on to thank the fans, his co-creators, and his editors, in addition to explaining what the run meant for him personally. "I've put more of my time and energy into Miles Morales: Spider-Man than any other project I've ever been a part of. I tried to make it a book about family and community. About coming back from trauma and helping others to do the same. About what responsibility means in our world today."
What's next for Miles Morales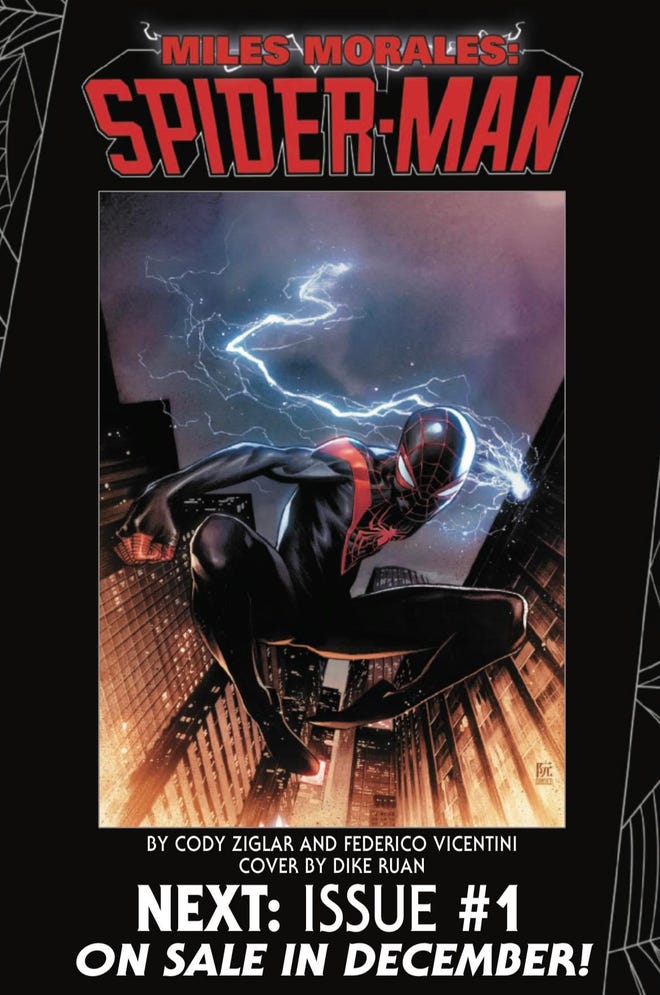 Although he's losing one of his most iconic writers, Miles' future remains bright. In the closing pages of Miles Morales: Spider-Man #42, associate editor Tom Groneman promised big things ahead for the Web Swinger. "I can promise you that Miles Morales is returning in a brand-new ongoing series under the guidance of the best new team in comics in just a few months," Groneman wrote. "I've never been more excited for a comic in my entire life! It simply cannot be missed! So stay tuned for more and please stay safe!"
The final page of the book features a preview image for Miles Morales: Spider-Man #1, a relaunch of the series which will be published this December. The creative team will be Cody Ziglar as writer, and Federico Vicentini on pencils. The cover for the first issue will be drawn by Dike Ruan. Ziglar is no stranger to Miles Morales, having previously written several backup stories during Ahmed's run, in addition to the What If…? Miles Morales limited series. Marvel fans may also know Ziglar from his writing work on the Disney+ series She-Hulk: Attorney at Law. Vicentini penciled Absolute Carnage: Miles Morales and various issues of Amazing Spider-Man during Nick Spencer's run. It appears Groneman is right about the Webhead being in good hands.
In addition to a brand new series this December, Miles also has a theatrical film to look forward to. Spider-Man: Across the Spider-Verse, an animated film from Sony Pictures, is set to be released in theaters on June 2, 2023. The film is a sequel to the critically acclaimed 2018 film Spider-Man: Into the Spider-Verse, which won an Oscar for Best Animated Feature. The movie featured Shameik Moore as the voice of Miles Morales, introducing the character to a wider mainstream audience.
With a new comic series and a movie on the way, there is plenty for Miles Morales fans to look forward to. Ahmed's final issue showed us one possible future for Spidey, but as Miles notes, the pages are still being written. Still, with everything coming down the pipeline, we know that the future for Miles is looking bright, and we can't wait to see the new heights he'll reach.
---
There's more than one new Spider-Man series coming this fall - Marvel is launching a new Spider-Man comic in Shonen Jump!