Milestone Comics and its powerful methods of representation
The groundbreaking comic company did more for diverse representation than simply highlight Black superheroes.
HBO Max has just released Milestone Generations, a documentary on the titular comic book company's rise, fall, and rebirth. At its core, Milestone Media gave the Black community superheroes. Before the establishment of this avant-garde comic company, Black superheroes were few and far between. Many of them came saddled with the 'baggage' of being Black in general. Characters like Black Lightning, Black Panther, Black Vulcan (do you notice a pattern), and Black Racer all wore their race as some sort of badge or as a scarlet letter to some. Milestone Comics aimed to give the Black community heroes they could see themselves in.
In the pursuit of representation in comics, Milestone went above and beyond the call of duty, not only putting Black heroes as the leads, but actively choosing to include LGBTQIA+ characters, addressing female agency, and going so far as to invent processes to print a wide variety of skin tones in comics. Milestone Comics, founded by Dwayne McDuffie, Denys Cowan, Michael Davis, and Derek T. Dingle, changed the game in more ways than one. It ushered in a new era of representation in comics and new methods of achieving that goal.
Milestone 100 Color Printing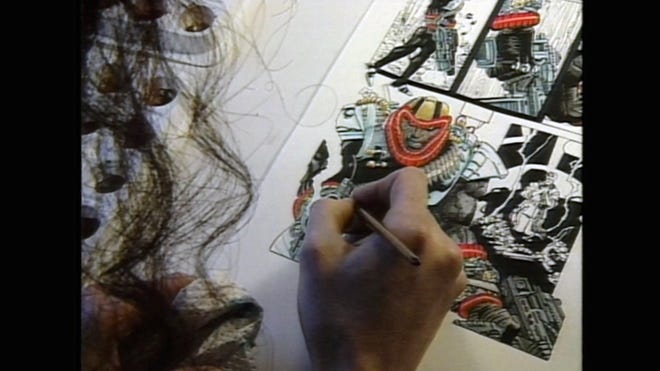 There isn't one all-encompassing skin tone for any race of people. The creators at Milestone Media understood this and invented their own method for representing the broad spectrum of skin colors. This practice is the Milestone 100 Color process. Every page was printed and hand painted by Milestone artists like Noelle Giddings.
"So there isn't one Black skin tone," Cowan says in the documentary. "With the Milestone 100-process, we were able to show the full range of that. But that was the only way to do it at the time."
The 100 process includes a variety of mediums, including Dr. Ph. Martin dyes, watercolors, and colored pencils used in tandem to create beautifully rich panels. This extended to every skin tone, not just Black or Brown. It was Milestone's way of owning and controlling how their books were printed, and their characters were seen. 'Representation matters' is a well-worn statement, but Milestone went above and beyond it and devised a way to actively achieve representation in their daily work.
Inclusive Characters and the power of identity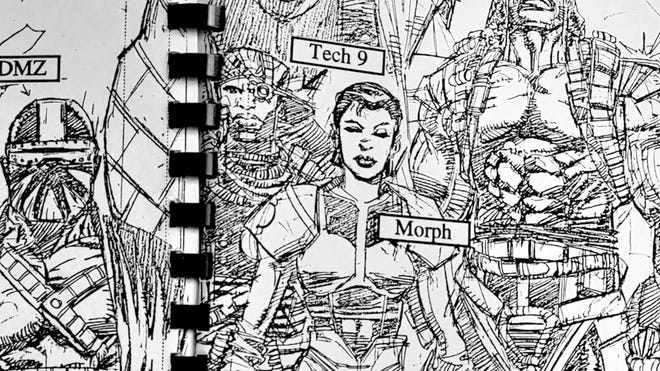 The Dakotaverse remains an inclusive fictional universe, actively representing more than just Black people and their stories. Dwayne McDuffie and his team wrote for characters with a wide range of backgrounds. This included people of the LGBTQIA+ community, making Milestone a contemporary company even by today's standards. Writers like Ivan Velez Jr. were brought on to help create new and inclusive characters like Blood Syndicate's Masquerade and Fade. Masquerade is a transgender superhero able to transform into any animal or object, and Fade is a gay man with the power of flight and intangibility.
"Not just multiculturalism, but it was how can we make humanity be in this universe?" says Robin Chaplik.
The world of Milestone comics gave people of various cultural and economic backgrounds a voice and a reason to read comics. Before Milestone, comic book companies didn't value creating inclusive characters since the unrepresented population wasn't spending money on comics. This was a full-on catch-22 situation as unrepresented communities had no reason to buy comics in the first place since they had no characters they could root for in the books. Milestone came along and gave these groups a way into the fandom.
Exploration of sexuality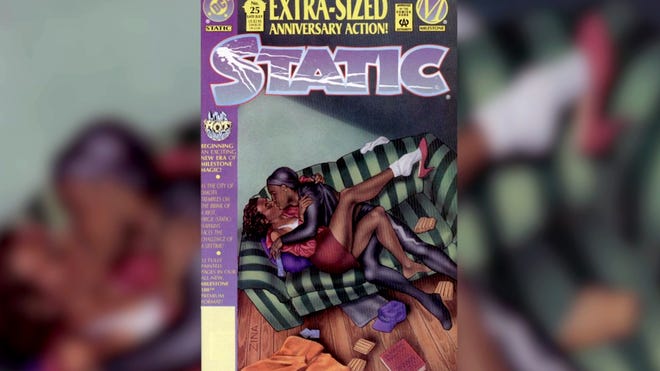 Sexuality in comics is commonplace these days with books like Money Shot by Sarah Beattie and Tim Seeley, Sex Criminals by Matt Fraction and Chip Zdarsky, or Saga by Brian K. Vaughan and Fiona Staples. When Milestone Comics came around, it simply was not. Dwayne McDuffie wanted to explore sexuality as a whole, specifically Black sexuality, which he felt was both underrepresented and taboo.
Dwayne's call to have Static lose his virginity in the 25th issue of the titular comic was a sticking point with his partners at DC Comics. Dwayne fought for a cover the DC execs found too risqué, with the situation ultimately leading to the dissolution of DC's partnership with Milestone. Dwayne felt the cover was vetoed because it depicted Black sexuality, while DC felt the cover pushed the envelope of what they were used to showing on newsstands.
Women's agency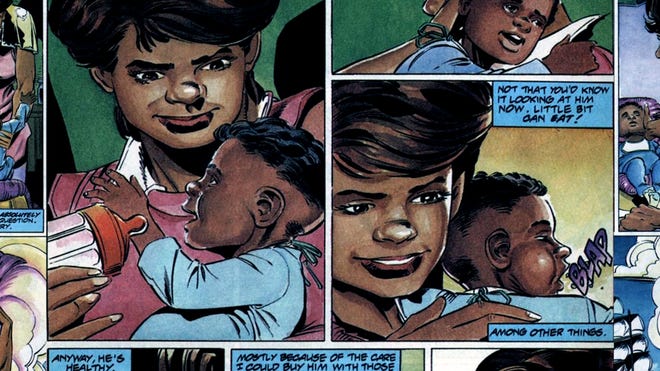 The Icon and Rocket series also touched on teenage pregnancy and women's agency, with the hero Rocket, a young Black woman, becoming pregnant. The series empowered Raquel to be a strong single mother and superhero without her sacrificing either.
"But the amazing thing about that storyline was that she was the hero of her own story." says Dr. Sheena Howard, Ph.D.
In a time when it would have been easy to either write Rocket out of the story or have her decide to give up her child, Milestone chose to give Raquel agency over her own life and her son, Amistad Agustus Ervin's life. She chooses motherhood and superheroism, making Rocket the first single mother superhero. There was no stigma attached, just a story that reflected real life.
Social commentary as a foundation for storytelling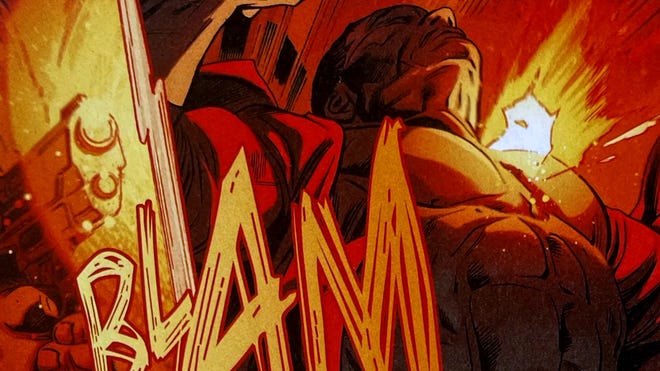 A foundational element of Milestone was their social commentary and reflection on contemporary problems. The original launch focused on gang violence, which caused the Big Bang, the event that gave the Dakotaverse their powers. Milestone and the Dakotaverse strived to reflect the issues and problems facing underrepresented communities in their books. The stories that would speak to those communities had to be based on the difficulties they met daily. Racism, gang violence, being gay in America, and many other issues formed the storylines of Static, Blood Syndicate, and other Dakotaverse properties.
Milestone's relaunch in 2021 held the same vision of reflecting on the times and speaking to the youth of the generation. The George Floyd protests of 2020 served as the catalyst for the new Big Bang and the emergence of Static and the Dakotaverse 2.0.
"What is their context? How are they gonna relate to it? That's what this is about," says Cowan.
The legacy continues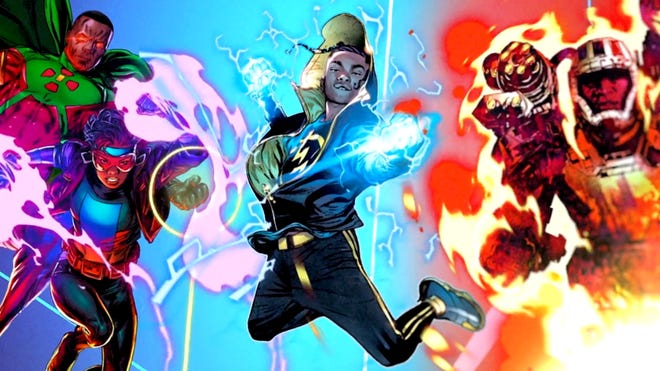 Milestone Comics doesn't simply talk to the talk. The company walks the walk regarding positive representation in comics and media. Their forward-thinking approach to characters and storytelling changed the comics landscape and ushered in a new era of heroes for everyone to identify with. Today, Milestone returns to continue its legacy. Perhaps they have new innovations for representation in mind. With the launch of their Static movie and various animated properties in the next few years, I am excited to see what they have in store for us.