Funko promises more investment, better distribution, and increased print runs for Mondo posters and vinyl
Following a rumored closure of its poster division, Mondo's parent company is promising just the opposite
This article was updated on March 30, 2023.
"...Most of the staff" of Mondo was laid off in mid-March by its parent company Funko, according to TheWrap (and confirmed by Popverse), but the company's owner is promising that the future looks very bright indeed.
While the Hollywood trade reports that Mondo's entire poster division was axed, Popverse was subsequently informed by sources inside the company that it intends to continue the Mondo poster business.
In terms of specific employees, TheWrap reports that two of Mondo's co-founders, Rob Jones and Mitch Putnam, were among those laid off.
What's going on at Mondo and Funko?

Funko acquired Mondo in 2022 from Alamo Drafthouse, the culmination of what TheWrap descibes as Mondo openly "trying to find its identity and was looking for a home" after a restructuring at Alamo Drafthouse coming out of a bankruptcy.
Funko's decision to layoff a majority of Mondo just weeks after it revealed a significant loss in the fourth quarter of 2022, and a decision to destroy $30-$36 million of inventory in a cost-savings measure (similiar to Warner Bros. Discovery axing a nearly-complete Batgirl film). During that time, Funko said it intended to lay off 10% of its staff - TheWrap has sources which say "much" of that 10% was the then-impending Mondo layoffs.
What is Mondo?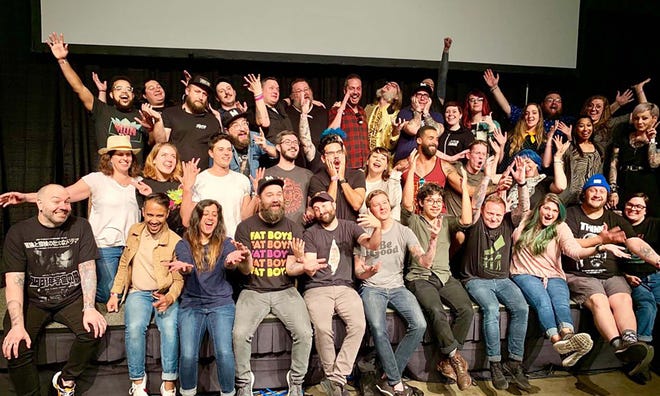 Mondo was launched in 2001 originally as a t-shirt division of Alamo Drafthouse, and grew into commissioning and publishing limited edition, licensed posters of new and classic movies by amazing artists - including an amazing series of Star Wars movie posters by Olly Moss, and Jock's tale on The Thing as a movie poster. As it became more successful, Mondo branched out into having a permanent gallery space, and the aforementioned toys, records, and experiential divisions.
Funko makes a statement
On March 30, Mondo tweeted out an open letter from Funko CEO Brian Mariotti, in which he wrote that the company "has been obsessed with Mondo and the amazing products that they produce for years," and noting that "there is a lot of misinformation about the recent change in leadership and the poster division of Mondo currently out there."
In the letter, Mariotti stated that "the majority of [Funko's] company-wide layoffs weren't in Mondo," and that that "The Mondo posters will continue, period. We feel that making extremely limited runs of posters, most of which are 150 pieces or under, limits access to fans unfairly. Many of these posters are bought with the sole purpose of flipping them at a much higher cost to fans that really want them […] Our goal is to make larger edition size runs (limited but not ultra-limited) that allow more fans to participate in this world-class expression of pop culture art."
Mariotti also states that Funko plans to invest in both vinyl record production and licensing for Mondo to allow the company to increase both its production and the breadth of source material in future. "We are 100% committed to providing all the support we possibly can for the folks at Mondo, so they can continue to make amazing products that reach a larger and more diverse Fanbase through expanded licenses, better distribution, and a better overall experience for their fans," he concluded.
Expect this story to continue to develop over the coming weeks and months.
[Editor's note: an earlier version of this story noted that Mondo's poster division had been shut down per TheWrap. Popverse has since confirmed Mondo intends to continue the poster division.