My Dress-Up Darling manga reaches 10 million copies in circulation, despite nothing ever happening
Proof that you can string a "will they/won't they" plot along for a very long time without anyone complaining
One of 2022's big hit anime has translated into big success for the original manga, as My Dress-Up Darling has reached 10 million copies of the manga in circulation. Aniplex, who handles the merchandise for the franchise, made the announcement on their website, along with a brand-new illustration from mangaka Shinichi Fukada to celebrate the achievement.
The press release was careful to specify that there were 10 million copies created of the Seinen manga, with the number actually sold somewhere below that figure. My Dress-Up Darling was first published in 2018, but around 75% of the manga's copies have been printed since the anime launched in early 2022.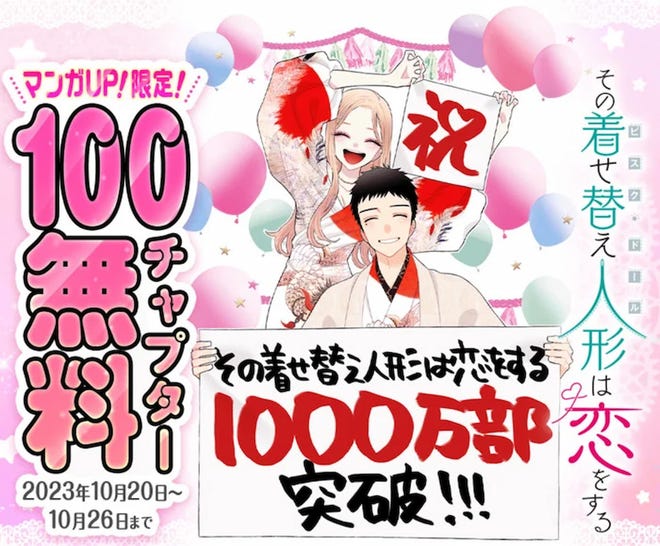 My Dress-Up Darling follows the story of Wakana Gojo, a shy young man who struggles with crippling social anxiety and loves making clothes for traditional hina dolls, and Marin Kitagawa, an outgoing cosplayer who enlists Wakana to make her costumes but soon falls for his goofy, awkard charm. Their blossoming romance is the central theme of the manga, though that plot hasn't advanced beyond an incredibly awkward encounter during a photo shoot in a love hotel in Volume 5.
Reaching 10 million copies printed is a remarkable achievement for a manga where nothing has happened in over three years, but an excellent anime adaptation with a healthy dose of fan service and a strong will they/won't they vibe has clearly propelled the manga to success. It feels like we've been waiting forever to see these two kids even hold hands and the anticipation is killing us.
There are currently 12 volumes released in Japan while Volume 10 of My Dress-Up Darling releases in English on 31 October. You can watch the My Dress-Up Darling anime on Crunchyroll. A second season is currently in development.
---
Looking for more TV shows to binge while you wait for Gojo and Kitagawa to finally get together? We've got every show coming to broadcast and streaming services in one handy guide for you.