My Hero Academia: The most unbreakable Kirishima cosplay
These Kirishima cosplayers will make you want to pick up foam crafting with their mind-blowing cosplays.
My Hero Academia just released their fifth season on March 27th, and we couldn't be more stoked! This season promises twenty-five more episodes full of epic battles, physical feats, frantic chases, and plenty of moments for our heroes to truly shine. After last season's cliffhanger, My Hero Academia season five focuses on the League of Villains, the merging between classes 1A and 1B, and Deku's mysterious dream.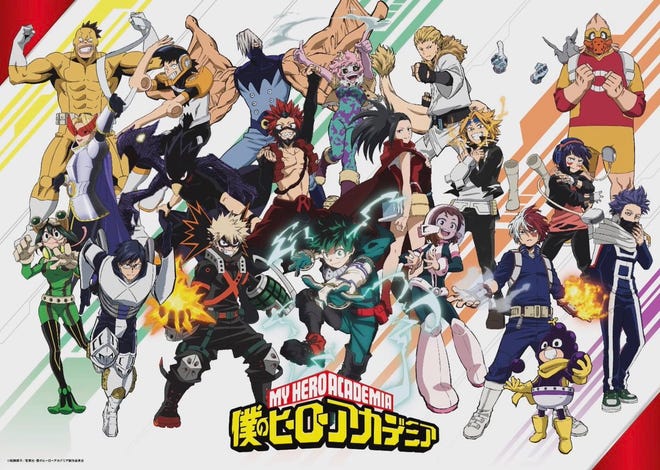 Originally a manga series serialized by Shonen Jump and written by Kohei Horikoshi, My Hero Academia is set in the modern-day, except people have specialty powers called Quirks. More than 80% of society has a Quirk, and the rest are Quirkless. With these superpowers, the world has spiraled into chaos and confusion, bringing a new profession to light: Pro Heroes. These best of the best heroes protect civilians and fight off supervillains who pose a threat to society.
To become a licensed hero, candidates must take a Heroics course for rescue training, combat training, and even training for dealing with the media. The show focuses on the students from class 1A of U.A. High School who are all talented and excelling heroes in the making.
Each student has their own unique Quirk and fashionable costume that cosplayers love! One of the biggest and baddest costumes to cosplay from this group is Kirishima A.K.A Red Riot.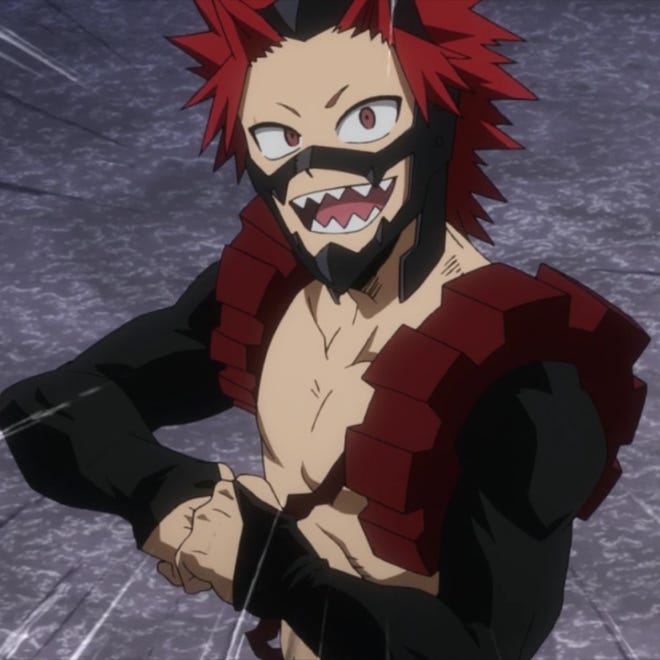 Eijiro Kirishima adopted the hero name Red Riot to honor his own hero, The Crimson Riot, who has a similar Quirk. Kirishima's Quirk allows him to harden and sharpen his body, giving him increased strength and durability. His hardening only lasts as long as his stamina can take.
As for personality, Kirishima is an outgoing, charismatic, and boisterous guy with a fondness for being manly. He's admired by his friends and cosplayers alike because, time and time again, he bravely puts the safety of others before himself. Now, Let's check out ten cosplayers who are truly epic as the Red Riot.
Vega.cos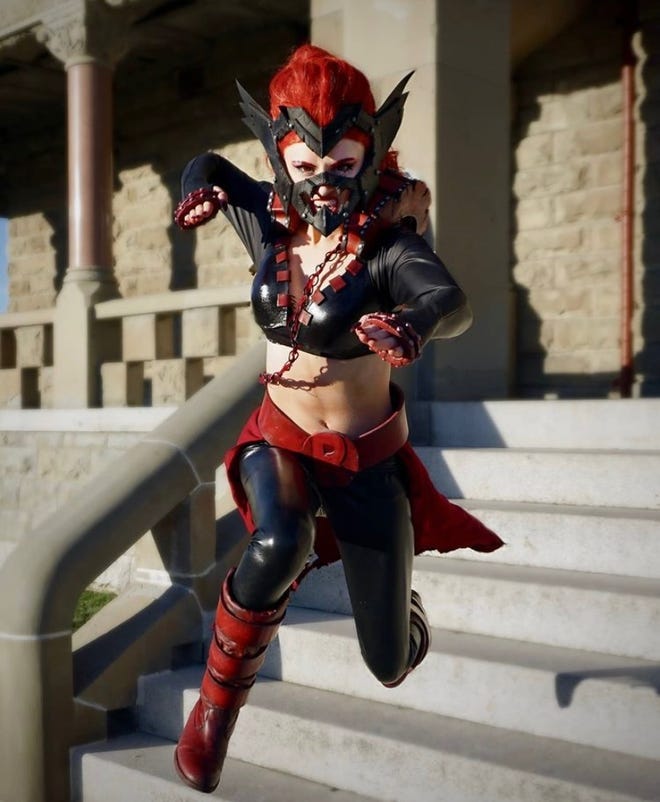 Watch out for this Fem Kirishima because she will rock you! With an astounding 1.1 million followers on TikTok, Vega.cos creates fun and uplifting content through cosplay. Pictured above, her Fem Kirishima joins her rock collection of some innovative Red Riot cosplays that include: An Among Us Kirashimi, a Kiri shark, and our personal favorite Dragon Kirishima.
When Vega.cos isn't building dragon wings with wire and piping insulation or making teeth out of fake nails, she's taking some incredible cosplay images with her dad. Through stunning angles and an artistic style, her dad's pro photography captures Vega.cos's modeling skills perfectly. Who doesn't love an excellent father-daughter combo?
Most of the characters discover what their quirks are at a young age, and so did Kirishima. As a little kid, he awoke in the middle of the night and rubbed his eye with a hardened hand on accident. This gave him a scar on his right eye, which creator Horikoshi admits he frequently forgets to draw.
Shortcake.chan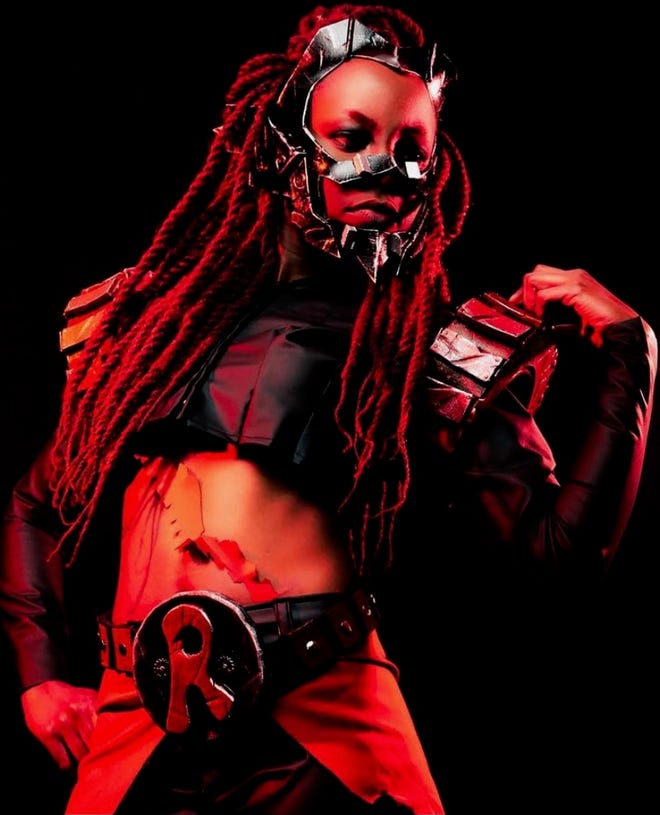 Shortcake.chan looks immaculate in her Red Riot cosplay, and this remarkable photo splashed in red by photographer @gatehi is straight fire! After Shortcake.chan's followers chose for her to cosplay Kirishima through an Instagram poll, she got to work.
She crafted her foam mask from a pattern by Lorentz, which she ended up having to do twice because it was too small the first time around. As for the shoulder pieces, she used a dremel and a soldering iron to make them look weathered and added some thumbtacks for more detailing.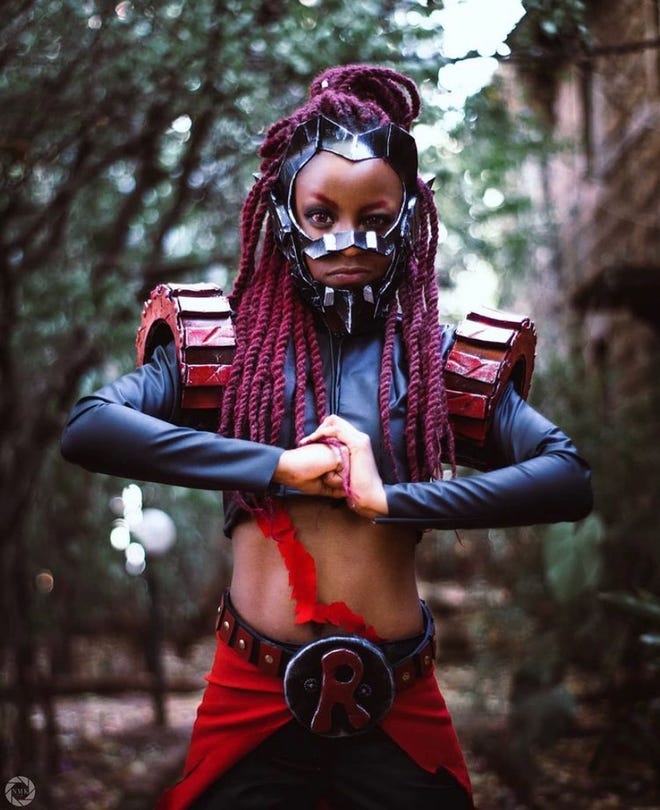 Shortcake.chan is quoted as being a "KiriBaku" stan, saying that she "ships them faster than FedEx," which may be our favorite saying ever. Kirishima and Bakugo may not be confirmed as "in a relationship", but they are truly best friends.
When Bakugo is taken captive by the League of Villains, Kirishima becomes overwhelmed and wants to go after Bakugo right away. When he's confronted, he exclaims, "I couldn't do anything! I didn't do anything! If I don't act now… forget being a hero, I'm not even a man". We are totally in our feelings right now, thinking about how deeply our boy cares for Bakugo.
Kobocosplay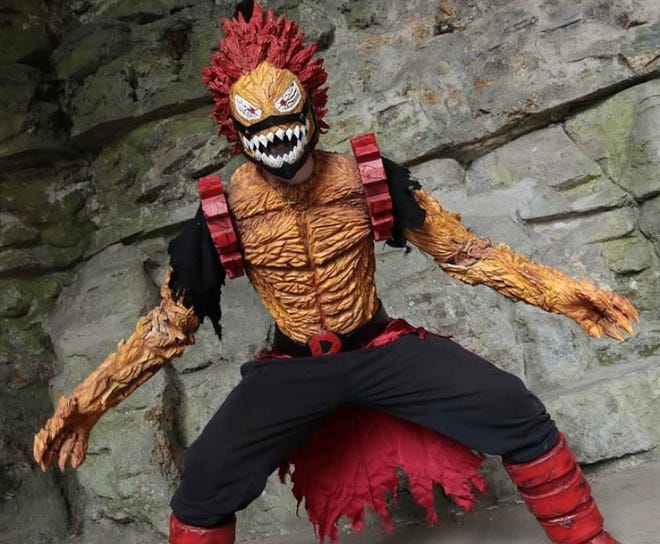 Kobocosplay looks too legit to quit with his rendition of Red Riot Unbreakable. It's truly a masterpiece! This french cosplayer documented his journey of making this incredible build on one of his saved Instagram stories.
Kobocosplay did excellent work casting his own molds and using EVA foam to create something as epic as this. He used a dremel to weather everything and a pyrogravure to add the right touches for a rough, hardened look. His next cosplay build will be Hurgot Gardien Des Pijama from League of Legends, and we can't wait to see how crazy awesome it'll be.
When Eijiro Kirishima becomes Red Riot Unbreakable, he forces his Quirk beyond its limits to harden his body as much as possible. This transforms Kirishima into his Unbreakable form that is extremely jagged. His monstrous appearance possesses great offensive and defensive power but only for forty seconds at a time.
Trighz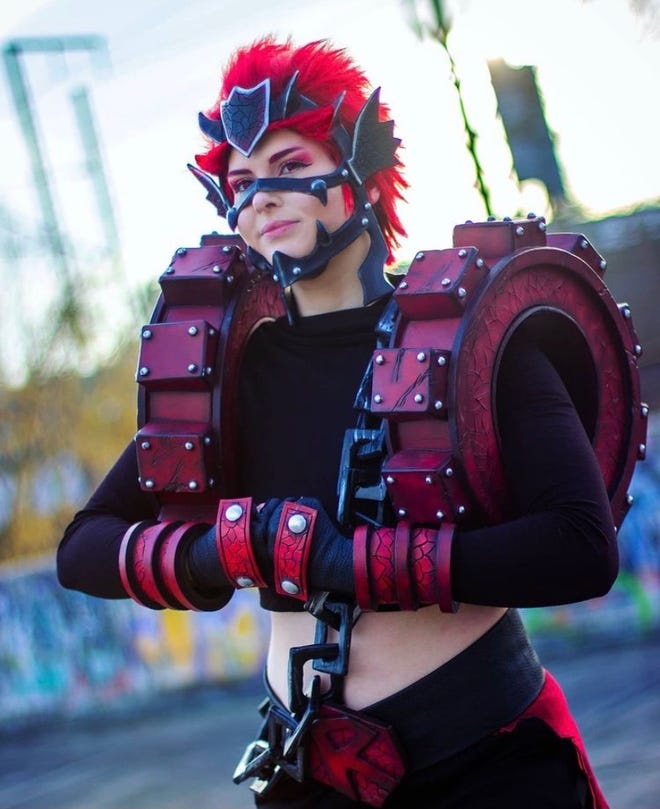 We are shaking with excitement about how magnificent Trighz cosplay truly is. This was the first wig Trighz ever styled. She purchased a long red wig from @wigisfashion, cut it, fluffed it, and shaded it with an airbrush to give the wig a more lively look. Her bracers, the massive pauldrons, and the mask all have a meticulously carved scale-like design. Even with the bracers and pauldrons having four different red tones of flexipaint, the scales are still visible.
Trighz's Kirishima cosplay has a detailed and battle-damaged look that would make Mei Hatsume proud. For more insight on what it took for Trighz to make this cosplay, check out her TikTok. Her future cosplans include making a villain Kirishima!
Bakugo and Kirishima's friendship truly blossomed during the USJ arc, where the U.A. students are suddenly attacked by the League of Villains. Kirishima and Bakugo fight side-by-side to defeat many low-level villains and eventually battle against Kurogiri, who they temporarily overpower. These best buddies admire each other's strengths and have mutual respect for one another.
Moechimoe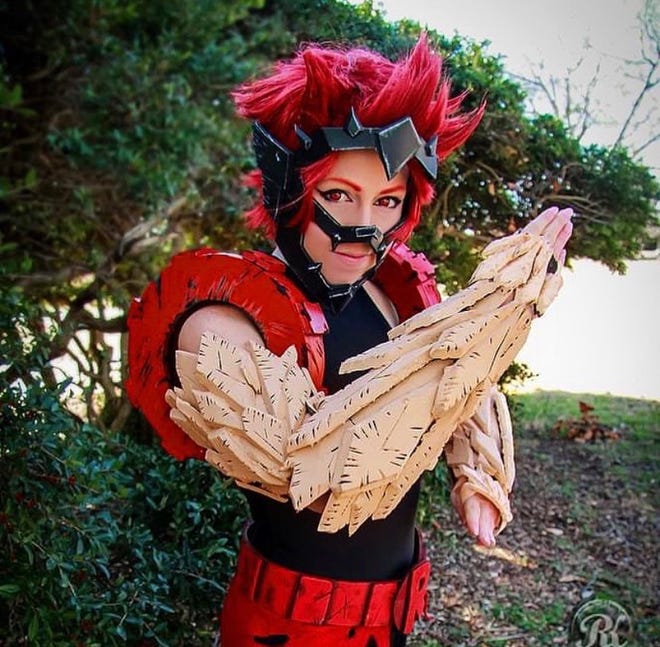 Moechimoe preps her Unbreakable Riot form to deliver a single strong punch dealing massive damage to anyone wanting to face her Red Gauntlet. Or...she just looks pretty awesome in her cosplay. It could be either. Moechimoe is an award-winning cosplayer and prop maker. At Tokyo in Tulsa, her cosplay of Joleton won the Judges Award.
Moechimoe's cosplay of Kirishima pictured above was built with foam on foam on foam and lots of patience. For the gears, after distressing them, she added straps for better placement security. Her future cosplans include Hera from Lore Olympus, Firefox Ahri from League of Legends, and Noelle from Genshin Impact.
Before attending U.A., Kirishima wasn't the boisterous, outgoing guy obsessed with manliness that we all adore. He was self-conscious of his appearance and abilities and believed he was unfit to be a hero. However, after Kirishima saw a pre-recorded video of his idol, he left his insecurities behind and gave himself a makeover.
Stuckshocker777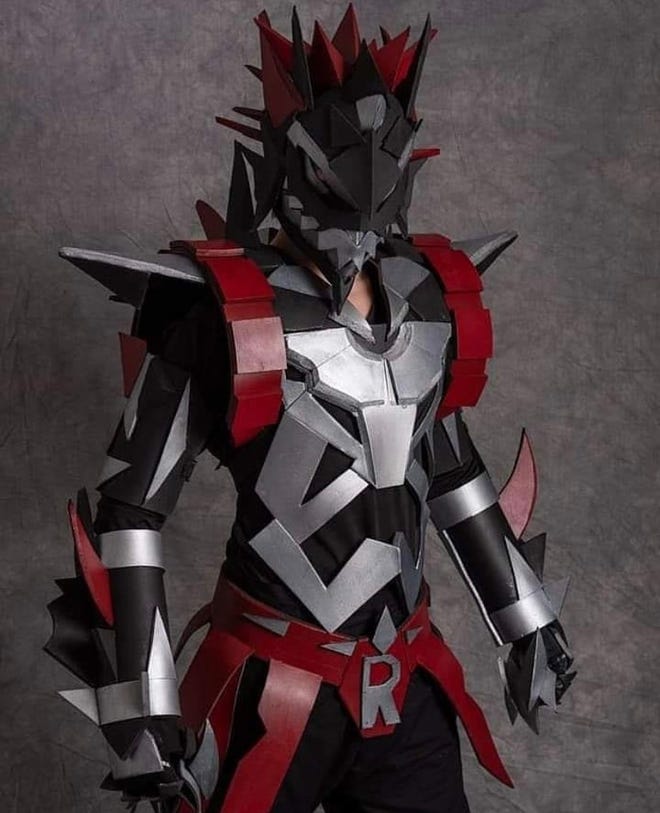 Holy crafting epicness! Stuckshocker777 did not have to go this hard, but we are here for it! His cosplay is inspired by artist @Jeffchendesigns, who drew a mecha art series featuring several MHA characters. His Mecha Kirishima artwork, like many of his other pieces, displays movement and dynamic poses. They are so stunning, it's no wonder Stuckshocker777 had to recreate this!
If you creep on Stuckshocker777's Instagram like we did, you can find progress images of his Mecha Red Riot that he titles as the Godkiller. He purchased foam sheets in 10mm, 5mm, CF100, and CF45 from @poly.props.
Kirishima took the number 2 spot at the U.A. Entrance Test due to his Hardening Quirk and his dedication to being the best he can be. To further push himself, Kirishima often trains with Mashirao Ojiro A.K.A Tailman. His classmate uses his powerful tail to deliver damaging hits to Kirishima, who absorbs the force to help himself improve his Hardening Quirk power.
Bukkitbrown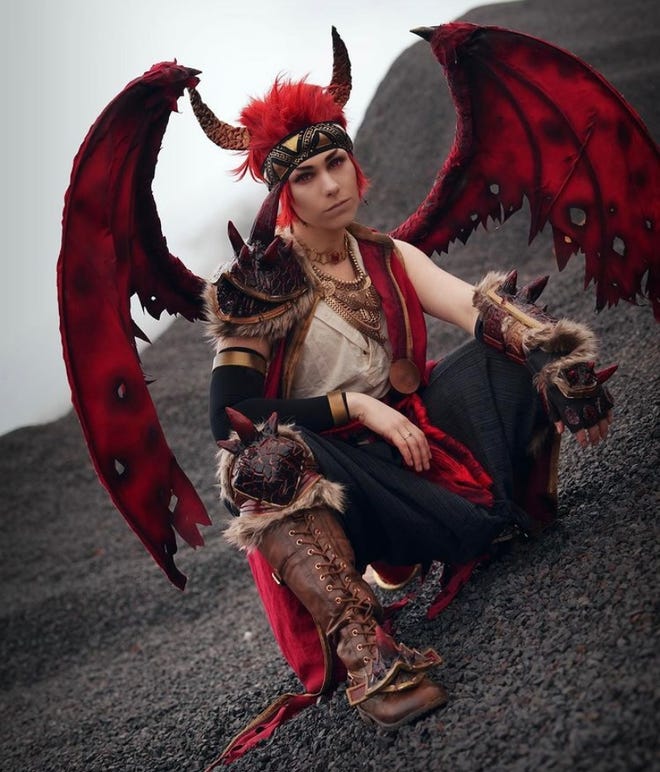 As J.R.R. Tolkien once said, "It simply isn't an adventure worth telling if there aren't any dragons," and we couldn't agree more. Bukkitbrown delivers such a rare and ingenious cosplay of Kirishima that we are absolutely in love with. This cosplay stems from a spinoff manga and the ending credits where U.A. students are in a Fantasy Alternate Universe, and Kirishima is a dragon shifter. Bukkitbrown took elements from the canon costume and mixed them with her own design to create this fantastic cosplay.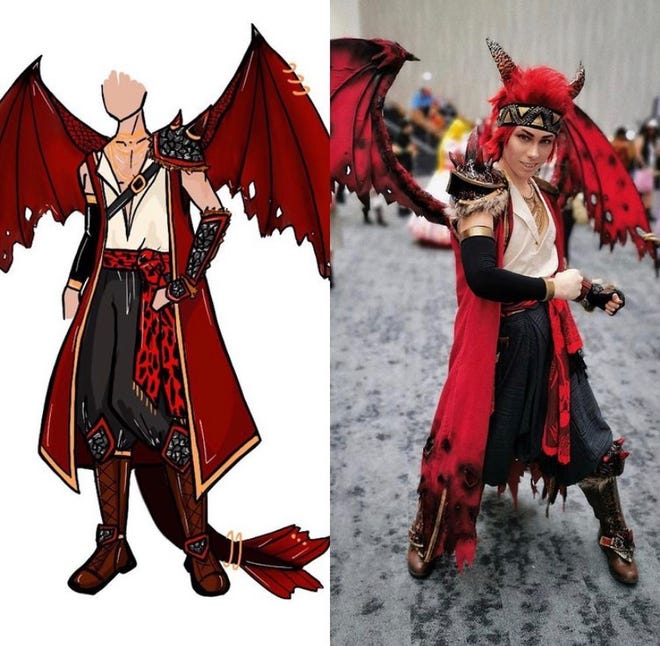 Bukkitbrown made every piece of this cosplay except for the shirt, pants, sash, and boots. All the armor is made out of foam and plastidip. The wings are sheets of fabric sandwiched over wires with fabric glue and then cut and airbrushed. Her masterpiece of an overcoat is sewn and weathered to perfection.
This may be one of our favorite cosplays from Bukkitbrown, but we can't choose between all of her impressive creations like Inuyasha, Ivysaur, kid Icarus, Princess Mononoke, Beast Boy, and the list goes on! No matter the cosplay, Bukkitbrown commits wholeheartedly.
Royaltnoy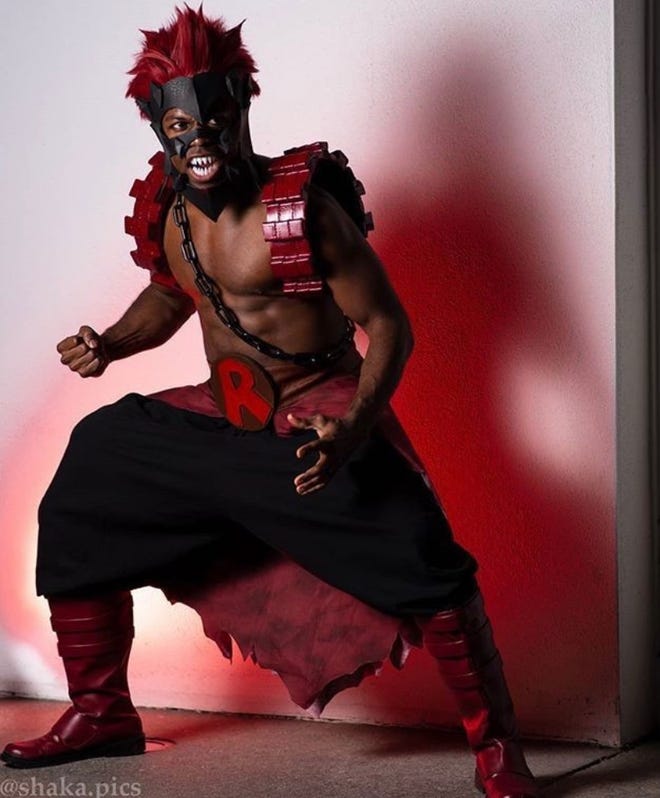 LeRoyal's Red Riot looks fiery and bold as he readies himself for the battle of a lifetime. His cosplay has some craft pieces with excellent stories behind them. LeRoyal had a hard time getting his foam to bend for the shoulder pieces until he realized he was working with the wrong product. He utilized some extra fatigue mat squares he bought for his kids' playroom floor, and they bent perfectly. He then glued about three of them together and used elastic to keep space for his arms to go through. These shoulder pieces are connected in the back of his cosplay with velcro.
LeRoyal also got inventive with his recreation of Kirishima's sharp teeth. He took an old Invisalign retainer and glued fourteen individually filed fake nails to it. According to him, it fits like a glove.
During the U.A. sports festival, Kirishima and class 1b student Tetsutetsu Tetsutetsu went head to head. It was a crazy battle as both students had similar powers. This had to end in an arm-wrestling contest which Kirishima eventually won.
Brysenpai.cos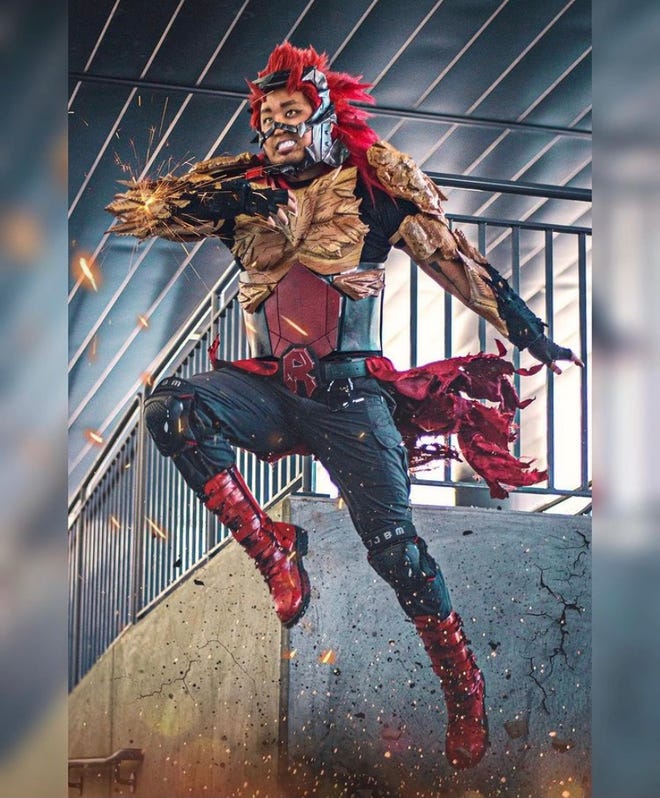 Brysenpai.cos may have an actual Quirk or is a transformer. There's no other option. His evolution of Kirishima through cosplay is impressive as well as financially savvy. Brysenpai.cos used expanding foam and carved armor for the shoulders, biceps, chest, and abs. He then added three layers of 9mm foam for the gears and 2mm for the mask. His pants are from 5.11 tactical gear, and the teeth are fake plastic nails he hot glued to some thermoplastic that he then molded to his own teeth.
For his Pro hero version of Red Riot, he added a sleek style of abs and toned down the arms. Brysenpai.cos also put in long hair extensions for the wig. He's genuinely a cosplay-adapting wizard. If Brysenpai.cos isn't completely covered in armor, he's working on photography and videography.
One of our favorite quotes from Kirishima as Red Riot happens when he protects Fatgum. When he blocks an attack against Rappa and says, "If I crack, then I'll harden again! Stay strong! Protect others! Even if it means your life!" it positively lifts our spirits.
Ragegearprops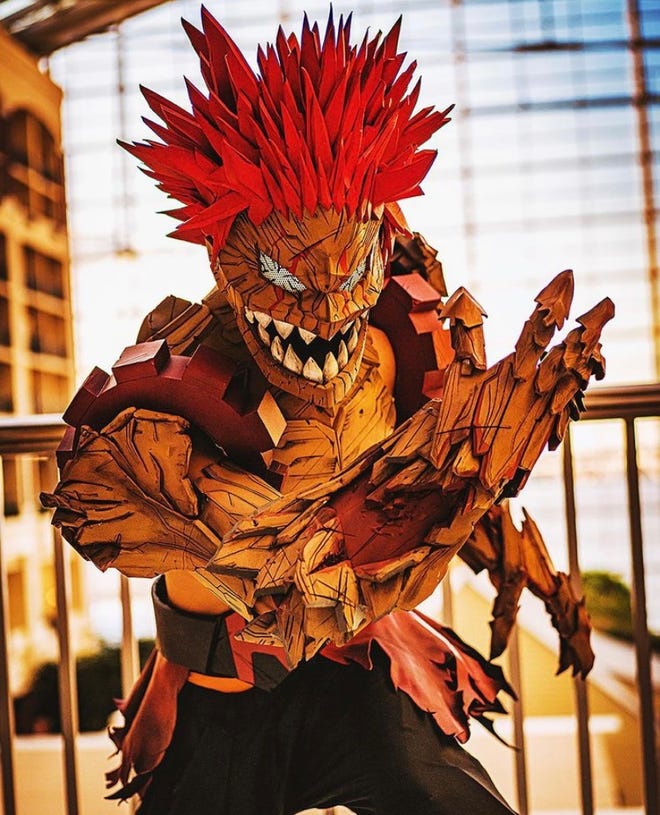 Ragegearprops started cosplaying in 2007 at the age of 15, and now, well, let's just say his past self would be proud!! His Kirishima is a considerable accomplishment and is beyond-words amazing. He originally began cosplaying Red Riot because he was a shirtless muscle head, but after watching Kirishima deal with his insecurities and failures, Ragegearprops related to the character on a deeper level.
Ragegrearprops put so much work and dedication into this particular cosplay. He compares the hardening armor to being constructed like scale armor: layers over layers. With each scale being different shapes and sizes, his main tip is to start at the top of the arm and work your way down.
Like most of his suit, his arm pieces are foam sealed with matte Modge Podge and painted with white acrylic two times over before adding a plastidip layer. Once it's all ready, the foam is spray painted with a skin tone color. For more prop-related advice, check out Ragegearprops saved Instagram story.
While hardened, Kirishima uses a power move called Red Counter, where he endures a close-range attack with his skin and then counters it with a straight punch.
BONUS: Jess.no.maybe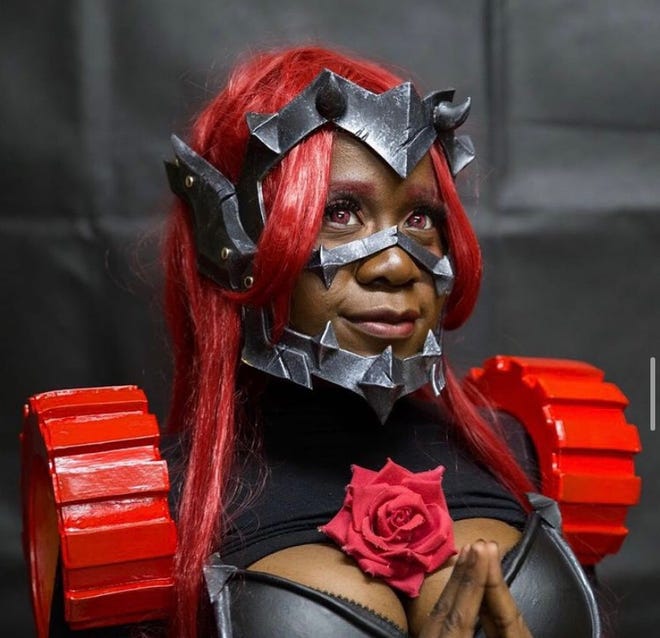 This true queen will rock you with her awesome cosplay builds. Jess.no.maybe is a Kenyan cosplayer, designer, and prop maker. She takes commissions on specific cosplay props and also has a few patterns for sale.
The Kirishima face mask in particular is a free pattern that includes step-by-step instructions on how to assemble. And, on her Instagram saved stories, there's an instructional video you can follow. If you want to make your own Kirishima mask, click the link in her bio. It's cosplayers like Jess.no.maybe who inspire us to be generous and kind to one another. She's straight-up killing it!
My Hero Academia Season Five is now streaming on YoutubeTV, Funimation, Crunchyroll, and Hulu.