The 10 best rom-coms to watch on Netflix right now
Get a healthy dose of feels and laughs with these movies
When you're feeling a bit blue, few things can lift you up quite like a good romantic comedy. The wonderful mix of angst and emotion with a touch of humor is the perfect companion to movie night, but there are thousands of rom coms to choose from on Netflix. How do you know which ones are worth watching and which you should leave at the altar?
Luckily, we're here to help. Whether you watch it with your partner, family, or on your own, these rom com movies are the best ones on Netflix, guaranteed not to leave you heartbroken.
Always Be My Maybe (2019)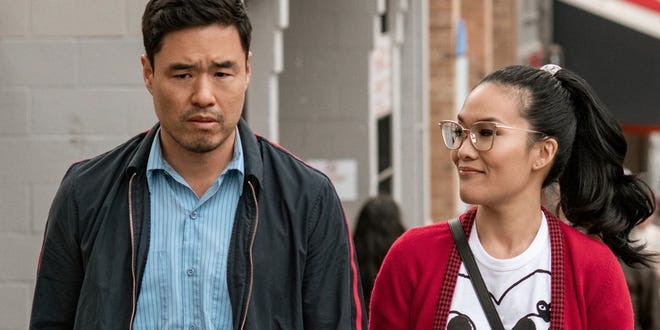 We all remember our first teenage relationship with equal parts nostalgia and regret, but have you ever wondered if there was still a spark there? Always Be My Maybe stars Ali Wong and Randall Park as a teenage couple who reconnect 16 years later. They're in very different places in life now – one is a celebrity chef and the other is a failed musician – but that only leads to the inevitable hijinks that ensue. Both Wong and Park helped write this rom com, allowing both a chance to show off their comedy chops. We love their chemistry and the bizarre but endearing cameo from Keanu Reeves.
Eurovision Song Contest: The Story of Fire Saga (2020)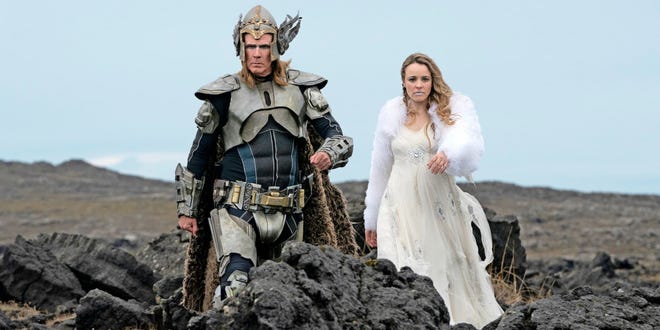 If you live in Europe, chances are you love the Eurovision Song Contest, which takes over televisions across the continent every year for a night of elaborate costumes and cheesy pop. The Story of Fire Saga is a celebration of everything Eurovision, following two awkward lovebirds who end up representing Iceland in the iconic competition, played by Will Ferrell and Rachel McAdams. There are some fantastic songs in this rom com, including the Oscar-nominated ballad "Husavik." Fire Saga is an intensely quotable movie that you'll end up watching every year to get into the Eurovision mood.
Forgetting Sarah Marshall (2008)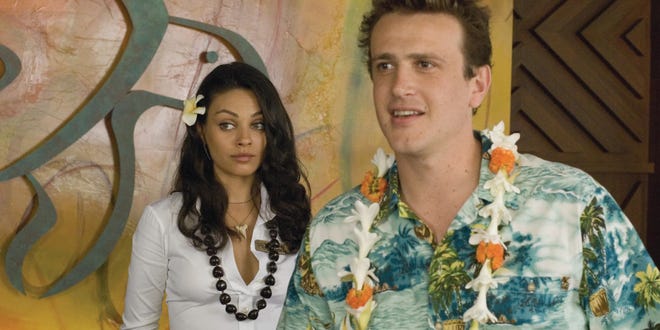 The cast of this classic rom com features some of our favorite actors and also Russell Brand. Jason Segel plays Peter, who escapes to Hawaii after a sudden and embarrassing break-up with Kristen Bell's Sarah Marshall. However, in a coincidence that is all too common in romantic comedies, Sarah and her new obnoxious rock star boyfriend are staying at the same resort together. There are iconic scenes scattered throughout Forgetting Sarah Marshall, which stands as one of Segel's best works. Plus, there is a vampire-themed rock opera consisting entirely of puppets, which is wonderfully weird and the perfect end to this movie.
Friends with Benefits (2011)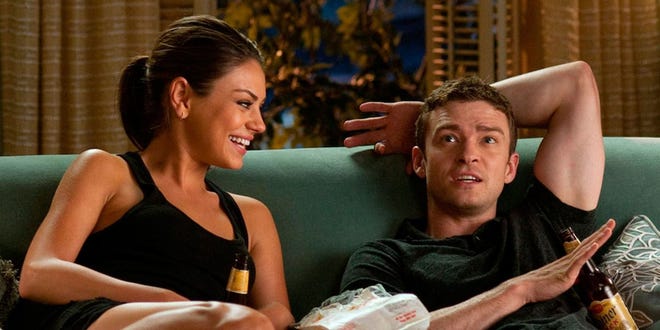 You can probably guess every story beat in this rom com from the title alone, but that doesn't mean it isn't an enjoyable ride. Justin Timberlake and Mila Kunis star as two unreasonably attractive friends who try to deny that they're developing feelings for each other despite their mutual attraction. There isn't anything surprising in Friends with Benefits but the chemistry between Timberlake and Kunis is enough to turn what could have been a trite mess into one of our favorite rom coms on Netflix.
Groundhog Day (1993)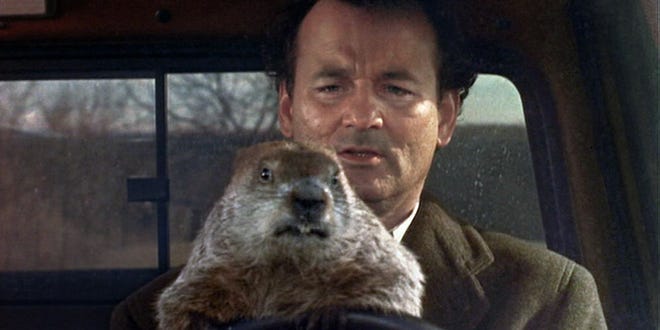 This might be the best Bill Murray performance of all time and it is definitely the best performance by a groundhog in the history of cinema. Groundhog Day is the story of a cynical, wise-cracking news reporter who is stuck living the same day over and over again. He spends what seems like an eternity reliving 2 February in the small, snowy Pennsylvania town. The only thing that breaks the curse is forging a real, meaningful romance with his producer, played by Andie MacDowell. This doesn't follow the traditional rom com formula but delivers all the laughs and the love that the genre is known for.
Love Actually (2003)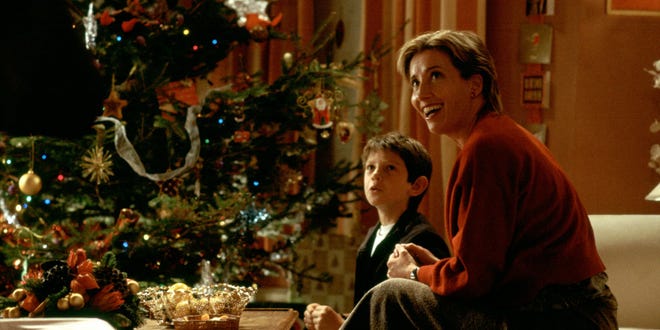 The cast alone makes this rom com worth watching, with Hugh Grant, Liam Neeson, Emma Thompson, Colin Firth, Alan Rickman, and Keira Knightley bringing Richard Curtis' script to life. Love Actually explores how a bunch of seemingly separate people's lives are deeply connected and shows the power of a bunch of words written on blank pieces of paper. This one is a staple of Christmastime in the UK but the humor transcends little things like oceans.
My Best Friend's Wedding (1997)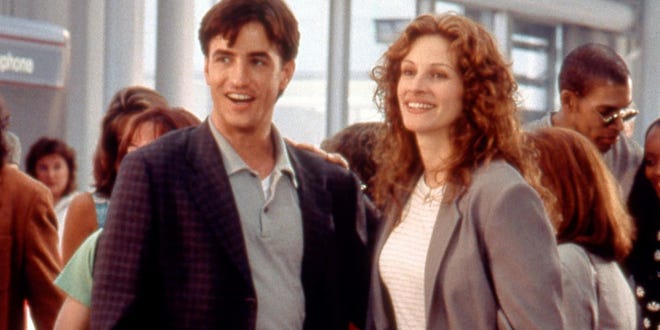 There was a time when Julia Roberts was the queen of the rom com genre and her best performance probably comes in My Best Friend's Wedding. Jules has long been in love with her best friend and decides that the best way to win him over is to break up his wedding. With anyone else in the leading role of My Best Friend's Wedding, this movie would have been an awkward mess but Roberts manages to bring a level of sweetness to this obviously psychotic behavior. It is hard not to root for her even when you know she is clearly the bad guy in this situation.
The Half of It (2020)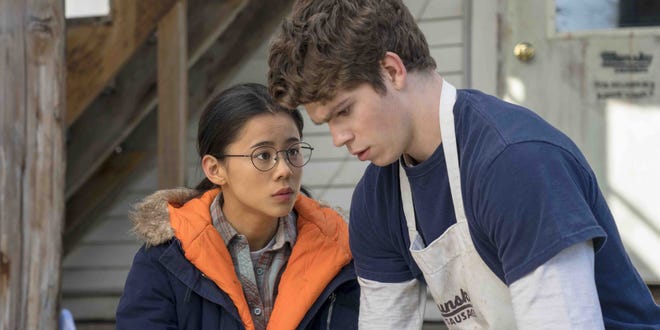 In The Half of It, Leah Lewis plays Ellie, who lends her writing ability to jock Paul to help him win the heart of Aster. However, in this modern reimagining of the French play Cyrano de Bergerac, Ellie begins to develop feelings for Aster herself. However, rather than becoming full-blown rivals, there is a sweet friendship that blossoms between Ellie and Peter which becomes the most surprising and rewarding part of this rom com.
The Lovebirds (2020)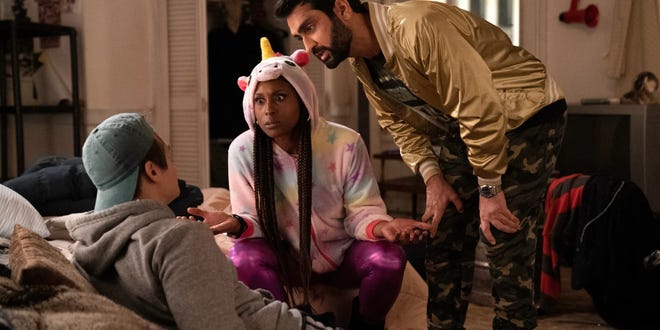 On their way to a dinner party, Leilani and Jibran's evening is turned into chaos by a sudden encounter with a dangerous criminal. This sends them on a quest to clear their names by working together, something that is made more difficult by the fact that their romantic relationship is clearly on the rocks. Despite their constant bickering, the two always feel like a legitimate couple. They needle each other, sure, but there is affection there that keeps their barbs from feeling nasty or cruel and prevents The Lovebirds from becoming awkward to watch.
To All the Boys I've Loved Before (2018)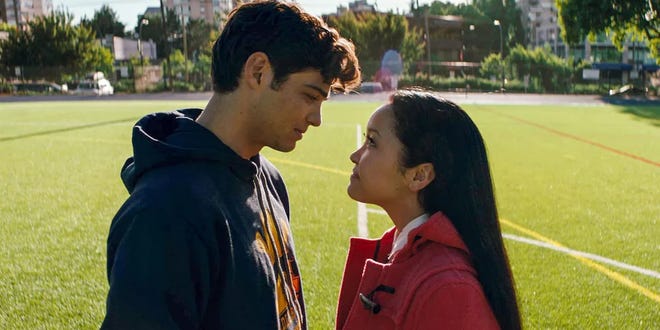 Lara is a high school student who has penned a love letter to each of her many crushes and hidden them away in her room. However, her younger sister finds them and decides to mail them, which leads to several awkward encounters. To All The Boys I've Love Before is one of the best teen rom coms out there, with brilliant comedic timing from its leads and a genuinely sweet relationship between its two leads.
---
Looking for even more movies to watch? We've got a guide to every film coming to theaters and streaming services over the next few months so you know exactly when to plan that trip to the cinema.