The best original art for sale at New York Comic Con 2023
Scott Eder's booth features a treasure trove of the best independent cartoonists' work
New York Comic Con can be overwhelming for the average shopper. With hundreds of vendors and artists showcasing their wares, it can be hard to find the gold amongst all of the noise, which is why it was such a delight to come across Scott Eder's booth (#3800) on the showfloor.
Scott Eder's booth (and gallery in Jersey City), which he runs with his wife Marcia, features original art from incredible independent comics artists like Alex Toth, Will Eisner, Seth, Simon Hanselmann, and more. As for how he chooses what to buy, Eder told us, "I trust my eye. I trust my opinion in taste. I don't overthink it. I'm attracted to individuality."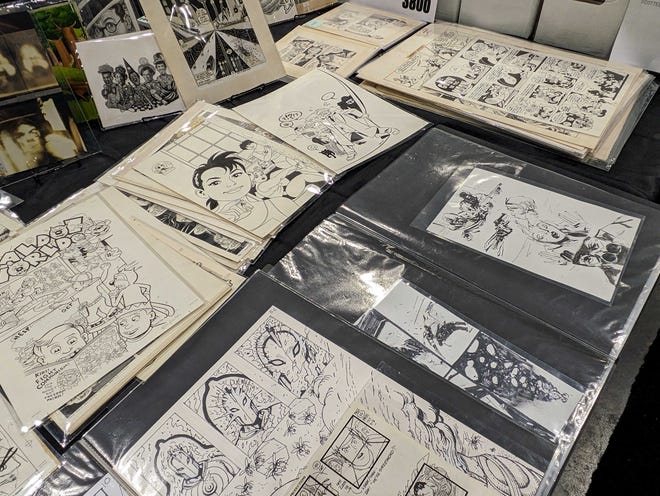 When asked how Eder got involved in this business, he shared that he began collecting comics as a child, in the late 60s. He had a deep love for Mad Magazine and gravitated towards the best art in comic books at the time, like in Swamp Thing and Barry Windsor-Smith's Conan. Later, that love for collecting comics became a love for collecting original art.
Instead of going the regular route of going to college and getting a job to pay the bills, Eder began buying and selling art. Though, if he could, Eder admits, he'd keep all the art to himself, "I wouldn't sell a thing if I didn't have to. I'd just be a well eating everything." Which is certainly a sentiment many collectors probably share.
Check out some of this amazing art either on the show floor or at Scott Eder's website.
---
Popverse will be providing wall-to-wall coverage of New York Comic Con 2023, with an all-star crew of writers, editors, and video producers there all four days (and nights), as well as in advance of the show. You can follow along to this coverage as well as the panels we're streaming with our
NYCC Popverse coverage guide
.