"It was kind of the start of my career:" Nick Dragotta looks back on the ten-year anniversary of the end of Marvel Comics' FF
It has been ten years since the conclusion of FF-- here are Nick Dragotta's thoughts
It's been 10 years from the end of the first run of FF, a spinoff of Jonathan Hickman and Dale Eaglesham, Neil Edwards, Nick Dragotta, and Steve Epting's acclaimed Fanastic Four run. FF followed a new team (the Future Foundation) created by Reed Richards featuring bright minds (including young minds) with a focus on building a better future for humanity. The team featured characters like Alex Power, Bentley-23, Artie, Franklin and Valerie Richards (and even Doctor Doom, at one point), as they faced grand and cosmic (as well as philosophical) adventures.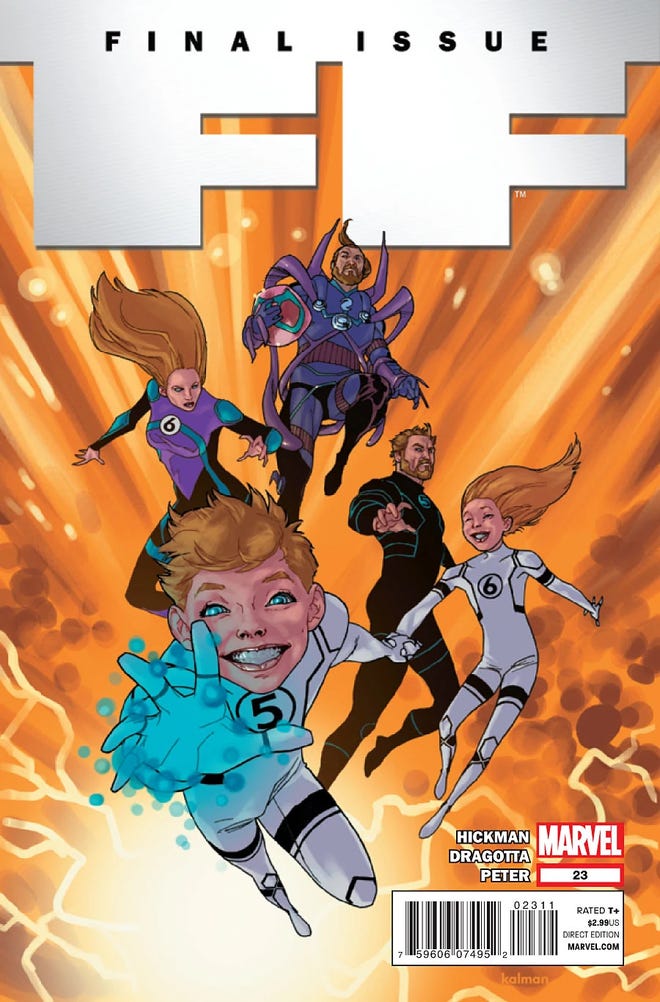 The last issue of the series, FF #23, is one of my all-time favorite single issue comics, so at New York Comic Con, I made sure to swing by Future Foundation artist Nick Dragotta's table in artist alley and see what he thought about the tenth year anniversary of the conclusion of the book.
Dragotta came in as the artist on FF on issue 15, and mostly finished out the series (with Gabriel Hernández Walta coming in on issue 19 and André Lima Araújo coming in on issue 22). About his time on the book Dragotta says, "It was a blast getting to work with Jonathan, and I love the cast of that book— particularly Artie and Franklin's relationship. Creatively, it was kind of the start of my career too, because Jonathan and I met there and had a really great run on FF, and then I went on, and did East of West with him."
And it's true—Dragotta and Hickman's wildly successful and extraordinary East of West debuted only a few months later. Hopefully, we'll be able to talk more about that comic then.
But for now, it's nice to remember a really good (though oft overlooked) comic that ended on this day, ten years ago.
---
Sara Alfageeh and friends are building One More Multiverse
.