Nimona movie: The cast, trailer, plot, release date and more for Netflix's adaptation of ND Stevenson's comic
N.D. Stevenson's shapeshifter Nimona comes to animated life in the upcoming movie from Netflix
It's literally been in the works for almost eight years by this point, but the animated adaptation of N.D. Stevenson's Nimona is about to arrive on Netflix, making the fan-favorite story of a teenage shape changer and the knight out to destroy her — well, kind of — more widely available than ever before.
For those who are entirely unfamiliar with Nimona, here's what you need to know before the movie debuts and makes you into a fan as well.
What is Nimona's release date?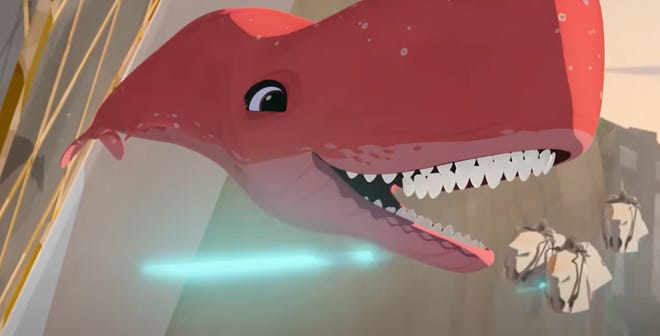 Nimona will debut on Netflix June 30, 2023 around the world. It was originally scheduled to be released in 2020 through another studio, but after that studio was acquired by Disney it was canceled reportedly to its LGBTQIA+ themes. Annapurna Pictures picked up the rights, and partnered with DNEG Animation and Netflix to bring the comic book to animated life.
Is there a Nimona poster?
There is a Nimona poster! Check it out below.
What is Nimona about?
Nimona is about 102 minutes.
Oh, you mean the plot? Here's the Netflix description: "A knight framed for a tragic crime teams with a scrappy, shape-shifting teen to prove his innocence. But what if she's the monster he's sworn to destroy?" (Spoilers: she is. But she's also not exactly what he expects the monster to be, either.)
Who is in the voice cast of Nimona?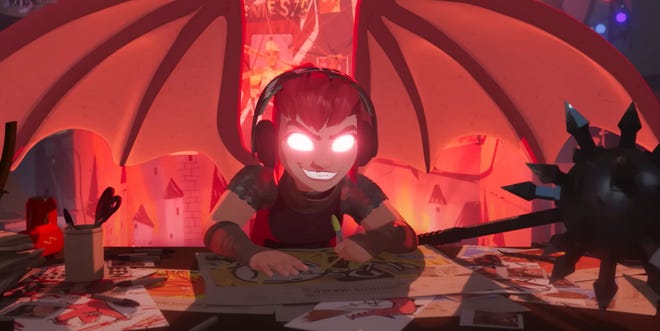 Chloë Grace Moretz plays the title character, while Riz Ahmed takes on the role of Ballister Blackheart, the knight tasked with killing her. Other voice actors in the movie include Eugene Lee Yang as Ambrosias Goldenloin, Beck Bennett as Sir Thaddeus Sureblade, Lorraine Toussaint as Queen Valerin, and RuPaul as Nate Knight.
Who's responsible for the Nimona movie?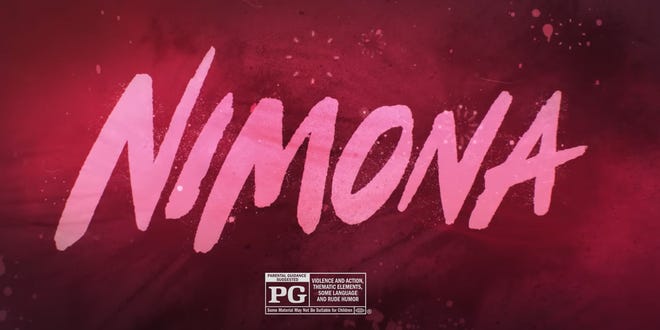 The Nimona movie has a surprisingly long history. The webcomic-turned-graphic novel was acquired for development by 20th Century Fox Animation in June 2015, to be produced by Blue Sky Studios, the production company responsible for the Ice Age movies, as well as the severely underrated 2015 The Peanuts Movie. In 2017, 20th Century Fox scheduled Nimona for a February 2020 release.
And then, in March 2019, the Walt Disney Company bought 20th Century Fox, and things started to go wrong. The movie was repeatedly delayed — first to March 2021, then to January 2022, before its status became more vague, with multiple reassurances that it would be released at "some point" in 2022 — before Blue Sky Studios was officially closed by Disney in February 2021, effectively canceling the movie altogether. After the movie's cancellation, former Blue Sky staffers went public with the information that Disney had clashed with the production company over a same-sex kiss and other queer elements in the movie, perhaps explaining some of the delays.
The movie had been, according to those who'd worked on it, roughly three-quarters complete at the time of its cancelation, leading producers to try and find interest from other studios in completing and releasing it. In April 2022, indie studio Annapurna Pictures announced that it had picked up the feature and would be releasing it through Netflix in 2023.
The movie was directed by Nick Bruno and Troy Duane, from a screenplay by Robert L. Baird and Lloyd Taylor, based on the comic by N.D. Stevenson.
Is there a Nimona trailer?
The first teaser for the project was released May 18, offering a brief glimpse of what to expect:
June 14 saw the release of the movie's official trailer, set to the tones of the Ting Tings' "That's Not My Name," which remains as great today as it did when it came out 15 years ago. (In related news, I'm old.)
---
Why doesn't the Nimona movie look like the Nimona comic