Novelist Marissa Meyer spills the bean on her writing secrets (and secret origin) at ECCC '22
The Lunar Chronicles and Gilded author shared all with fans at the Seattle convention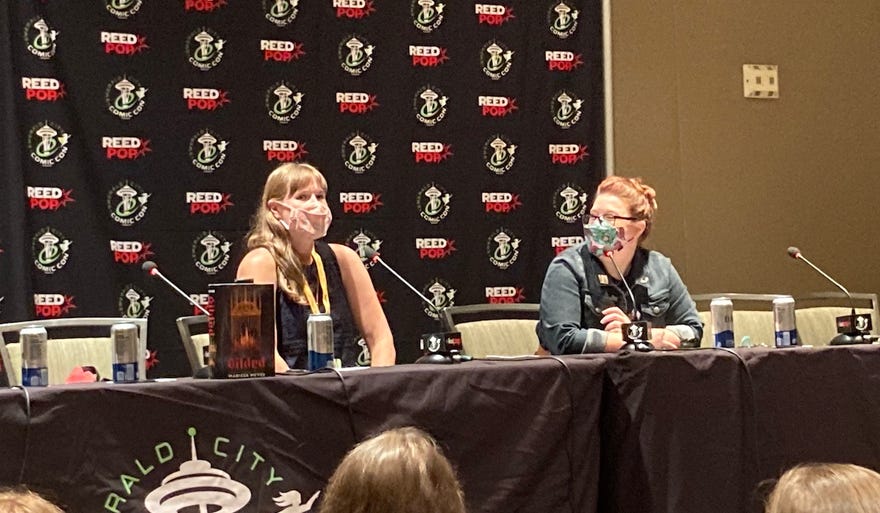 It was clear to anyone attending her Friday afternoon spotlight panel at ECCC '22 that Marissa Meyer is a phenomenon; a decade after the publication of her first novel, Cinder – the first book in the Lunar Chronicles series, each of which updated a fairy tale into a sci-fi story – the Pacific Northwest-based author held court in front of a packed room, answering questions about her books, the act of writing, and just where fan fiction can lead if given the chance.
"I love writing villains"
The panel opened with Meyer talking about the 10-year anniversary of her first book. "This last month, we celebrated the Cinder anniversary, and I wanted to do something really fun that was a gift to the readers," she said when explaining the origins of new digital novella Cinder's Adventure: Get Me To The Wedding – a Choose Your Own Adventure-style story. As it turns out, she'd been toying with the idea of writing a COYA book for some time, but even with that lead time, she wasn't prepared for the mechanics the book would require. "I threw it out to my editor, and there was a lot of confusion of, how does this work exactly? It was kind of a headache for all of us to figure out," she admitted.
Set after the events of the original book, Cinder's Adventure gives readers the chance to decide on the direction of the story at the end of each chapter – and, in the process, allow Cinder the chance to meet characters from other Meyer novels. "I wanted to call it Cinder's Wacky Adventure, but that was vetoed," she joked.
Talking about the Lunar Chronicles series that Cinder launched, Meyer said that she loved writing villains, and that Queen Levana was one of the keys to Cinder itself. "I love writing villains. I love playing with the grey areas. I love having a villain who's not redeeming [but] I want there to be reasons why they are this way," she said, adding that Levana's presence ultimately adds dimensions to Cinder herself. "When it comes to creating a villain character, you have to make a character who is bigger than life in some ways," she explained. "If your villain is boring, it's going to bring down the entire story." Cinder, the cyborg mechanic reimagining of Cinderella, has to consider that, had her life had gone differently, she could have ended up like Levana, leading her (and readers) to question whether or not she's the hero or villain of the story. "I love playing with that dynamic and I think it makes for a more interesting story."
That's not the only dynamic she's interested in, as it turns out. "I love romance, it's easily my favorite thing to write and develop," she told the crowd. "When I'm thinking about the romance element, I will approach it with two things in mind: What is doing to draw these two characters together, and try to come up with scenes that are going to have that tension between them and find things that will lead the reader to have that, will-they won't-they, feeling. At the same time, I'm also trying to work out what will keep these characters apart for as long as possible." The knowing laughter from the audience indicated that she wasn't alone when she said, "Nobody wants these characters to have too easy a time getting together."
"We were trying to re-position me"
Meyer's career to date has been impressively varied; outside of the Lunar Chronicles and her current Gilded series – an update on Rumplestiltskin – she's also written the Renegades trilogy, which are superhero stories, as well as two standalone novels in different genres. Recently, she also edited a YA romance anthology titled Serendipity. "It was so fun," she said. "At the time, [2020's YA romance] Instant Karma had just come out, and we were trying to re-position me [in the market]. I was all, 'if we do this anthology then it's positioning me amongst all these contemporary romance authors.' And it worked!"
The project had been on her mind for some time, after reading anthology edited by Stephanie Perkins. "It was all Christmas romance stories, and I loved that book," she revealed. "I hoped, maybe she'd do an entire series of these, and then it didn't happen." The most difficult part of the project, she was surprised to learn, wasn't writing her own story, but selecting the other writers that would accompany her. After making a shortlist of "like, a hundred people," she said that the hardest part "was narrowing that list down to nine authors."
Given how much she's moved between genres – and even mediums, with two graphic novels, the two-volume Wires & Steel series from 2017 and 2018, under her belt – it's fair to ask if she's looking to continue to expand moving forward. The answer was somewhat complicated, she admitted. "I love historical fiction, but I am very intimidated by historical fiction. So… maybe someday…?" she said.
"Who is going to struggle here?"
More than half the panel was given over to an extended Q&A session from a number of excited fans, with questions split fairly evenly between general writing advice and specific questions about her own work.
Asked about the creation of characters, Meyer said that she doesn't worry about whether or not how characters interact initially, because she's "more focused on making them unique in their own way. The more different they are, the more interesting their interactions are going to be." When developing characters, she said, she wants to "develop characters that I want to be around… I definitely don't want to write a character that's so great and perfect all the time."
"I tend to be a plot-first writer," she continued. "I have an idea about what the story is going to be, and from there, I think about who is the character that would hate to be in this situation? Who is going to struggle here?" That character is most likely to be the protagonist of the story, making it easier to create all the other characters in the story in response to their needs andd desires. (Characters' names, she admitted, can be tricky: " If you're lucky, a name just comes into your head and it's right. When that doesn't happen, I'll use baby naming websites.")
All of her worldbuilding, Meyers said, starts with intensive research. "All of my worldbuilding, I will use the real world for inspiration… That would be my jumping off point for thinking about the biggest things. What are the politics like? What is the society? Is this a very rural community? Is it skill based, it is trade based?"
When asked what advice she'd give to young writers, she admitted, laughing, "I have so many things that I would recommend!" She did admit that she wished she had been more patient with herself, because she would set unrealistic goals, "and then it didn't happen, and it didn't happen, and I would get so frustrated with myself. Now, of course, I can look back in hindsight and see that it wasn't a waste of time." Instead, she realizes that she needed to write the unfinished and bad material to learn how to write. "Take your time. Write and keep writing, and know that you might have to write 10, or 20, or 50 books before you get there, but it's all part of the process."
"I have nothing to write about"
Asked about her reticence about writing historical fiction, Meyers confessed that she was intimidated by the amount of research such a project would involve: "I would be so paranoid about getting something wrong." Another fan asked about stories she loves to read, but finds difficult to write, she had an unexpected answer: "I love a good heist. Even in movies, anything with heists, anything with spies, I just live for that. I've only written one heist, and it was so hard, and there were so many moving pieces and you have to keep them all balanced! I wouldn't say that I hated it as a writer, but it was definitely a challenge."
Meyer was asked about her origins as a writer, and gleefully confessed, "I got my start writing Sailor Moon fanfiction." She wrote fan fiction for "many many years," before realizing that she was more likely to publish something original – only to find it surprisingly difficult to finish and entire novel at age 16. That start-stop process continued for close to a decade before she got the idea for Cinder. "I got so excited, I thought it was the best idea I'd ever had and decided that I had to write it, I had to finish it, and get it published." After finishing the book, she got it into the hands of an agent, who managed to find a publisher within days of submission.
The panel closed, after mention of Meyer's Happy Writer podcast, with the writer being asked one final question: what would she call her autobiography, if she were to write one today? "I have absolutely no idea. I don't think anyone would ever want to read my autobiography!" she said, laughing. "I have zero intentions of ever writing an autobiography. In college, I took a personal essay class, and I hated it. It was really unlike me to hate a writing class, but I was like, I have nothing to write about, there's nothing interesting about my life at all."
---
Be at ECCC from anywhere with Popverse's wall-to-wall coverage of the Seattle comic convention. Bookmark Popverse's ECCC coverage round-up page, as we're adding to it daily - and even after the event itself.