Asian and Pacific American cultures, creators, and fans take center stage at New York Comic Con 2022
Asian and Pacific American representation at New York Comic Con 2022
Thank you to McDonald's APA Next for sponsoring this article and video. Popverse was paid for our time in creating this.
New York Comic Con 2022 brought comics, creativity, and culture right into the heart of New York City - and a big part of that was the anime, manga, and Asian cultures represented over four days at the largest comic book convention in North America.
Manga and anime were everpresent on the Javits Center showfloor, with booths from Bandai, VIZ Media, and Crunchyroll dominating the landscape - Eiichio Oda's Monkey D. Luffy (from One Piece) was immortalized in a 20+ foot high free-standing figure, and a scale reproduction of his pirate ship, the Thousand Sunny, was anchored near the entrance to the show floor itself.
And the Asian representation didn't stop there - in fact, it was everywhere. Here's a highlight video spotlighting just some of the Asian Pacific American cultures present at New York Comic Con, as well as Asian and Asian Pacific American celebrity creators giving inspiring words to empower others to follow in their footsteps.
This video and article is sponsored by McDonald's APA Next Education program. APA stands for Asian Pacific American, and McDonald's has been supporting APA students with higher education resources for 15 years. Through this partnership with McDonald's, Popverse is further spotlighting education about Asian Pacific American cultures, and also empower aspiring comic creators to pursue their passion.
How being a high school teacher prepared Gene Luen Yang to be a cartoonist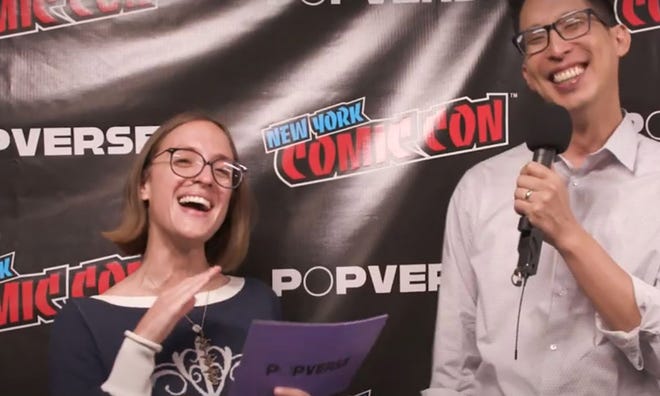 Taiwanese American cartoonist Gene Luen Yang was at New York Comic Con 2022 on behalf of the upcoming Disney+ live-action series Ameican Born Chinese, based on the original graphic novel Yang created. Yang, who is a longtime friend of Popverse's staff, shared with us how his 17-year career as a high school teacher taught him how to be a better cartoonist.
"Well, I really loved being a teacher," Yang tells Popverse's Ashley V. Robinson. "A big part of teaching is learning how to communicate clearly and effectively, and to get students fully onboard. And I feel the same way about my job as a cartoonist: to communicate effectively and clearly and I can - except here it's through comics instead of a whiteboard."
South Korea brings its webtoons to New York Comic Con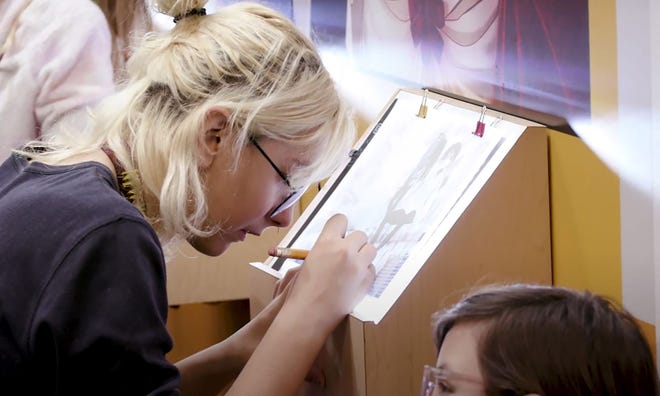 One of the standout areas of New York Comic Con 2022's massive showfloor was the K Comics booth, brought to us by the South Korean Ministry of Culture, Sports, and Tourism.
At the K Comics booth, NYCC fans (including many families) learned about webtoons - a type of webcomic that originated in South Korea, and has become one of the predominant styles of comics in North America through publishers such as Naver Entertainment's Webtoon platform, the Tapas platform, and even U.S. comic book staples DC and Marvel. At the K Comics booth, fans could learn about webtoons - and even try their hand at re-creating some of the most iconic wetoon moments using drawing areas set up.
In addition, the K Comics booth had digital tablets with some of the country's most popular Webtoons available to read, and even print edition samplers people could take with them as they continue on through the convention.
One Piece Film Red director Goro Taniguchi says its important to enjoy what you do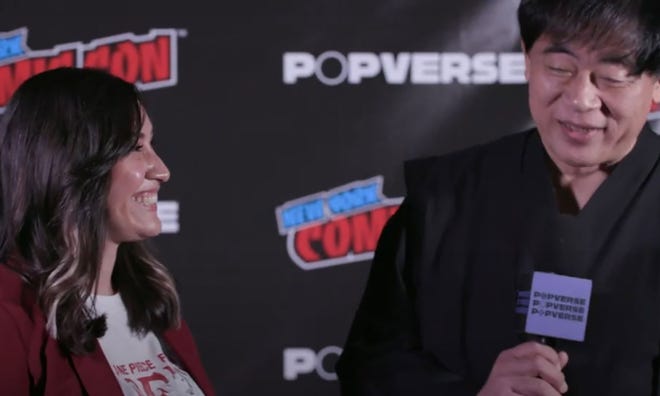 As One Piece Film Red made its North American theatrical debut just steps away from New York Comic Con, the film's director, Goro Taniguchi, made a rare US appearance in the convention center - to the delight of fans, and epsecially Popverse video editor/admin Veronica Valencia. Taniguchi-san and Valencia (with the help of translator Mikey McNamara) spoke about the film, and also how others could follow in his footsteps and become an anime director themselves.
"There are a few paths to becoming an animation director; some start as an animator, and make it up to director, while others come up through the production side like myself, "Taniguchi-san explains. "But regardlesss of what path you make your way through to become a director, I think the most important thing is to enjoy what you'e doing. Unless you enjoy what you do, the enjoyment will not carry over to the audience who is going to want what you are making."
Here at Popverse we're about celebrating the best of TV, movies, and comics - and that means celebrating the creators making all of our favorite things. And with the words of Taniguchi-san and Yang, oneday someone reading and watching this will make their way to become a celebrity creator at New York Comic Con... and we look forward to meeting them.
---
For more on McDonald's APA Next program, visit www.apanext.com. This and further stories in the continued partnership with McDonald's and Popverse can be found at this dedicated Popverse microsite.