Fans at NYCC reacted enthusiastically to the premiere of Bleach: Thousand Year Blood War
It's been ten years since Bleach finished. Now it's back with a sequel!
Despite starting nearly 45 minutes after its scheduled time, the throngs of anime fans who descended upon the Empire Stage at New York Comic Con 2022 on Saturday afternoon could not be more excited for the world premiere of Bleach: Thousand Year Blood War.
The new animated series, which is a direct sequel to the 2004-2012 Bleach television series, and by extension, the Bleach manga written and drawn by Tite Kubo, would premiere to audiences worldwide just days later on October 11th. Nonetheless, being able to watch the first episode before anyone else, in a huge crowd full of fellow Bleach fans who all shared the same excitement for the Japanese Shonen saga, proved to be an infectiously exciting event for everyone who waited patiently on line.
Before the screening began, costumed fans dressed as their favorite Bleach characters were encouraged to gather onstage for a cosplay contest judged by YouTuber King Vader and cosplayer Stella Chuu. The crowd was supportive and good-natured, while Vader and Chuu lamented being in the unfortunate position of having to choose winners among so many talented and passionate cosplayers.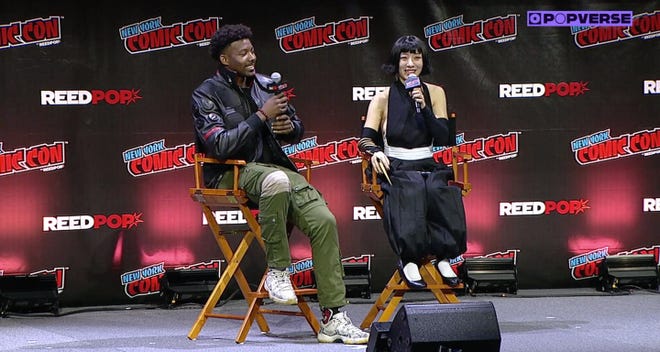 Fans then welcomed Viz Media's "marketing guy" Urial Brown to the stage. After riling up the crowd with teases of upcoming Viz content, especially as it related to Bleach, he introduced a special message by Japanese voice actor Masakazu Morita, who voices the protagonist Ichigo in the original Japanese version of the anime series. Despite not being physically present, his appearance garnered massive applause, and he certainly had no trouble hyping up the crowd. Brown, for his part, asked the New York fans to make so much noise that they could be heard all the way in Japan, and the audience certainly tried.
Fans had been instructed to turn their phones off for the screening, as recording of any kind would result in security guards donning night vision goggles catching them and throwing them out. This reporter didn't see any such black ops-style surveillance, but nonetheless, the entire crowd appeared more than willing to direct all their attention to the screen for the entirety of the 20-odd-minute episode.
To borrow the parlance of anime fandom, the episode was shown in its subbed (subtitled) version, not dubbed, but the crowd had no problem cheering along in time with every catchphrase, gasping at the thrilling action, and laughing at every comedic moment. Fans went particularly wild for every utterance of Ichigo's catchphrase, "Bankai!"
The episode began on a somewhat spooky note, as two hapless Shinigamis ("Soul Reapers") are attacked and chased by giant "Hollows," the formidable monstrous foes of the Bleach universe. Luckily, they're saved by a quartet of familiar faces: Orihime, Yasutora, Uryū, and of course, the fan favorite Ichigo. After a high-octane action sequence in which the heroes kill the Hollows, the episode took on a softer, somewhat comedic tone for a stretch to catch viewers up and introduce some new characters… including a tantalizing new enemy.
The story promises to keep fans on their toes despite having to wait an entire decade for this new installment, but the production value was top-notch too. The enthusiasm from the returning voice cast was infectious, and the music helped the episode maintain a bouncy pace as well (several fans could be seen rocking rhythmically in their seats. The visual side of things were just as impressive, and it's clear that the anime's creators were given a sizable budget to keep the animation as smooth and flashy as possible. There were a few individual shots that elicited gasps in the audience as well, from shocking violence to slapstick punchlines.
Ten years may have passed between the last proper Bleach episode and the first episode of Bleach: Thousand Year Blood War, but if this panel was any indication, the fan base hasn't lost a single ounce of enthusiasm.
---
Re-live the best of New York Comic Con 2022 with NYCC Insider from Popverse