IDW has a humble mission: to be the best publisher in comics
Unveiling the four pillars of IDW at this year's NYCC
When I came to attend an NYCC panel titled 'The Evolution of IDW,' I was expecting a history lesson – an insider look on how this 23 year old comic publisher came to be, and where it's gotten to today. As a reader, I'm mostly familiar with IDW for its licensed comics, like their Teenage Mutant Ninja Turtles, Star Wars, and phenomenal Transformers comics, and a few occasional breakout original hits, like Joe Hill and Gabriel Rodriguez's Locke & Key. The prospect of getting to know them a little better as a company was an inviting idea.
But that isn't what we got at The Evolution of IDW. Rather, we were welcomed to a panel of seven of the publisher's current writers and artists by IDW's VP of Sales and Marketing Strategy, Blake Lushgow, to give us a vision of how the publisher views itself today.
Lushgow puts it simply: "We want to be the best publisher in comics." To accomplish this, IDW has focused its efforts on four quadrants, or 'pillars,' to solidify their identity: the licensed properties IDW is already famous for, breakout original fiction they're looking to further develop and foster, biographical nonfiction, and their high quality 'Artist's Edition' reprints of work from the most legendary artists in the comic medium.
After that mission statement, the panel quickly turns into a showcase of current and upcoming titles with the assembled talent involved. Representing original fiction is Scott Snyder and Hayden Sherman on Dark Spaces: Wildfire, Stephen Graham Jones on Earthdivers, and Cavan Scott on Dead Seas. Licensed comics are spoken for by Erik Burnham, on Teenage Mutant Ninja Turtles: Saturday Morning Adventures. Nonfiction is spoken for by Sofia Warren, the political cartoonist behind IDW's Radical: My Year With a Socialist Senator. And Scott Dunbier, the multiple Eisner-winning editor for IDW's Artist Editions, speaks for his own pillar.
The Originals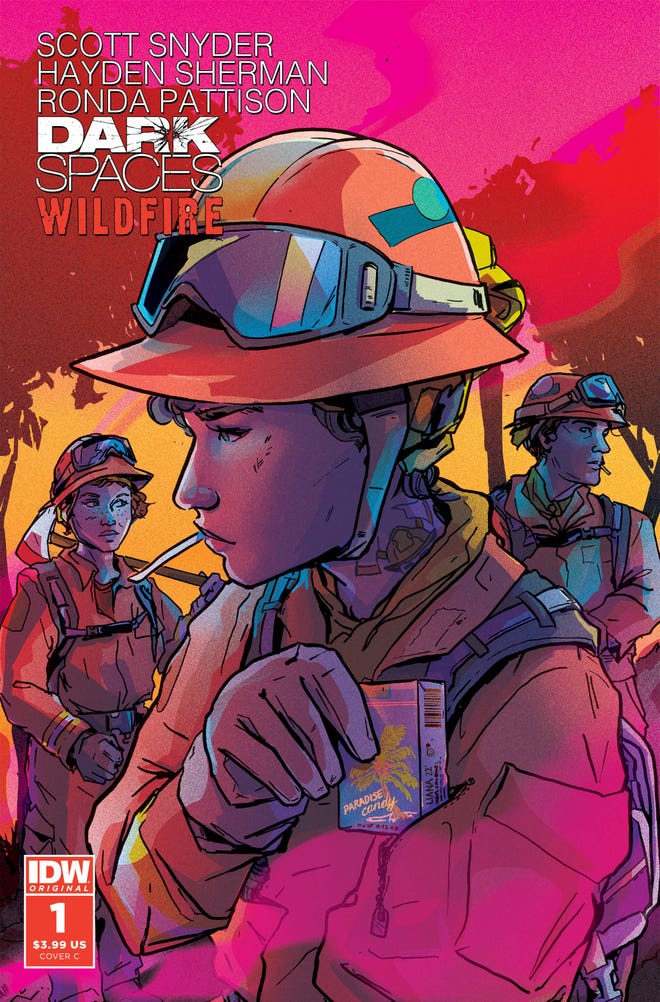 After years of working with "monsters, capes, and multiverses," Batman and Justice League veteran Scott Snyder is ready to return to basics with a "claustrophobic locked box story." That story is Dark Spaces: Wildfire, a heist inspired by true horror stories of prison inmates in California conscripted to fight year-round wildfires for two dollars a day, giving their lives to protect multi-million dollar homes. Hayden Sherman is Snyder's collaborative partner as the comic's artist. For Snyder, Wildfire represents a change for the messages he attempts to get across in his work. Rather than his usual approach of finding a way to tell his story through a genre cipher- for instance, a commentary on gun violence through Batman's conflict with the Red Hood gang in Batman: Zero Year- Wildfire - a grounded story set in the real world can be blatant with its subject matter. Sherman, who also comes from a genre comics background, appreciated the new challenge of drawing a comic where everything that appears in it is sourced from the real world.
"It's something that could potentially be a stage play, Sherman says. The character focus means that the most concentration of artistic effort has to go towards selling the interactions and emotion between the characters, as opposed to an eye-popping monster spread.
An essential work for Snyder in getting into the headspace of the firefighting convicts of California was Breathing Fire: Female Inmate Firefighters on the Front Lines of California's Wildfires by Jaime Lowe, which he recommends as supplemental reading.
Cavan Scott is following the success of horror titles like Locke & Key with a horror story of his own, Dead Seas, with artist Nick Brokenshire.
"I've always loved disaster movies, but they've always been missing one component, and that's ghosts," Scott says. In the world of Dead Seas, ectoplasm is a miracle cure for anything, but people who collect it lose their minds. So the government has found a way to corral these spirits onto ocean liners, and they send convicts out to collect them. Until the haunted ships themselves begin to sink, creating more ghosts.
Of all the comics I'm hearing about today, I have to confess that Earthdivers, by Stephen Graham Jones and Davide Gianfelice, has the strongest hook.
"It's 2112," Jones tells us. The world is devastated by a series of catastrophic climate disasters brought on by global industrialization. "Four indigenous survivors find a time travel cave… and they decide the best way to save the world is to go back in time and kill Christopher Columbus."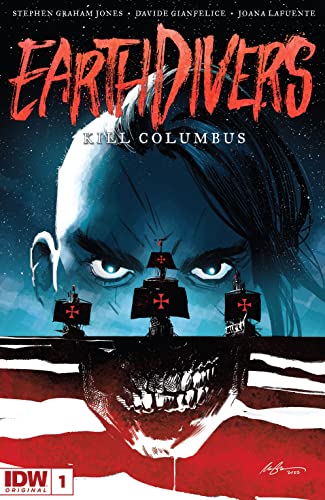 "This book has been cooking in me for a long time," Jones says, all the way back to his 4th grade teacher telling the class what a great hero Christopher Columbus was. "And I was like 'That guy? The one who stole our land and infected us all with smallpox?"
As you may be able to tell, Earthdivers is a personal story for Jones in particular. "Great to have a Blackfeet dude and an Italian dude coming at Columbus head-on," he says, referring to artist Gianfelice.
"Your first mission [as a comic creator] is to be authentic to yourself," Jones says. "Don't cheap out. When you're playing with kaiju you don't tell yourself you're playing about fake things, you ask yourself what if they were real? Earthdivers is a very real story of betrayal. I hope when readers engage with it, they feel some version of whatever they need to feel. If I can infect people with some version of the need to kill Columbus, I've done my job."
The Licenses
As far as Erik Burnham is concerned, Teenage Mutant Ninja Turtles: Saturday Morning Adventures sells itself. What sets it apart from other TMNT comics is that it's set in the world of the 80s animated series itself, a favorite incarnation of the team on a global scale. I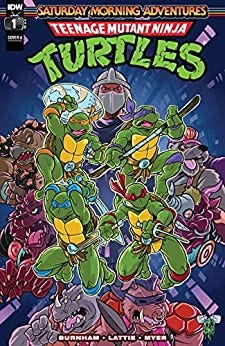 "That's what it is," Burnham says. "It's the cartoon. I can't pitch it better than that. Your memory does all the work for you."
The greatest challenge of all licensed material, of course, is authenticity. If it doesn't match the tone of the material you're adapting, the audience of fans looking to you for a return to that world will reject it. Capturing the voices of that series is Burnham's number one priority.
The Artist Editions
Scott Dunbier's Artists Editions are high quality reprints of the original art that's drawn to print for publication by the world's most renowned comic artists. The black-and-white drawings are scanned in color at very high resolution, so you can see all kinds of colored pencil notation. Just recently, an Artist's Edition was released for Todd McFarlane's Spider-Man.
As for what's next: Dunbier is at work on two new Artist's Editions. The first is Kevin Nowlan's Marvel Heroes. Among other treasures, the centerpiece of the collection is the complete original art for Kevin Nowlan's graphic novel Infernal Man-Thing, a graphic novel which took him 27 years to complete between 1984 and 2010. The second is Michael Golden's Marvel Stories, including pages of Doctor Strange, Marvel Fanfare, Avengers Annual #10, and four complete stories: two from Savage Tales #1 and #4, an 8-page Wolverine story from a Marvel holiday special, and Marvel Fanfare #47, featuring a spectacular, city-busting fight between Spider-Man and The Hulk.
The Non-Fiction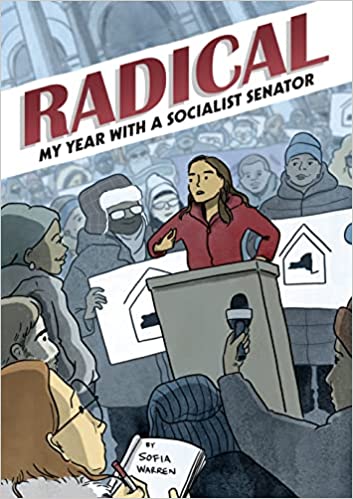 "My book is nonfiction," Sofia Warren says. "No one told me you could make stuff up." Originally a New Yorker cartoonist, Warren wrote Radical while following the campaign of New York State Senator Julia Salazar. While the sweeping arc of the narrative is about Salazar's main platform issue of tenant's rights, the book is essentially an illustrated account of what happens when you try to run for office in America on an uncompromising progressive platform.
For Warren, her art was the tool she needed to step out of her comfort zone and into the world of politics.
"Because I draw comics, I was able to use it to put myself into this space, and would have otherwise been nervous about just showing up into a government space," she says. "But it was still very awkward to be in a room where people are talking about things I had no idea about. One of the things I love most about comics is that it gives you a way to enter worlds, whether they're invented or real. Comics have this intimacy of reading them, it does allow you to enter thrilling and risk-full worlds without putting yourself in peril."
Wrap-Up
Stephen Graham Jones closes the panel with a story about how his destiny was altered by an unexpected comic book: Secret Wars #4. When he was twelve years old, growing up in West Texas, he could stand on the porch and not see another light across the horizon. His family's main contact with the outside world was that every two weeks they'd stop at a gas station, and Jones' mom would give him and his siblings three quarters for sodas. But one day, he was stopped in his tracks by the the captivating art of Bob Layton and John Beatty on the cover of Secret Wars #4. From then on, every other Wednesday he was back there trying to get the next issue. It was with issue #10 that his life was changed: when Doctor Doom decides he doesn't want to play the game anymore, and pushes against The Beyonder in a dramatic splash page where Doom is torn apart by his enemy's sheer power but continues pressing on.
"I held that splash page in my head all through my high school years," Jones says. "Cops, psychiatrists… every time the world was trying to push me down, I thought if Doctor Doom could do it, I could do it."
"Maybe it's not the best to identify with Doctor Doom," Jones admits, "But I respect his ambition. "
As I submit this report on Indigenous Peoples' Day, I have to imagine: maybe that's the kind of drive you need to take down Christopher Columbus.
---
Explore the final frontier that is IDW's Star Trek comic plans live from NYCC '22, featuring Jackson Lanzing, Collin Kelly, Liana Kangas and more