New York Comic Con x MCM Comic Con Metaverse Collectible Programming Round Up
All your collectibles needs in one place!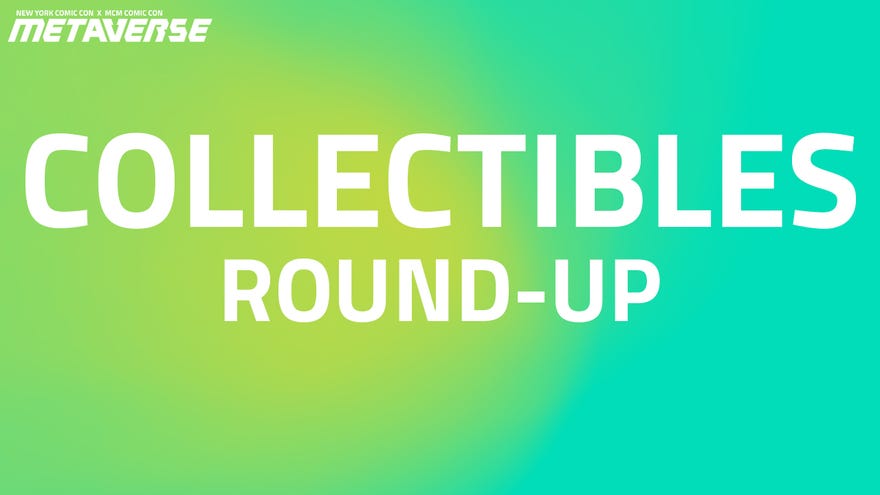 Brought to you by Bandai Namco
There might not be a physical New York Comic Con or MCM Comic Con this year, but that doesn't mean we can't still celebrate all things pop culture. The NYCC x MCM Metaverse brings the con to you, including all of your favorite collectibles and convention exclusives. Take tours of the booths, shop for items to add to your collection on the virtual show floor, and check out panels for all the latest reveals and product details.
Get all the details below!
Show Floor
Bandai Namco Collectibles (Bluefin)
Bandai truly pulled out all the stops for their booth! They've brought the con straight into your home, with the ability to view their figures and collectibles in VR.
PLAYMOBIL
PLAYMOBIL will bring movie classics to life at their digital booth. Check out Scooby-Doo products perfect for the whole family and celebrate the 35th Anniversary of Back to the Future with the launch of a new line featuring a recreation of the iconic time traveling DeLorean. These products and more can be found at the PLAYMOBIL booth!
Panels
Bandai Namco Collectibles (Bluefin) New York Comic Con and MCM Comic Con Metaverse Showcase
Friday October 9 @ 10:00 - 10:30 PM EST
Join Bandai Namco Collectibles as they spotlight all their NYCC exclusives and promotions from Tamashii Nations, Storm Collectibles, Flame Toys, Bandai Hobby, and Studio Ghibli. Also, make sure to enter their ULTIMATE NYCC GIVEAWAY. They are giving away over $5,000 in products from all of their brands, including 1 Grand Prize Winner who will win a prize valued at $3,000. Enter here!
Hero Collector Takes Off With New Products And Licenses
Friday October 9 @ 9:10 - 9:40 AM EST
Hero Collector – designers, manufacturers, and publishers of high-quality collectibles – are proud to present this glimpse behind the curtain to see what new products are coming up in their popular sci-fi lines. Join brand manager Chris Thompson and a host of special guests as they unveil new releases from the worlds of Star Trek, Star Trek: Discovery, Alien, Battlestar Galactica, The Orville, and Space: 1999, as well as debut two brand new (and highly-anticipated) licenses to join their fleet.
Marvel's Agents of S.H.I.E.L.D. | Seven Seasons of Amazing Gear & Gadgets + Live Auction Preview
Friday October 9 @ 2:20 PM - 2:50 PM EST
Prop Store is bringing over 500 lots of original props and costumes from all seven seasons of Marvel's Agents of S.H.I.E.L.D. to an online auction this October 8th to November 10th (go to Propstore.com/Marvel for more information). Join series Prop Master, Scott Bauer, as he talks about his experiences working on Marvel Television's longest running television series and as he reveals the stories behind some of his favorite pieces in the auction.
Diamond Select Toys & Gentle Giant Ltd
Get a rundown on what's coming up from DST and GG Ltd. as they present an overview of toys and collectibles scheduled for the far-flung year of 2021, including Select action figures, Gallery Dioramas, statues, busts, Minimates, Vinimates, D-Formz and more! Includes interviews with the sculptors and designers behind your favorite products! Moderated by marketing supervisor Zach Oat.