NYCC's Stories from a Galaxy Far, Far Away give us a glimpse at what's to come from the publishing world of Star Wars
Inquisitors, ex-girlfriends, and other dangers on the way from Star Wars publishing.
The High Republic isn't the only time and place of the Star Wars Galaxy being explored. On the final morning of New York Comic Con, Star Wars publishing director Michael Seguin returned with a panel of writers for a discussion of projects both recent and forthcoming from the publishing arm of the Star Wars Galaxy.
As a reader of the Star Wars comics and an individual whose favorite companion on long walks is the Star Wars audiobooks, this was an especially important panel for me to see on my first trip with Popverse to NYCC. The assembled panel included such Star Wars luminaries as StarWars.com editor Kristin Baver, Shadow of the Sith author Adam Christopher, Phasma and The Skywalker Saga author Delilah S. Dawson, Han Solo & Chewbacca comic writer (and co-founder of the Arrowverse) Marc Guggenheim, Bounty Hunters comic writer Ethan Sacks, and the breakout hit comic series Doctor Aphra's most recent author, Alyssa Wong.
Shadow of the Sith
Adam Christopher was given the opportunity to discuss his recently released novel, Shadow of the Sith, which ties the aftermath of Return of the Jedi to the events of the Sequel Trilogy. Here, Christopher tells the story of Luke and Lando pursuing the Sith assassin Ochi of Bestoon across the galaxy, who is in turn hunting Rey's parents.
"When I saw The Rise of Skywalker," Christopher says, "I remember thinking 'Luke and Lando were on this thing? What were they doing?' Every [Star Wars] movie has characters in the background and seeds of other stories that would find my imagination as a kid, and when I got called to do that as a book, I was like 'Oh, I get to tell that story.' Never in a million years did I think I'd get to tell a Luke and Lando story. I think it turned out okay," he says. The audience indicates their approval. It's a remarkable story, even by the standards of Star Wars fans.
"I considered it to be a main story," Christopher says. "It's Episode 6.5. Huge areas of the mythos we haven't explored very much. It's freeing, but also terrifying. I thought, if I'm just going to write the movie in my mind, what would I want it to be?"
That 'movie' ended up with a 160,000 word count, well over the commissioned 90,000.
"There's an expectation that comes with a book that has Luke Skywalker on the cover," says Christopher. "So I did my best to craft an adventure. It's quite dark. It deals with quite a lot of deep Sith lore. Which is really fun. It's also got speeder bike chases and explosions and the thrill of peril. I got to name Rey's parents! There's so much I could do, I had to pinch myself. And then when it came out, I was checking Wookieepedia every day for the updates." Shout-out to the Wookieepedians reading this.
Star Wars Timelines, 100 Objects
Kristin Baver, for her part, is working on one of the most ambitious Star Wars resource books to date for DK Publishing: Star Wars Timelines, an intricate account of the entire Star Wars timeline as it exists today across all media. "What went into it was about 40,000 spreadsheets," Baver estimates. On duty with her in the trenches is Jason Fry, Cole Horton, Amy Richau, and Clayton Sandau. "If only one of us had to do it, it would take 10 years."
Baver says that a book like Timelines is the kind of resource you can't believe doesn't exist already. "And then we started writing it, and were like, 'Oh right, because it's such a huge undertaking.'"
From previews in the slide presentation, Star Wars Timelines appears beautifully illustrated and a useful resource for any Star Wars fan or writer. "It takes a village on every book," Baver says, "But this one takes a small city."
Star Wars Timelines will be available in February 2023. But Baver's next project is already lined up: an interesting perspective on the nuances of Star Wars due in April, called Star Wars: 100 Objects.
"100 Objects is so close to my heart," says Baver. "In 2020, I got to write a book called Skywalker: A Family at War, a biography of the Skywalker family. It's written as if the Skywalker family is a real dynasty legacy family; from the perspective that Star Wars is real. 100 Objects grew out of that. If Star Wars is real, what if we thought about all the pieces that make Star Wars so fascinating, and illustrate Star Wars history through those items?"
Baver pictures 100 Objects as a "museum of the mind," collecting pages dedicated to artifacts which tell a larger story of the galaxy from unexpected sources. A whole page, for instance, is dedicated to Yoda's blissl, the flute he carries while living on Dagobah. Baver didn't want to use anything too obvious, like Yoda's cane, or his lightsaber.
"It's not Star Wars: 100 Lightsabers," Baver says. "So what about Yoda's little flute?" Highlighting the blissl allowed the book to explore the playfulness of Yoda, and a side we don't think about too often outside his first scenes in Empire Strikes Back. It's an object which begs the question, "What was Yoda doing on Dagobah for all those years?"
The Red Blade
Delilah S. Dawson has gained a reputation for handling Star Wars' female villains, with stories on Dooku's apprentice Asajj Ventress and the First Order's Captain Phasma on her CV. Today Delilah announced her newest project: a Star Wars novel entitled Inquisitor: Rise of the Red Blade, featuring an Inquisitor named Iskat – a character briefly featured as a cameo in Charles Soule's Darth Vader comics. All Dawson can tell us about Iskat is that she was hand-picked for the Inquistorius by the Emperor himself. The book is scheduled for release in July 2023.
Star Wars Comics
Alyssa Wong teases the upcoming events of her ongoing Doctor Aphra series, in stores every month. Alyssa's two old murderous droid companions, Triple Zero and BT-1, are returning for a long overdue reunion with their former master. As for what's next: a story which Wong can only pitch as "The Fast and Furious Exes."
In Ethan Sacks' Bounty Hunters, cyborg protagonist Beilert Valance has been conscripted into Imperial service, and it's not going well for him. There will be a collision with Tonga's bounty hunters, including some well-known faces like Bossk, Zuckuss, and 4-LOM.
"And we have some characters coming in from the video games…" Sacks teases. "It rhymes with 'Gerferno Squad.'" (Here, Sacks is giving us a cheeky reference to Inferno Squad, the story mode protagonists of EA's Star Wars: Battlefront II.)
In Marc Guggenheim's limited Han Solo & Chewbacca series, "Han and Chewie are getting into all sorts of trouble. I killed off Han," he jokes, referring to the cliffhanger ending of the latest issue.
"Obviously we're going to get the two scoundrels back together, and find out what's in this urn they're after. It's not the ashes of one of Jabba's rivals, like Jabba says it is."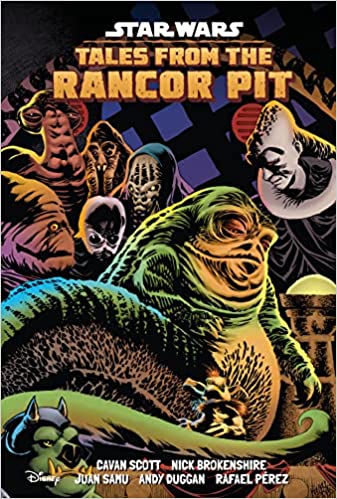 But it is something that connects to the rest of the comic publishing line, leading into Guggenheim's Star Wars: Revelations comic event in November. Guggenheim teasingly compares it to the Star Wars Holiday Special, in how it was the world's introduction to Boba Fett. "This will be your first introduction to a variety of things in 2023," Guggenheim promises.
One thing he can tell us about Revelations is that Vader will have an interaction with The Eye of Webbish Bog, a character created for The Rise of Skywalker who was cut from the final release. The Eye will reveal both past and future to Vader.
"I can already see the spreadsheets for Timelines updating in my mind," Baver jokes.
More on the Way
To wrap the presentation, Michael Seguin speaks on behalf of the writers with projects who couldn't make it to the panel. Cavan Scott's Star Wars Halloween anthology, Tales from the Rancor Pit, will arrive for an unseasonable Thanksgiving due to supply issues.
Coming soon from Viz Media: a Star Wars: Visions original manga by Eiichi Shimizu, illustrated by Tomohiro Shimoguchi. "This one's really, really special," Seguin says, but can't tell us much more.
The High Republic Chronicles is an illustrated guide to the Galaxy's Golden Age, an in-world book about the Jedi of the High Republic with new illustrations. "This book does not give anything away about the fate of any characters, but it does include information about Phase II and maybe even a tease or two about Phase III, which is exciting," Seguin says.
Also on the way: The High Republic Lightsaber Collection, a resource guide focused solely on the lightsabers from the high republic era.
Finally, some breaking news that Star Wars fans in the room get to hear first: the announcement of a new comic book miniseries by Justina Ireland all about Sana Starros, smuggler extraordinaire and ex-girlfriend to both Han Solo and Doctor Aphra alike; an emergent fan favorite since her 2015 debut in the mainline Star Wars comic series. In the expansive world of Star Wars media, there's room for everyone to have their story told.
---
The High Republic Phase II takes us back to an even further into Star Wars history