Where is Monkey D. Luffy heading next? The Macy's Thanksgiving Day Parade
This November, check out the world's greatest pirate captain as an official One Piece holiday float
There's a scene in Netflix's new One Piece adaptation (it was in the preview, so I'm not spoiling anything) in which Monkey D. Luffy is looking at a collection of Wanted posters for famous pirates. He's annoyed, wondering where his face is. Well buddy, we found it, and we think you're going to be thrilled.
One Piece's Monkey D. Luffy will be one of the floats in the Macy's Thanksgiving Day Parade 2023.
Announced today by Toei Animation, the float will feature the anime likeness of the captain of The Straw Hat Pirates, blown up to be 43 feet long, 39 feet wide and 50 feet tall. Lead by costumed pirates, the balloon will trek from Central Park to the Macy's flagship store in Manhattan, accompanied all the while by music, dancers, and of course, throngs of fans.
Check out an official rendering of the float here: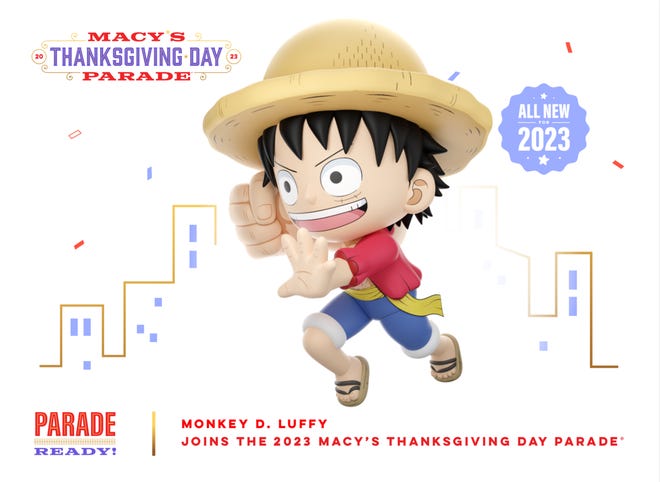 Exciting as the inclusion of the character is to longtime One Piece watchers, the float is maybe even more thrilling to the folks who first brought Eiichiro Oda's fantasy manga to life. Here's Masayuki Endo, President and CEO of Toei Animation Inc:
"Over the past 24 years, One Piece has built a huge global audience and today, the franchise is now more popular than ever before — both in the U.S. and around the world. We're excited to introduce One Piece to the tens of millions of people that watch the Macy's Thanksgiving Day Parade every year – especially the friends and families of current One Piece fans!"
Macy's seems pretty thrilled as well. According to Jordan Dabby, who has produced the Thanksgiving Day parade since 2002, "[Macy's is] excited to welcome such a beloved fan-favorite to the Parade this year [...] For decades, Monkey D. Luffy and the Straw Hat Pirates have delighted fans of all ages, and we couldn't be more thrilled to see him sail the skies of New York City this Thanksgiving."
One Piece, in both anime and live-action, is available to stream on Netflix now.
---
You don't need a treasure map to find out how to watch One Piece - we have a guide for that!