Kilt malfunctions and homemade fudge - An extra's tale behind the scenes on Outlander
Behind the scenes of the hit show Outlander
Outlander is a show that is hugely popular all over the world. The combination of a time travelling nurse and a highland heartthrob that lives in the past not only makes for a classic romantic drama, but also the added historic Scottish element that people love so much. The show is based on the books by Diana Gabaldon and has now entered a seventh season, but it was recently commissioned all the way up to an eighth season, which will sadden fans that it was confirmed to be the last.
You may have watched the many seasons of Outlander, but have you ever wondered what goes on behind the scenes of such a popular show? I had the opportunity to work as an extra on multiple seasons of the show throughout the different time periods.
Living in Scotland for many years, the rolling highlands and handsome men in kilts like you see in Outlander are just a part of everyday life (although kilts in the modern world are saved for special occasions). Working as an extra on Outlander, you don't realise at the time how huge the show is as it is not as popular over in the UK as it is in the US. When you see names such as William Shatner excitedly tweeting to the main cast about the latest episodes, you realise how big the show you were involved with actually is.
I had the opportunity to not just take part in one episode, but featured in both multiple episodes and seasons. One second, I would be a wartime nurse working closely with Catriona Balfe herself, and then the next I would have travelled back in time myself to be a posh aristocrat dressed up for the theatre being offered homemade fudge from Sam Heughan to keep the energy going.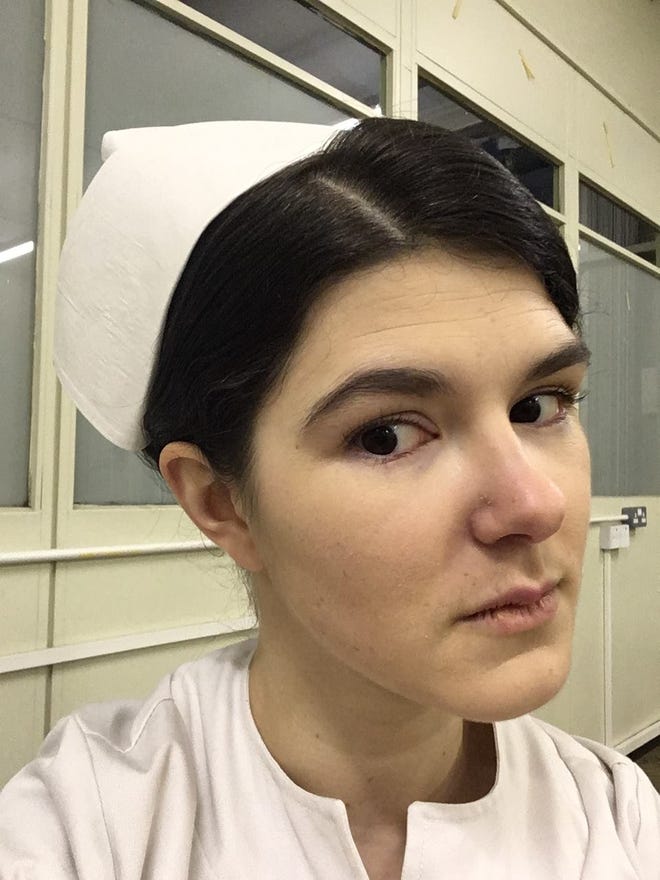 After getting chosen for the specific brief they have in mind for an episode, the first thing you have to do as an extra is a costume fitting and hair and makeup test. These included travelling to Wardpark Studios, which is a film studio in Scotland that was originally built solely for the purpose of filming Outlander. The fittings normally take a couple of hours, because everything on the show has to be perfect, right down to what an extra wears and how their hair is done.
Even when on set, when filming is paused to fix the main cast's hair and makeup, extras would also be getting checked and fixed up too. Being a period drama, my long black hair was perfect to be able to curl and pin up, but some extras would have to wear wigs to look the part. The filming normally happened a couple of weeks later, which meant you had to be careful not to indulge too much or the costume would no longer fit. One outfit I had to wear was super tight and consisted of multiple corsets, so there was no wiggle room at all.
The days on set varied depending on the location. Sometimes we would be sent to Wardpark and then transported to a mysterious location, whereas other times the basecamp would be on location. An average day on Outlander meant a 4am start to be able to get up and get to base camp on time for hair and makeup. The length of a day varied from anything to a half day for small scenes and reshoots, to days that lasted up to 12 hours long. Being an extra, or supporting artiste as we are also known, requires a lot of patience and long days to get the right light for filming. There are long breaks between when you might be needed, but there was always plenty of tea and coffee available to be able to keep us awake, and the food on Outlander is some of the best I've ever had on a set.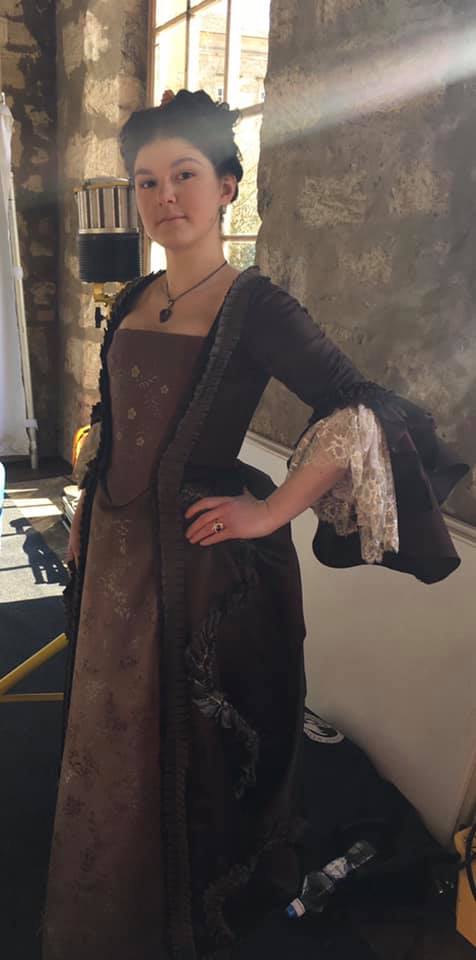 As someone that got to work on the show regularly, and also someone that is smaller in height, I was lucky enough to be quite close to both the main cast members and cameras a few times. Sam Heughan is nearly an entire foot taller than me, so the cameras could easily zoom past my shoulder to focus on his face and conversations with Catriona. I was also front row for a scene where the character Rodger (played by Richard Rankin) plays was sitting on stage playing love songs to Sophie (who plays Brianna) at a highland festival. Richard forgot that he was wearing a kilt when he sat down, giving the front row quite the view! The highland party scenes were the best ones to work on, because the last day of filming was the cast and crew's last day before Christmas. Because of this everyone was in high spirits, and there was lots of silly Christmas jumpers and costumes worn by the crew that made it hard to take the directors seriously.
All the cast and crew on Outlander were lovely to work with, and extras are treated well and reminded that they are important for the show too. Although the cast were lovely, the press can hound not just the main cast but also the extras too. Due to the nature of the time travelling element of the show, any costumes worn had to be kept a secret. The week before a scene I was part of, the actress that plays Brianna was photographed in her costume and it provided huge spoilers for anyone that hadn't read the books, so when we filmed in the town centre of Glasgow, we were covered head to toe in cloaks so the press couldn't see anything.
Being an extra isn't as fun and glamourous as it sounds, and it definitely comes with its downsides that aren't for everyone. Most people working as an extra were doing it either for fun or to supplement their main income, as the pay is very poor. You're made to work in all kinds of extreme weather too. One day on set it was snowing and had gotten all the way down to minus 5 degrees Celsius. On that particular occasion, a lot of people didn't bother to show up the next day, which left the crew scrambling around having to find last minute replacements, so having extras that you know are reliable sees the same group being invited back for more scenes.
It's not all bad though. As well as getting to spot yourself on screen, you get to meet and work with people you would never normally come across in life. You form close connections throughout the filming periods as you spend a lot of your downtime on set socialising with others. A favourite memory of mine will always be us extras finishing early on the final day of a long stint of filming, and being close enough to the town centre that we all went for celebratory beers together afterwards to celebrate a job well done. If you get the chance to work on set on a show such as Outlander, then it's an experience you'll never forget.
---
Watch the Outlander panel from New York Comic Con with Sam Heughan, Duncan LaCroix, David Berry, and more.