What the Paddington Photoshop meme tells us about the Bear himself
How do you solve a problem like Paddington? - toss him into an unexpected place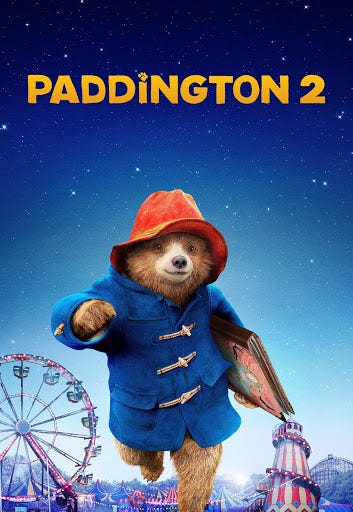 Paddington Bear has reached a level of iconic that few fictional characters even strive towards. With his little blue duffle coat and red bucket hat (with a marmalade sandwich saved underneath, of course) his relevance has stretched far beyond the urgency of post-War days of Paddington writer Michael Bond seeing child evacuees with tags on their coats. In fact, for many, that aspect of Paddington's history now seems quaint, instead of socially relevant, as it would have at his beginning. What people now know about Paddington is that he is polite, wants to do what's right, and somehow constantly finds himself in (and then thankfully out of) trouble.
A delightful pair of children's films (with a third on the way), with the titular bear voiced by Ben Whishaw, have revived interest in Paddington Bear. It's hard to not root for Paddington, who though displaced and separated from him family, is also able to see the best in anyone – whether its that mean man down the street in Paddington or his grizzled fellow prisoners in Paddington 2.
A few years ago, an online account Jaythechou (Which I came across through Twitter, but originally started on Reddit) began a daily project of photoshopping Paddington into images taken from film, (then later television, albums, games, or really any important pop culture image). Each post is captioned with the phrase "I Photoshop Paddington into a movie, game, or TV show until I forget: Day X." But the questions we're interested in today are: how is this joke interesting enough to last hundreds of days (as of this writing Jaythechou has reached day 882) and what does this tell us about Paddington?
Well, let's take a look at Jaythechou's very first image, which is also probably one of the less technically proficient ones (he was just starting out to be fair). This image features the big fight between Godzilla and Kong in 2021's Godzilla vs. Kong. And where is Paddington in this iconic standoff? Well, standing off to the side actually, towering at kaiju height himself. His hands are on his hips, and he has just the hint of a Mona Lisa smile.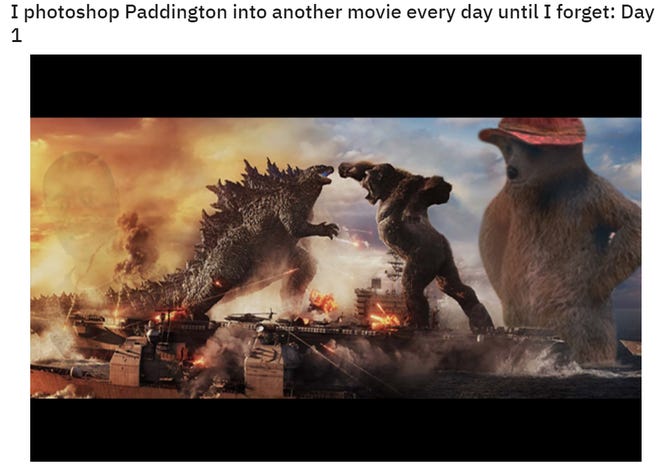 The image is funny and inscrutable, mostly because of the contrast between the types of films (Godzilla and Kong's kaiju/monster format versus Paddington's cosy neighborhood-type story) but also because of Paddington's strange role in the fight. In a traditional Paddington story, he may be horrified by such a showdown, or possibly even running away. But here he is smiling. And we know that's not in character - which is why it's funny.
Not every one of the jokes is similarly constructed. Some of the jokes are quite simple and rely on the humor of recognition and just plain strangeness, like seeing Paddington working on the rocket in a colorized version of George Melies A Trip to the Moon. Some of the jokes are more layered, like this image of Paddington taking Q's place next to Bond in Skyfall, playing on the idea of Ben Whishaw's Paddington taking Ben Whishaw's Q's place.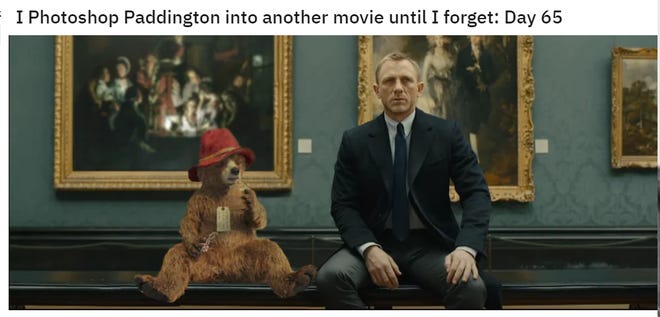 But the second part of the game, beyond the distance between Paddington's genre and the represented movie's genre is what role Paddington will play in each image. What has he gotten up to? In The Hobbit, is he Bilbo? Or is he running alongside Bilbo? Or chasing him? (He's running alongside). In The Banshees of Inisherin, one could imagine him walking alongside Jenny the donkey, but here he is taking the place of Jenny. In this moment, is it more satisfying for Paddington to be running from Godzilla or to be Godzilla?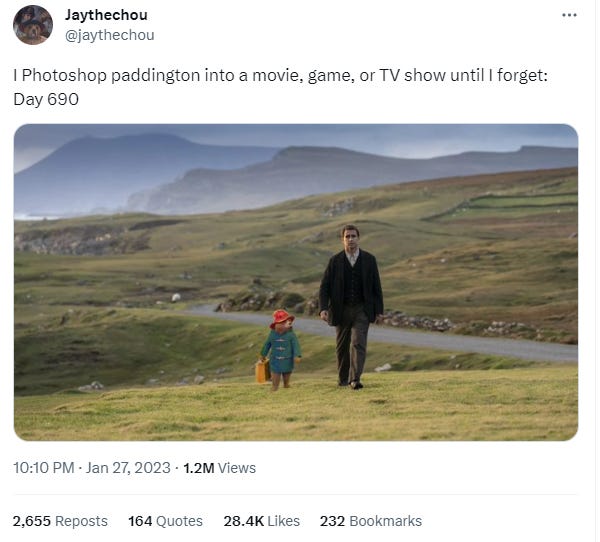 The game is fun because it stretches our knowledge of movies (not all of these images are as easily recognizable as The Hobbit) but also because Jaythechou stretches how he plays with the character. But this sort of play only works because Paddington is not only recognizable— he is extraordinarily knowable. There is no question as to what is in Paddington's heart at any given moment. We know exactly who he is. We know his kindness, his naivete. But most of all, we know his simplicity. If he were a more complicated icon, even if he were equally recognizable, the joke probably wouldn't work as well. Because we know who he is, and because what he is is so straightforward, how he's placed in these movies is either going to be wildly fitting or absolutely dissonant. And therein lies the humor- and the joy of searching out Paddington in these images.
---
Follow Jaythechou on Twitter, Reddit, and Patreon.
---
Batman: Wayne Family Adventures' CRC Payne and Red Hood: Outlaw's Patrick Young on writing DC through slice of life