The Transformers: EarthSpark team chat big changes in season 1 finale (no spoilers)
The cast and creative team of Transformers: EarthSpark talk the first season's last 7 episodes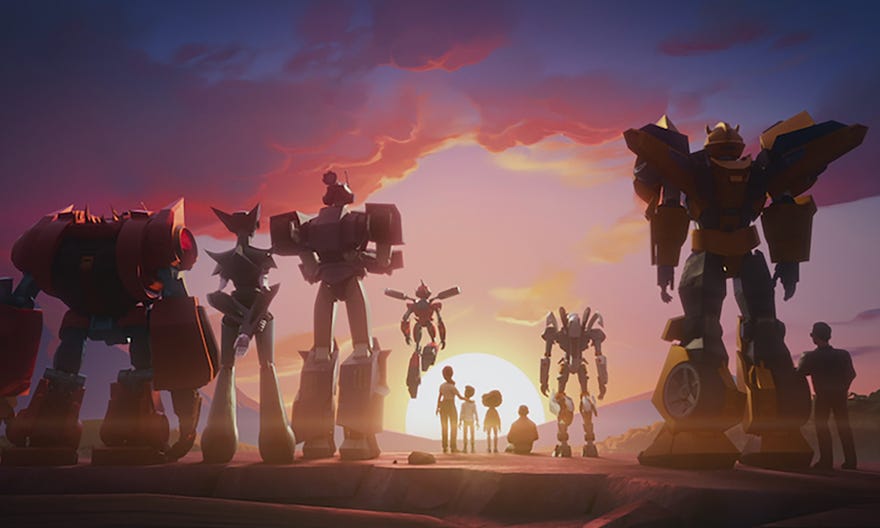 As the final few episodes of Paramount+'s hit show Transformers: EarthSpark have finally reached audiences, it's a great time to look back a couple of weeks and see what the cast and creators of the show said to tease the then impending finale.
At this year's Transformers: EarthSpark panel at San Diego Comic Con, EarthSpark creator Dale Malinowski warned an audience of Transformer: EarthSpark fans that "Things get hectic." The show's executive producer Ant Ward added, "Every character, Autobot, Decepticon, and Terran is going through personal growth." For example, Jawbreaker will finally decide on the auto form that best represents him.
Meanwhile Robbi and Mo "are expanding their power sets," hinted Malinowski. "Their cyber sleeves are going to have lots of fun abilities that we're all very excited about."
It's true that these changes affected each character's path, as Mandroid actor Diedrich Bader explained about his character's struggles, "The Transformers' upgrades will be his fear realized," Bader says. "They're getting more powerful." Bader teases to expect "reassessment of allies" and "increasing paranoia." He also said Mandroid "becomes something that is really amazing to play. It's deep and it's felt."
Malinowki said the second episode of the last set would also see "some very familiar faces, some fan favorites, characters we certainly loved to play with" and "a very unexpected" arrangement made.
What did you think about the Transformers: EarthSpark finale? Comment below and let us know.
---
Transformers: How to watch the Robots in Disguise's big screen adventures in chronological and release order