Suicide Squad's Peacemaker: cosplay as your favorite DC Comics D-Lister
This guide will give you all the tips and tricks to putting together a Suicide Squad costume that will make John Cena proud
In honor of DC's newest show, Peacemaker on HBOMax, we've created a guide for cosplayers to dress like America's most seriously misguided superhero. Starring John Cena, audiences first met the character Peacemaker in James Gunn's 2021 film The Suicide Squad.
At the end of the film, we learn just how far the Peacemaker would go to obtain peace, meaning he will fight for peace at any cost no matter who he has to kill. Kind of dark! Though this character could be deemed as unlikable, audiences grew somewhat attached to the bizarre humor John Cena brought to the surface. And thus, the Peacemaker series was born.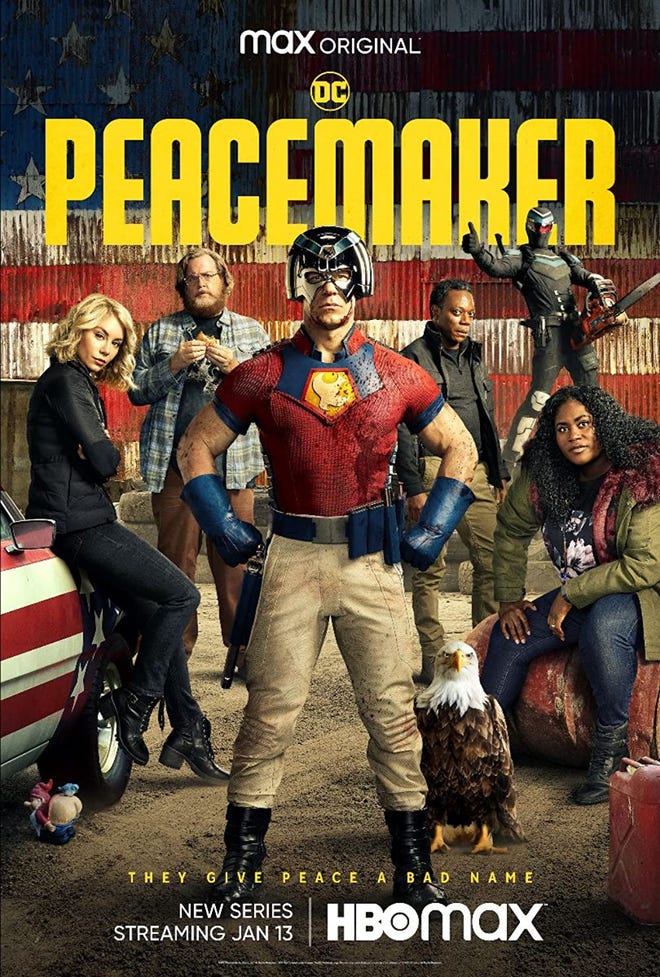 With his trusty pet, Eagly the Bald Eagle, Christopher Smith AKA Peacemaker, joins a team of misfits to ensure peace violently. This action-comedy sets place after the events of The Suicide Squad and primarily explores the origins of Peacemakers and his current missions as the Anti-Hero.
Earlier today, John Cena posted on Twitter encouraging his followers to watch the series saying, "this Peacemaker day, remember the real reason for the season: me. watch the first 3 episodes of my show back to back to back on @hbomax."
We love the cocky confidence, very on-brand for the character.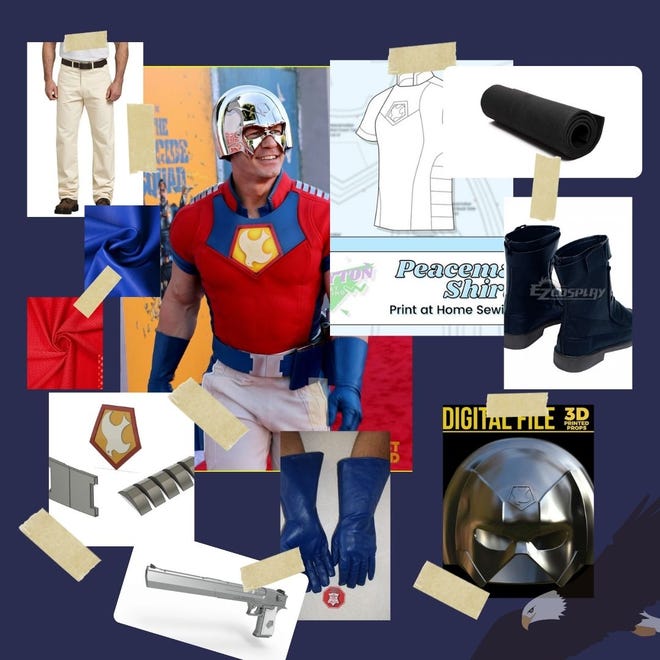 We are not going to lie; for how easy this cosplay looks, it is somewhat of a complex ordeal to make. So many elements of the Peacemaker's costume are built off of ordinary clothes. Like his pants are essentially Khakis with leather detailing. Because of that, our guide is going to be a bit unusual.
Some of the elements are pieces you can make on your own, while others are instant purchases, and at the end of the article, we have a link where you can buy the whole thing with just the push of a button and a dent in your bank account. But all cosplays do that to us unless it's a closet cosplay. So, let's get to the nitty-gritty and begin the How To/Buyers Guide of Peacemaker.
The Helmet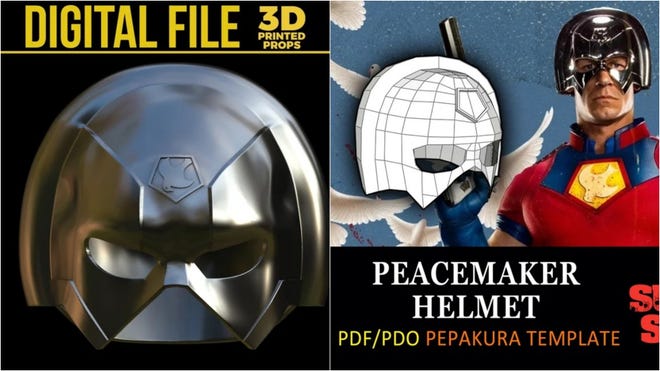 As the most crucial part of this cosplay, we have to show you how to do the helmet first and foremost. If you plan on doing it yourself, we found a 3D digital file on Etsy that is promising! If you don't have a 3D printer, use a template with foam. We recommend following along with YouTuber Pigtail Channel on his assembly of the helmet and his painting techniques in this YouTube video (Sidenote: he paints it a metallic gold at first, but in another video, he does a silver finish).
He also has his own helmet patterns for free in the description box under the video. A few of the materials you should consider purchasing include silver metallic spray paint, EVA foam 5mm thick, and resin (Smooth cast D65).
Top Half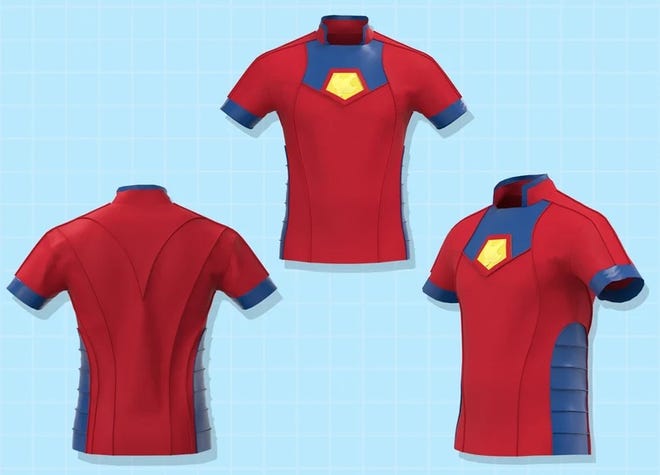 Peacemaker has a fascinating shirt that looks a bit terrifying to sew. But don't worry, Cospayton on Etsy has your back! They created this Printable Pattern with all your needs for only $5.80! AH-mazing! The material on the shirt is definitely unusual, and our best bet on what we pure mortals could mimic would be to use a Hive Textured Spandex in the color red.
There is a ton of detailing on this shirt that Cospayton on Etsy covers, but if you wanted to go the extra mile and have your accessories 3D printed, RobbDot3D has a Details Digital STL Pack for $3.99. Then comes the blue elements, which are a bit weird. If you want, you could use craft foam to make these elements pop and cover it with a Royal Blue Faux Leather Fabric. This could also be done for the belt.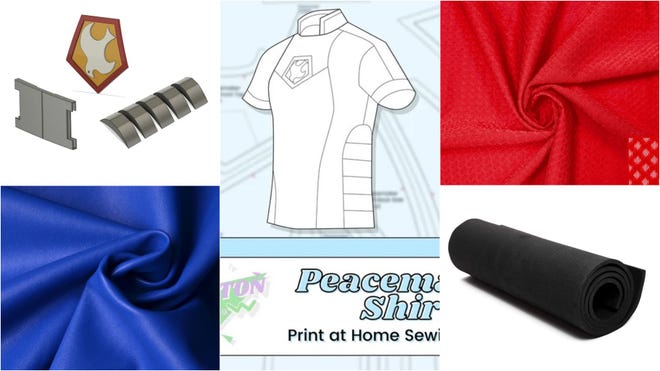 FoammXCosplay on Youtube has a great tutorial video on all things Peacemaker and highlights how to do these elements we couldn't find a template for or couldn't figure out. Check it out here.
Muscle Shirt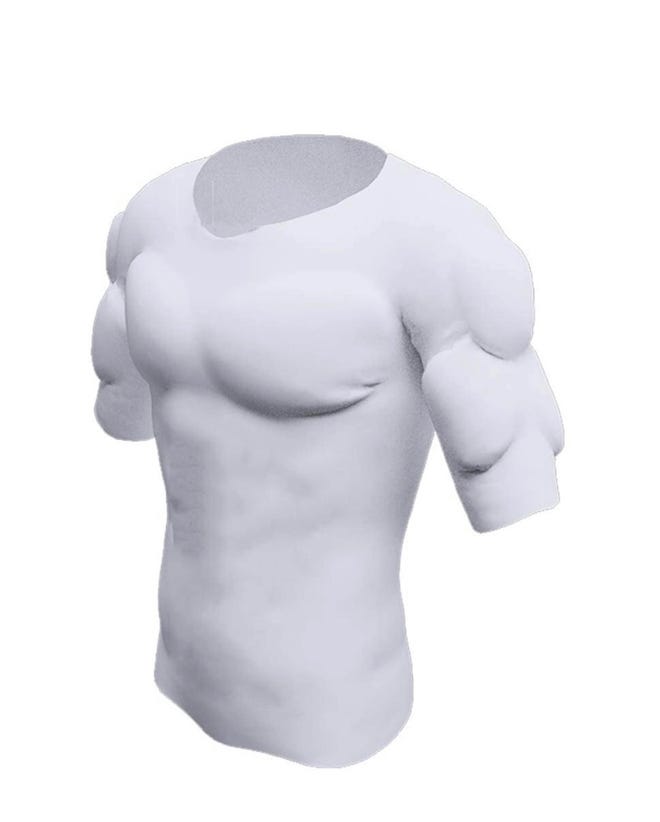 Our last piece of advice is a little over the top, but we kind of love it. Since we don't have the exercise or diet plan of John Cena, we found a way to look like him while eating our cake too. Behold, a muscle shirt! Wear this under your cosplay, and you will be looking fit for sure! We'd love to see it!
Gloves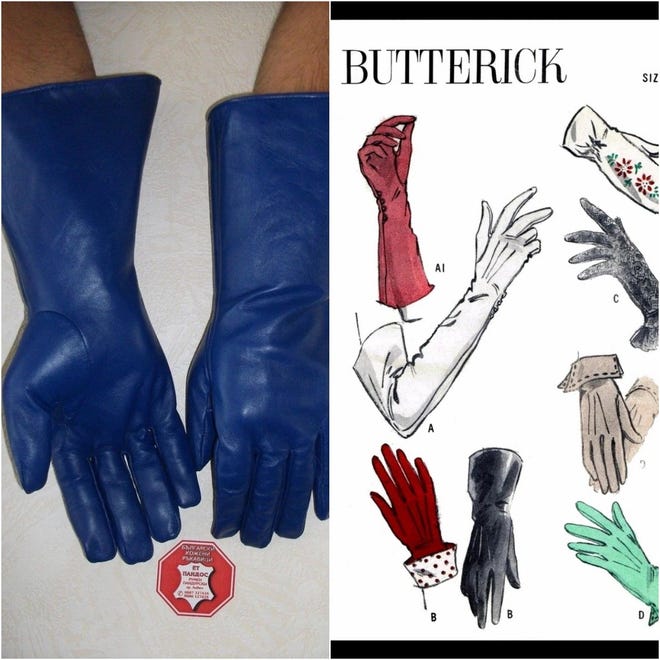 Peacemaker wears a pair of gloves for when things ultimately get dirty, so we found a few ways for you to have your own. For those crafty minds, who like to sew, Etsy seller Digitalonlypatterns sells a sewing pattern called Butterick Stunning Vintage 1940s Gloves, and we think that pattern B is the best one to go with.
If you want to buy legit leather gloves, GlovesBG sells Men's Driving Long Blue Genuine Leather Gloves for $47.00. There's also the option of taking a pair of worker's gloves and painting them blue!
Pants and Shoes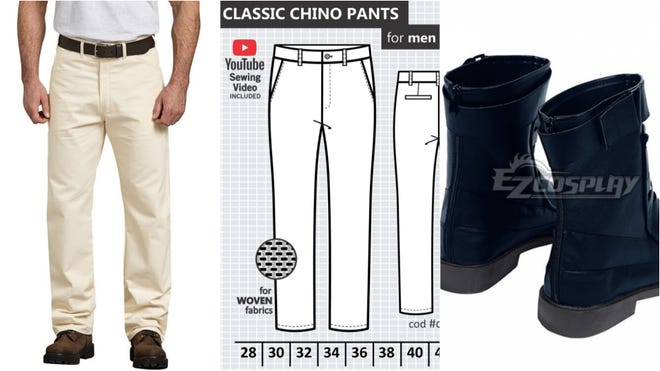 For a man who thinks he's a gift to mankind, Peacemaker sure knows how to rock a pair of Khakis. His pants have detailing on the knees, but that can be done by sewing some patches over them. If you'd like to make your own pair of pants, live your best life, and use PDFpatternsbotique's PDF Sewing Pattern/Khaki Pants that comes with a youtube link for a sewing video.
If you'd prefer to buy your Khakis, check out this pair from Dickies. As for the shoes, buying a can of spray paint and some cheap combat boots will do the trick, or you could also purchase the boots from EZCosplay for $48.99. Also, don't forget to accessorize with some fake blood from Amazon. For an excellent spray effect, mix the fake blood with water and put it in a spray bottle.
The Weapon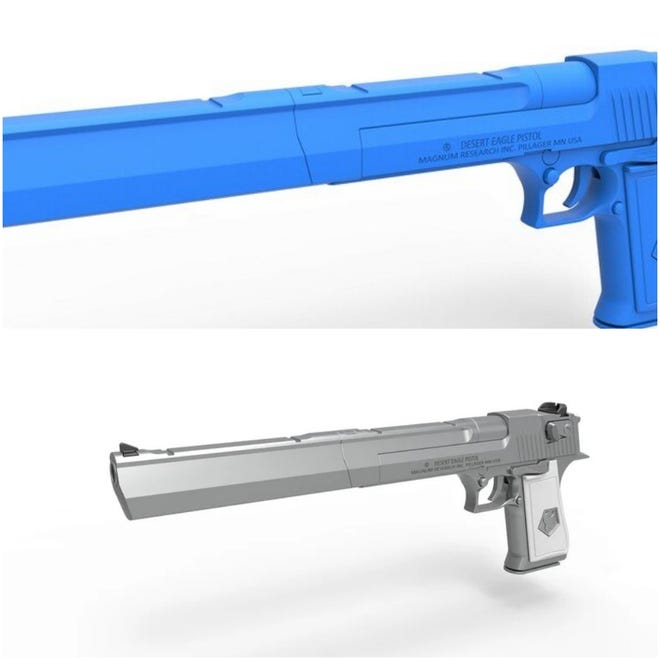 The Peacemaker's weapon of choice is a long barrel Desert Eagle Pistol that's obnoxious and cool and all things Peacemaker. To 3D print your own, use ArtStation's 3D Printable file. Then, grab a can of spray paint to apply a nice finish once you're ready. If you still want the idea of building your own but with ease, Etsy seller 3DPropKits has a listing for prop parts that require assembling. This RAW print needs painting, sanding, and gluing.
The Complete Suit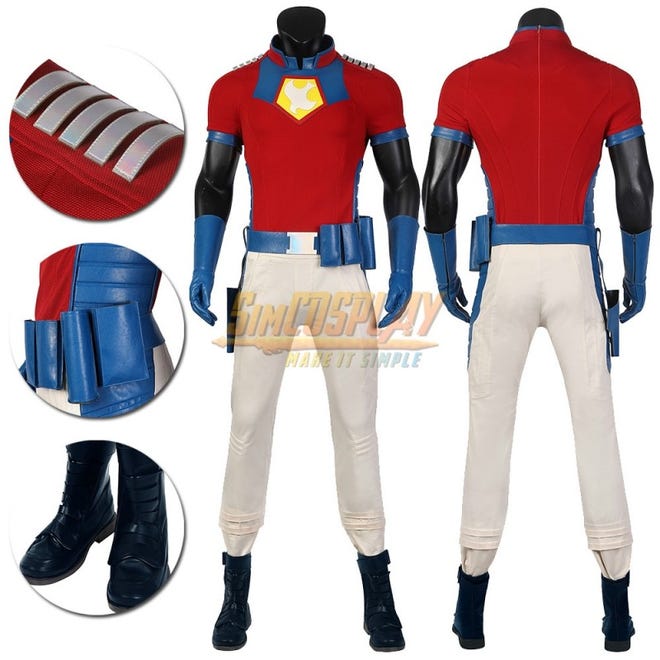 If you're a full-time student, have a job, or just don't have time or want to build things on your own or buy piece by piece, we hear you. Cosplaying does not have to mean crafting. SO, here are a few places to buy the whole suit in its entirety.
BONUS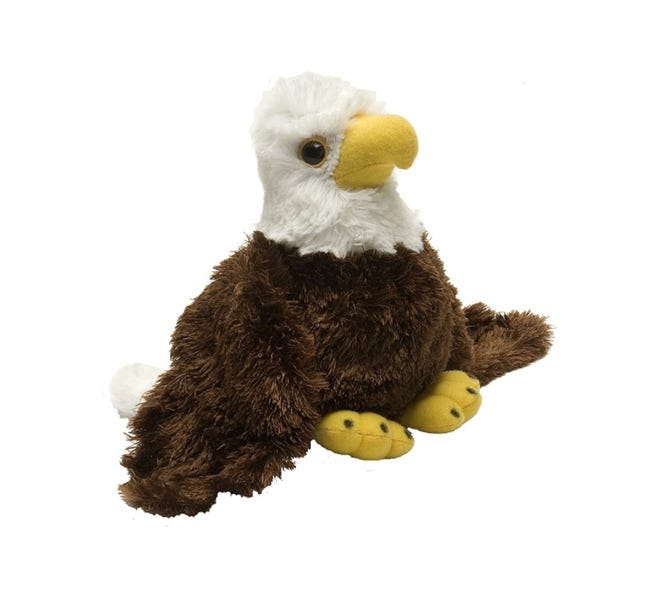 For fun, get yourself your very own eagle for your cosplay! Better yet, donate to your favorite wildlife conservation charity.
That concludes our how to/buyer's guide for Peacemaker! We hope you enjoy the new show and find your own inner peace. #Namaste
Peacemaker is now streaming on HBOMax.