Peach Momoko and her husband/manager open up about the overwhelming issues surrounding her New York Comic Con 2022 booth
The Demon Days creator found herself constantly surrounded at the four-day event in the Javits Center
With the dust still settling after New York Comic Con 2022, many fans are still wondering just what happened to Marvel artist Peach Momoko following an Instagram post she made in the immediate aftermath of the show.
In the caption to a post shared on Monday, Momoko wrote, "I am happy I got me meet so many fans. But at the same time, I am sick to my stomach that I didn't handle the situation correctly. I sincerely apologize to everyone. Especially on Sunday, with being kids day… I wish I prepared better for at least them… I hear some people making [an] assumption that I might not attend anymore shows… but that is wrong. I may be mentally weak, But I love my fans and will be back to do more shows. I will be stronger and make sure to be more prepared next time."
At the end of the post, she wrote, "I appreciate the retailers and exhibitors but I want to make sure I take care of my attending fans first and foremost. This is [their] day for me to show appreciation."
The reason behind this post was something that happened on Sunday in Artist Alley at the convention, with a fistfight between retailers and fans almost breaking out as both crowded Momoko's table in an attempt to take advantage of an offer to draw quick commissions for just $50 that morning.
"I was on the VIP/ADA line that day and was among the first handful of people to enter artist alley that day and already there were about 20 [retailers] lined up in front of Peach's booth," as one fan explained to Popverse. "One of the retailers became upset because the group of us with regular badges were being moved to the front of the line by con staff. I literally blinked and the two men were yelling at each other, with the vendor saying stuff like 'I wish you would put your hands on me.' Security was also there to keep them separate but no one was removed. Security, con staff and myself would get everyone calm and then the vendor guy would start threatening the other guy, and it would start over."
As a result of this confrontation, Momoko stepped away from her booth early, withdrawing the offer of both commissions and signings.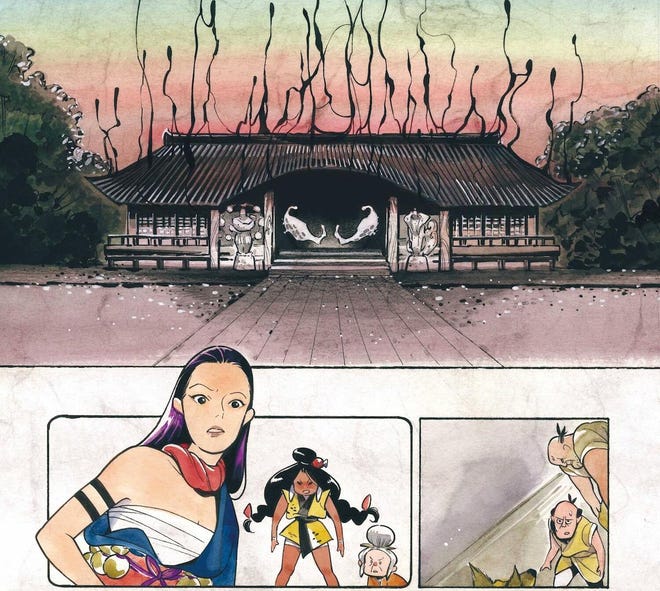 Although this was by far the most intense situation of the weekend the artist, it's understood that Momoko's table was overwhelmingly busy for the entire convention, in part due to her announcement that she would sign 10 items for free for anyone who visited the table, and those who wanted more than 10 signed items being allowed to get back into line as many times as possible — something that was, again, taken advantage of my retailers and vendors, according to fans. Anecdotally, I can confirm that Momoko's booth was seemingly permanently surrounded by a large crowd throughout the show.
Such was the concern over what happened that a question was asked during the talkback session with the ReedPop Live Events team on the final day of NYCC; Kristina Rogers, VP of comic events, said that she wouldn't be commenting on specifics without the permission of those involved, but did add that they were proud of the role the show's security team had played across the entire weekend.
"Things got hectic"
In an email exchange with Popverse, Peach Momoko's husband and manager, Yo Mutsu, explained what happened from their perspective.
"Before the show opened, I think around 9am, I constantly told the exhibitors to 'not line up,' 'please go away,' 'go to the far end of the hall, we don't want to see you,' etc… I told these people repeatedly. At first (9am) the exhibitors went away, but 5 minutes later they all came back… and repeat, and repeat," Mustu wrote. "By the time it was 9:30am, I tell them again 'Go away please.' They all just smile and tell me 'Oh, this isn't a line,' and just kept staying in a big group in front of our table and once the regular attending people started to queue up, they saw the big group in front of Peach, and things got hectic.
"Peach had her earphones on zoning out at that time, but suddenly I heard some violent yelling and that is when Peach heard it over her earphones as well. The security [guards] went over to calm the person down, and that is when I went over as well to talk to them, and to tell them that they are no longer welcome to Peach's signing. Unfortunately by that time, Peach got overwhelmed and scared and started to blame herself for creating this problem because of her presence, she couldn't breathe properly so had to hide herself under the table. She was also shocked to see people would fight and argue over a signature."
According to Mutsu, the decision to suspend signings on Sunday came from show organizers, who "insisted on prioritizing Peach's health… we appreciate ReedPop's decision as people will probably keep coming to our table if it wasn't ReedPop putting the 'signing cancelled' sign up. Peach and I both feel bad for the fans that came Sunday and we were pretty much not available in the morning."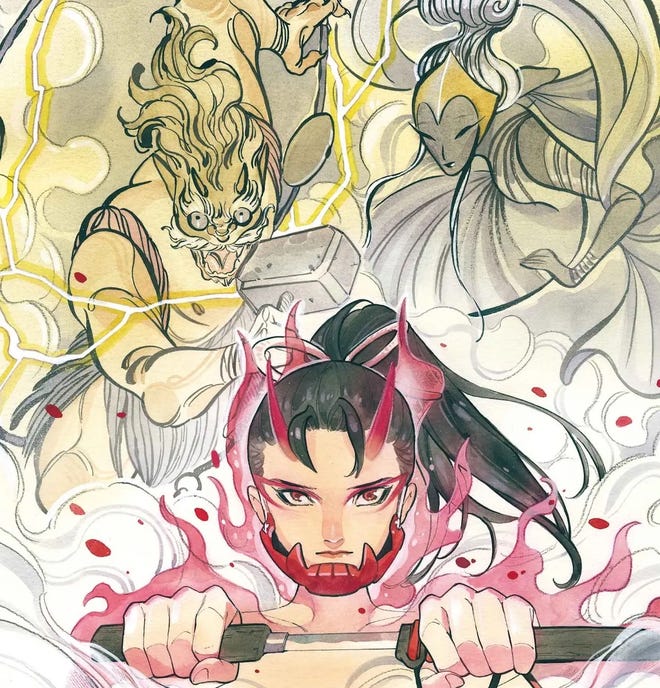 Moving forward, Mutsu said that the only likely change to Momoku's signing policy is a potential change on the number of books she'd sign from each fan — from 10 to 5 — and coming up with a new plan for line management to avoid a repeat of what happened at New York. "I just can't reveal how we are going to do it in future shows because exhibitors/dealers/etc might be reading this article and I don't want them to have a heads up knowledge to work around our solution," he wrote.
"We just wanted to be make sure people understand that Peach had a tremendously exciting and happy time at NYCC," Mutsu emphasized at the end of the conversation, saying that Sunday's events were "really the only negative impact. But overall Peach loved everyone that came out and she had a positive and super busy show that easily outweighs the morning situation. We want people to understand we did not walk away from NYCC with just a bad experience. We walked away with so much great energy. And now she wants to come back to NYCC and make sure every fan can also walk away with something and with a great experience from her table too."
---
Momoko was previously one of Marvel's Stormbreakers group of promoted artists. The company recently announced a new group to take the mantle, moving forward…