Phoo Action revives a rare piece of comics history from Gorillaz co-creator Jamie Hewlett
The missing link between Tank Girl and Gorillaz will be available for rediscovery this winter.
A lost piece of comics history is about to get the treatment it deserves after a quarter of a century, with the news that Z2 Comics is publishing Phoo Action: Silver Jubilee, exploring the complete history of Get The Freebies, the little-seen comic co-created by Tank Girl and Gorillaz artist Jamie Hewlett.
Debuting in British fashion magazine The Face in 1996 (he same year that Deadline, the original home for Tank Girl, folded) Get The Freebies saw Hewlett and co-writer Mat Wakeham tell the story of Whitey Action and Terry Phoo, a mismatched pair of counter-culture figures who declare war on the Freebies, a gang of ne'er-do-wells led by Jimmy Freebie, a man with a basketball for a head.
Little-seen at the time, the short-lived strip is arguably the missing link between Tank Girl and Gorillaz, which launched two years after the Freebies; the design and art style of Freebies is particularly visible in Hewlett's illustration and design work for the first Gorillaz album. That link only became more pronounced with the release of Phoo Action, a 2006 TV pilot made by the BBC adapting Get The Freebies that not only featured music from Gorillaz partner Damon Albarn, but also included a couple of specific links to Gorillaz mythology.
(The Phoo Action pilot was greenlit for a six-part series, which ended up canceled before airing. It's dizzying to imagine what Gorillaz easter eggs might have appeared, given the opportunity.)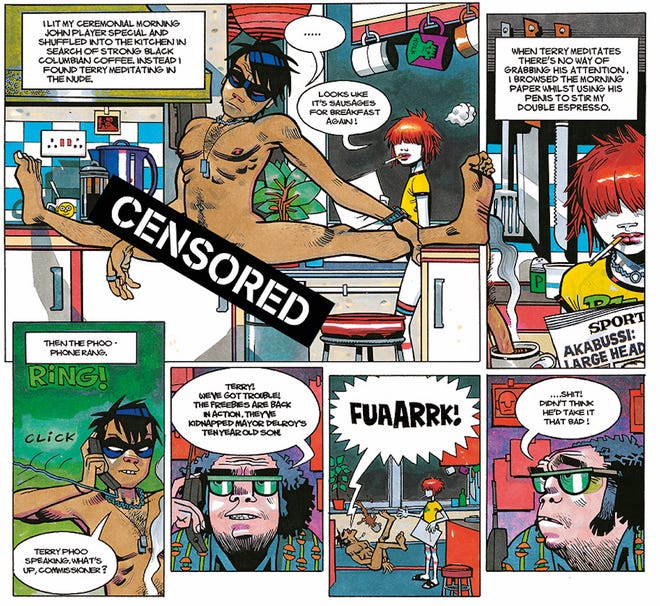 Z2's Phoo Action: Silver Jubilee hardcover doesn't just collect the entirety of the strip's original 12-part run in The Face; it also includes a never-before-printed introduction to a second season that never happened, with Wakeham detailing the story that never-was via a prose story. Also included will be unseen design work by Hewlett, as well as brand new illustrations by Jamie Hewlett's Deadline collaborator Philip Bond (Wired World, Kill Your Boyfriend). The book will be released in two editions: a standard hardcover, and a deluxe version including enamel pins, magnets, and embroidered patches.
Phoo Action: Silver Jubilee, which features a new cover by Hewlett, will be released this winter.
---
Phoo Action: Silver Jubilee is just one project taking a look back at the early comics of the Gorillaz co-creator; those wanting to see more of Jamie Hewlett's '90s output should turn their attention to the upcoming Best of 2000 AD, the first issue of which features a rare Judge Dredd strip by the artist. Popverse reveals more over here.