Are the dark days of Pamela Isley finally coming to an end? Poison Ivy #4 hints at a hopeful future
Poison Ivy's cross-country trip for self-discovery has led to a romantic entanglement away from Harley Quinn. Here's how this brief solved Ivy's existential crisis
Of all the colorful figures in Batman's rogues' gallery, Poison Ivy has had a particularly rough go of things in recent years. Though the super-powered Pamela Isley has flitted for years back and forth across the moral line of being a supervillain or a sympathetic antihero, her personal life has been in utter turmoil. Not in a great place mentally and facing her own imminent mortality after a brush with absolute power, Ivy decides to change things up and take on her life on the road, in the comic book maxi-series Poison Ivy by G. Willow Wilson and Marcio Takara, where she falls into the arms of a new love interest.
Spoilers ahead for September 6's .
Though this quick fling may seem like a passing flight of fancy and convenience for Ivy, this romantic interlude provides the botanically-minded antihero with something she has sorely lacked in a long time: A burning desire to live. Armed with this newfound intent to survive, even in the face of monstrous danger, Ivy is ready to confront the threat on her life head-on, with a reunion between her and her longtime on-again/off-again paramour Harley Quinn in the cards. Here is a look at Poison Ivy's complicated love life and what led her to go on her cross-trip for self-discovery before deciding to return home to Gotham City.
Poison Ivy's romantic epiphany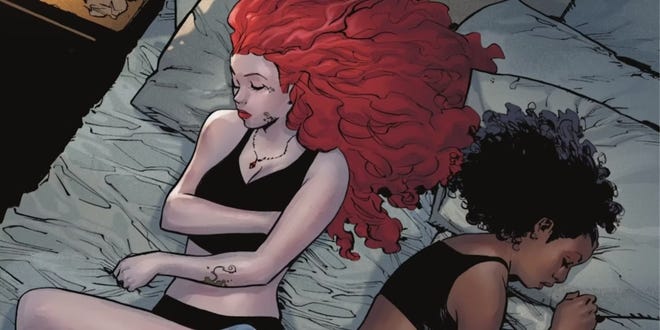 The last time Poison Ivy and Harley Quinn were together, Harley sensed something was deeply off with Ivy and decided that they were better off apart until Ivy could sort herself out. The Gotham couple taking a break coincided with Ivy becoming infected with a genetically enhanced form of fungus that was steadily consuming her and projected to eventually kill her. Embarking on a cross-country trip to reflect on what were rapidly shaping up to be the final days of her life, Ivy took a job at a shipping company in order to send deadly pathogens in its packages to eradicate humanity as her lasting legacy in a parting bid to save the planet from the 'scourge' of humanity through its own addiction to commercialism.
It was at this shipping company that Ivy met co-worker Jesslyn, a young woman who was constantly harassed by their direct supervisor, George, at the shipping center. Taking matters into her own lethal hands, Ivy privately confronts George in his office and has him publicly admit to sexually harassing his employees, recommending them all for a raise, and supporting their bid to unionize. Ivy coerces this all from George by fatally infecting him with her plant-based spores, resulting in the abusive boss painfully dying immediately after complying with Ivy's demands.
After announcing to Jesslyn that she had definitively dealt with George, without divulging the exact nature of what just transpired, Jesslyn reveals her gratitude and mutual attraction to Ivy by sleeping with her at Ivy's motel room. Though Ivy and Jesslyn part ways the morning after, the sexual encounter makes Ivy realize that she wants to live rather than accept her impending demise. Moreover, Ivy wants to see Harley again, with Pamela's mind constantly thinking of Harley even in the midst of having sex with someone else.
The Roots of Poison Ivy's Queer Identity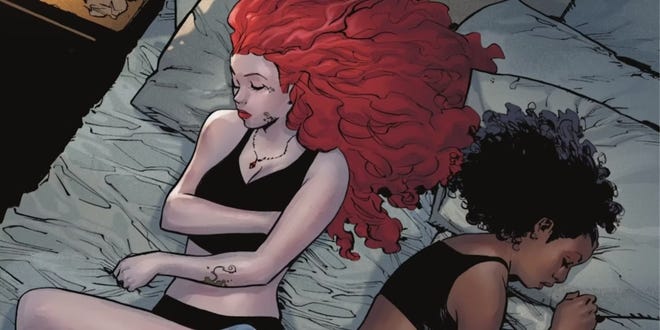 When Poison Ivy was introduced in 1966's Batman #181 by Robert Kanigher and Carmine Infantino, the character was presented as a heterosexual individual, keeping within societal expectations at the time and using her enhanced pheromones to bewitch men, pitting the Dynamic Duo against each other in her debut. By the '90s, Ivy began openly flirting with women and bewitching them with her powers but her personal life changed forever when she met the Joker's most memorable associate Harley Quinn.
Created by Bruce Timm and Paul Dini for Batman: The Animated Series, the two characters first interacted together in the 1993 episode 'Harley and Ivy,' with Harley moving in with Ivy while her relationship with the Joker was on the rocks. Proving to be an effective criminal team, there is an undercurrent of romantic tension in the episode which persists even after Harley and the Joker reconcile. By Batman: The Animated Series' successor The New Batman Adventures, Harley and Ivy are depicted as still living together, with their rapport as tight as ever and Harley even becoming visibly jealous when Ivy pals around with the Superman villain Livewire.
The first time Harley and Ivy met in the main DC Universe comic book continuity was in Harley's canonical debut in the 1999 one-shot Batman: Harley Quinn #1 by Dini, Yvel Guichet, and Aaron Sowd. After crashing into Ivy's territory, Harley is nursed back to health and given immunity to Ivy's natural toxins, with the plant-based supervillain subtly hinting that she is amorously interested in the Joker's moll.
The couple's tentative romance would go undefined for years afterwards, with the implication that Ivy was more interested in Harley than the other way around. This changed during Jimmy Palmiotti, Amanda Conner, John Timms, and Chad Hardin's 2016 Harley Quinn ongoing series, with the two seen showering together in Harley Quinn #3 (vol. 3). Harley and Ivy were finally depicted as kissing and implied to be in a non-committal relationship in 2017's Harley Quinn #25 (vol. 3), with their romance steadily growing more serious and becoming more prominent in stories outside of DCU continuity, including the Injustice tie-in comic book series and the HBO Max animated series Harley Quinn.
Poison Ivy's rocky road to recovery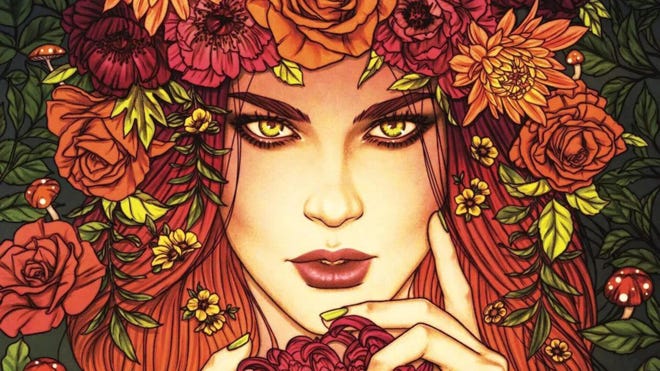 Ivy's budding relationship with Harley led her to rethink her villainous past and she began attending therapy at the superhero rehabilitation facility Sanctuary during the 2018 crossover event Heroes in Crisis by Tom King and Clay Mann. Wally West, who was also receiving treatment at the facility at the time, violently lost control of the Speed Force and accidentally killed Ivy with an outburst of raw Speed Force energy. Deeply remorseful of his actions, Wally was able to resurrect Ivy by using the Speed Force to regenerate from a rose that she had given to Harley.
Ivy's new lease on life wasn't without consequence, however, with Ivy struggling to recuperate from the traumatic ordeal and accidentally creating a plant-based duplicate of herself. The duplicate eventually dies to stabilize Ivy's condition but the experience was another harrowing one in a long line of deeply affecting incidents. Attempting to piece herself back together, Ivy grows a garden below Gotham only for it to be destroyed in the crossfire during the 2020 crossover event 'Joker War,' further traumatizing her.
The breaking point for Ivy came during The Swamp Thing, by Ram V and Mike Perkins, with Ivy managing to enter the elemental realm of the Green, the life force connecting and empowering all plant life in the DCU. Boasting the powers of a god within this realm, Ivy was stripped of her temporary upgrade by the new Swamp Thing Levi Kamei and ejected back into the main DCU where she and Harley decided to go on a break. This brush with omnipotence left a lasting impression on Ivy, with Pamela experimenting with the fungus that would ultimately infect her in a desperate bid to regain godhood.
With Ivy contending with her potentially terminal fungal infection and a mysterious plant-based antagonist sending their minions to finish her off, Poison Ivy's very existence has come under threat. What began as a casual workplace fling led to an existential revelation for Ivy and one that has restored her will to live after an extended stretch of hard times. Hopefully, this renewed interest in life hasn't come at a moment too late.
Written by G. Willow Wilson, illustrated by Marcio Takara, colored by Arif Prianto, and lettered by Hassan Otsmane-Elhaou, Poison Ivy #4 is on sale now from DC Comics. The story continues is Poison Ivy #5, on sale Oct. 4.