DC's Poison Ivy: Our favorite cosplayers who make us green with envy
These Poison Ivy cosplayers sure know how to put the petal to the metal.
Take your allergies meds because spring has sprung, and with all these beautiful flowers in bloom, we can't help but think about our favorite plant mom: Poison Ivy. She's been an icon since her comic creation in 1966 by Robert Kanigher and Sheldon Moldoff, with her first appearance in Batman #181.
By popular demand, Poison Ivy has since made several appearances in films, animation, and comics. She's known for being beautiful but very deadly. Her obsession with botany and environmentalism constructs her true villainous goal of protecting the natural environment through chaotic and destructive means of humanity. Poison Ivy has great intentions, but she's just a bit of an extremist.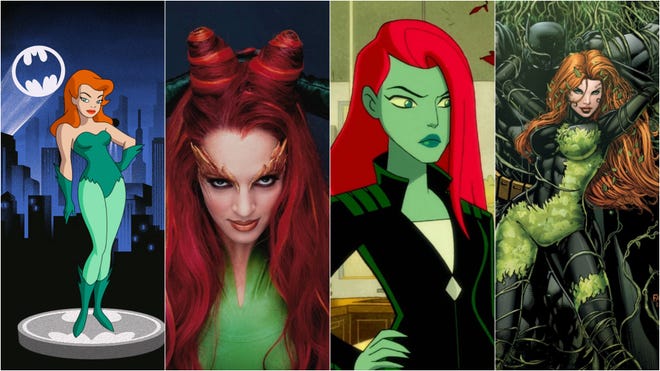 Before our femme fatale was in the Suicide Squad, Birds of Prey, or Injustice Gang of the World, she was a brilliant botanist. Initially, Poison Ivy was only meant to be a love interest for Batman, but as popularity for her character rose, the creators decided to give her more of a backstory.
Now, like most DC Comic characters, her backstory has changed multiple times with various sources of trauma to make her a justifiable villain. The most consistent storyline for her origin is this: Dr. Pamela Lillian Isley studies advanced botanical biochemistry at a university under Dr. Jason Woodrue. Pamela becomes transfixed with her professor and is injected with poisons and toxins as an experiment. This causes her transformation from a regular Doctor to an insane eco-terrorist and a common Gotham City criminal.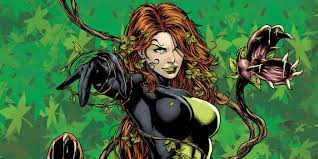 While fans eagerly await season 3 of the animated Harley Quinn series to see Poison Ivy back in action, there have been rumors of a DCEU debut for the character in Gotham City Sirens and Birds of Prey 2. Poison Ivy may be a super villainess with a high kill count, but her outfits are the actual killer. Because she's been around since the 60's, her costume closet is complete with sensational pieces that make every cosplayer want to grow a green thumb. With that being said, here are a few cosplayers who do justice to Mother Nature's prized protector.
Sammyrubin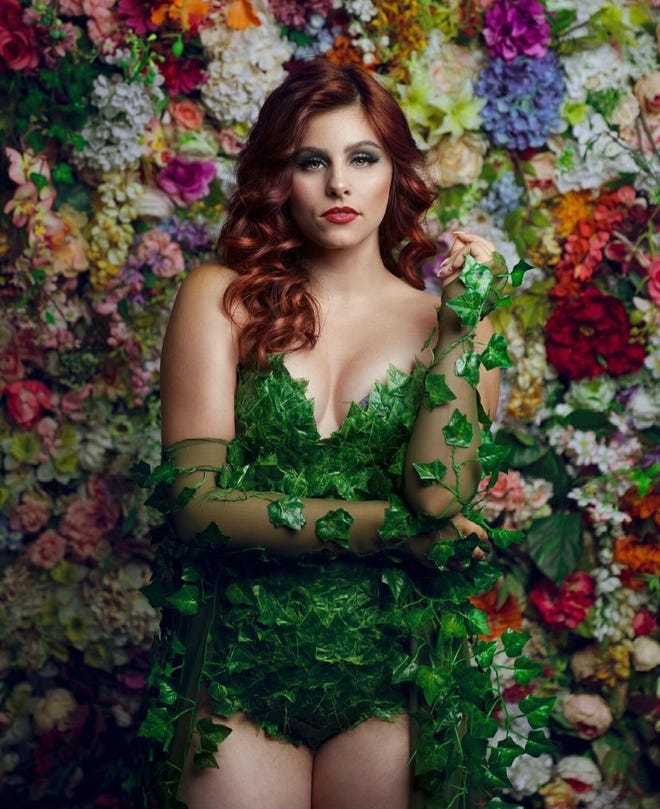 All in favor for Sammyrubin to play the live-action Poison Ivy say Aye. Aye! Seriously she looks like the femme fatale brought to life, and she's an actress, so realistically, she could do it. Her cosplay consists of a leaf-covered bodysuit, transparent gloves wrapped in vines, and a detachable train of a skirt that is to die for! The detailing on the costume is everything a Poison Ivy cosplayer could dream of and more. Plus we love this flower wall from @ocwonderlandstudios; it's the cherry on top.Sammyrubin is a multi-talented individual who regularly posts Instagram stories about mental health and good vibes.
Like most supervillains, Poison Ivy wasn't always a villain. Before she had plant powers, she actually owned a flower shop in Old Gotham called The Baudelaire Flower Shop, as seen in the Batman: Arkham video games. There was even a time where Ivy attempted to reopen the shop, but she eventually returned to a life of crime after seeing how horribly the world was treating the environment.
Flawless_by_tenisha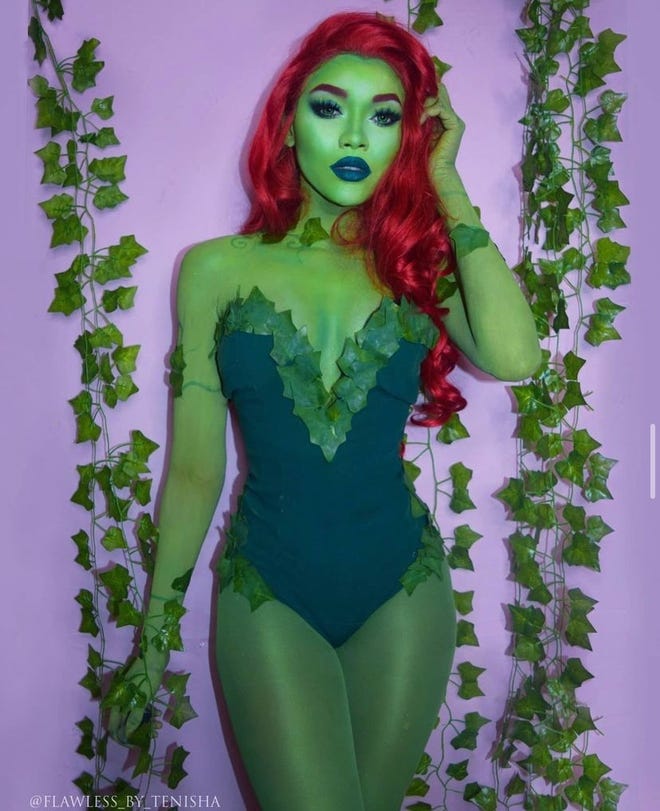 We are green with envy looking at how stunning Flawless_by_Tenisha is! Tenisha taught herself how to do makeup and is now a pro-MUA and SFX artist who regularly updates her Instagram and TikTok with makeup tutorials. There's even a tutorial for her Poison Ivy makeup look! But this isn't her only Poison Ivy cosplay. She's gone seasonal!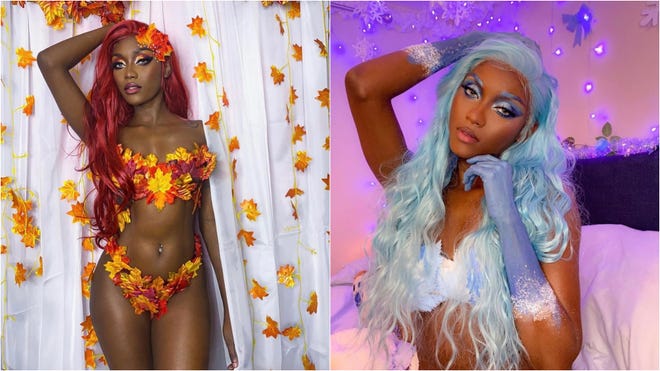 We are obsessed with these alternate Ivy looks and love the idea of adding autumn and winter styles to Ivy's wardrobe. Can we talk about the paint on gloves for winter? They are phenomenal!! For Tenisha's Ivy cosplays, she takes a regular swimsuit and hot glue leaves to them. One of her makeup tips as Ivy requires applying @mehronmakeup Paradice AQ PRO Face Palette with a brush and quickly blending it with a sponge before it dries.
Poison Ivy and Swamp Thing both share a power source that is an elemental force called "The Green." Interlacing all plant life, "The Green" chooses protectors to fight off threats to the Earth by giving them control of the ecosystem.
Drewashlynmua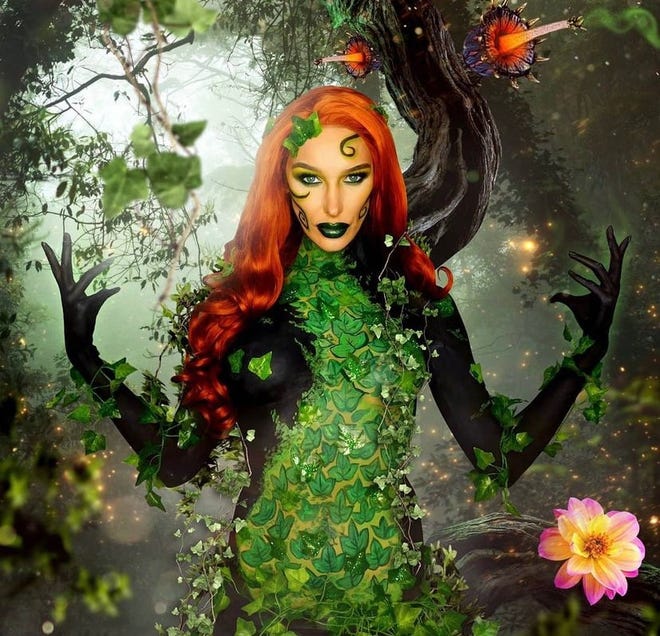 Even Mother Nature would be jealous of how amazing Drewashlynmua looks! Who doesn't love full body paint! Seriously, it's all body paint, makeup, and a few fake vines that create this stunning rendition of Poison Ivy's New 52 costume. This ambitious creation has plenty of products like Fenty and Maybelline behind it that Drewashlynmua highlights in her Instagram caption. For this image, digital artist @crc_roek made some fantastic life-like graphics that truly bring this look to life.
Besides Poison Ivy, Drewashlynmua has done full body paints for her other DC comic cosplays Catwoman, Wonder Woman, and Starfire that are all extraordinarily marvelous. Her Youtube channel consists of makeup tutorials and life updates where Drewashlynmuaon describes what it's like to be a transgender person in the makeup industry and in life.
Back in 2013, she was the United Kingdom's first transgender wrestler, which is pretty badass. Because Poison Ivy derives her powers from the elemental force known as "the Green" she has superhuman abilities that make her super strong, agile, and durable.
Cagedbatcosplay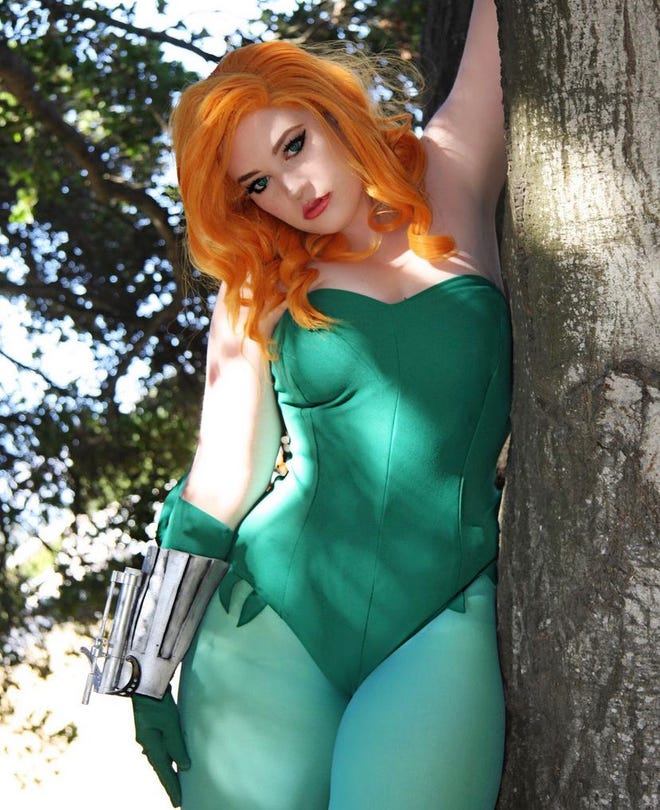 Na na na na na na na na na... Cagedbatcosplay! This animated Poison Ivy brought to life by Cagedbatcosplay is jaw-dropping. It's as if she put a real-life filter on the animation. She started with a basic bodysuit pattern and modified it. During her crafting journey, most of her sewing was improvised and made up on the spot. Cagedbatcosplay's dart shooter is also fully functional, and those lovely green tights are by @welovecolorcosplay. After she fights crime for the environment, Cagedbatcosplay dresses as her favorite storybook characters for kid's parties.
In Batman: The Animated Series, Ivy's hand-to-hand combat abilities aren't up to par with how she is in the comics. However, her knowledge of martial arts and training as a gymnast gives her enough power to hold her own in a fight. As a last resort, she's equipped herself with a miniature self-reloading crossbow on her wrist. As for getting around the city, Poison Ivy drives a pink car with license plate ROSEBUD.
Cassandracosplays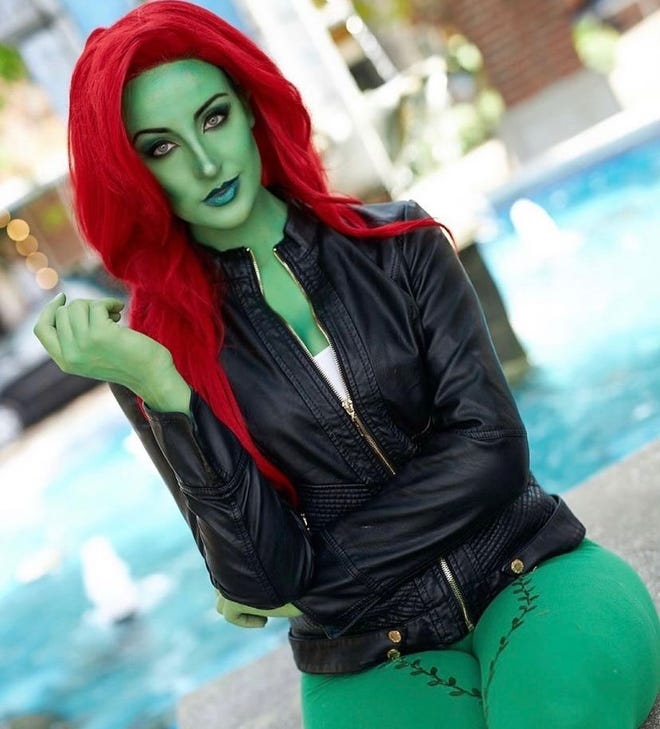 We are prepared to suffer the wrath of Mother Nature so long as it's Cassandracosplays who deals it. Seriously, she looks that good! When we asked her about this cosplay, she said her favorite part is "that this design is attainable for all skill levels and comfort levels too; I know a lot of Cosplayers shy away from Ivy because she's usually more revealing, and it can be intimidating. However, this design is a good stepping stone into having that confidence. Anyone can do it!".
To prove her statement, here are a few things Cassandra did to create this cosplay. She purchased some items from Amazon like the red wig she styled and the bodypaint, Mehron, along with other eyeshadow to do the contouring and details. Her tip for applying body paint is to use alcohol instead of water as a base for a longer-lasting set, except around the eyes. Oh, and a TON of setting powder. Cassandra then bought a pair of cheap green leggings, took a vine appliqué, and sewed it on. Her jacket was one she already had and modified it a bit to look more like Poison Ivy's design from the show.
We love how this cosplay turned out and how achievable it is! While Cassandra has already completed three different cosplays of Poison Ivy, she's ready for more, and we can't wait to see what she's going to do next!
Cool_beeans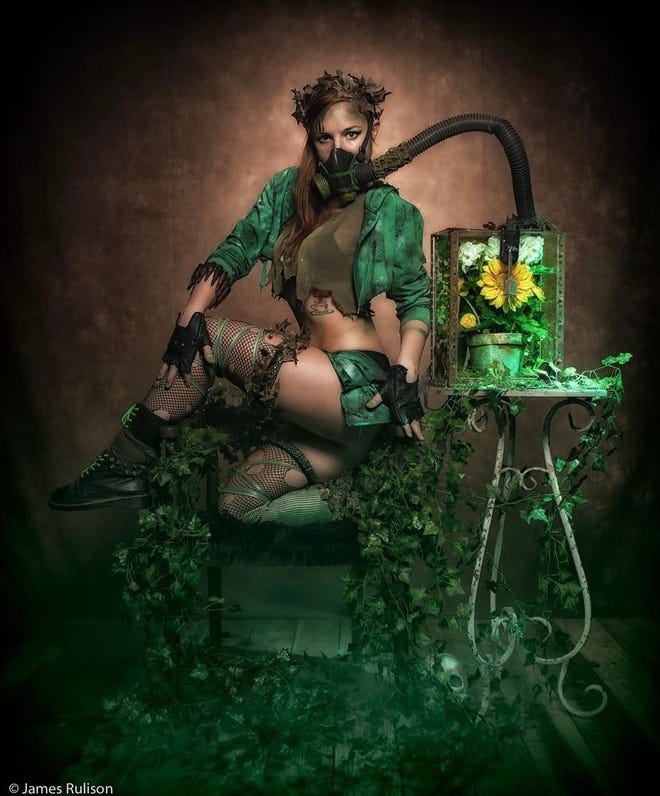 Build your post-apocalyptic team with Poison Ivy, and you may just make it through the apocalypse without a scratch. But be sure to not step on her vines, or you'll be the zombie's next entree. Long introduction, short, Cool_beean's cosplay design stems from the idea of a post-apocalyptic universe where Poison Ivy would scavenge the last surviving plants and help them grow in her unique breathing backpack. Creativity doesn't even describe how excellent and well-executed this concept is.
Cool_beeans truly excelled in making her idea blossom. The vines covering the crown of her head and the top of her legs are painted brown to contrast the new life stemming from her box. Her gas mask is also hand-stitched to the vacuum hose that connects to her backpack. This cosplay concept doesn't stray too far from one of Poison Ivy's weaknesses. Like any plant life, she needs sunlight to survive and breathes CO2 rather than oxygen. She's definitely more plant than person.
Alyson Tabbitha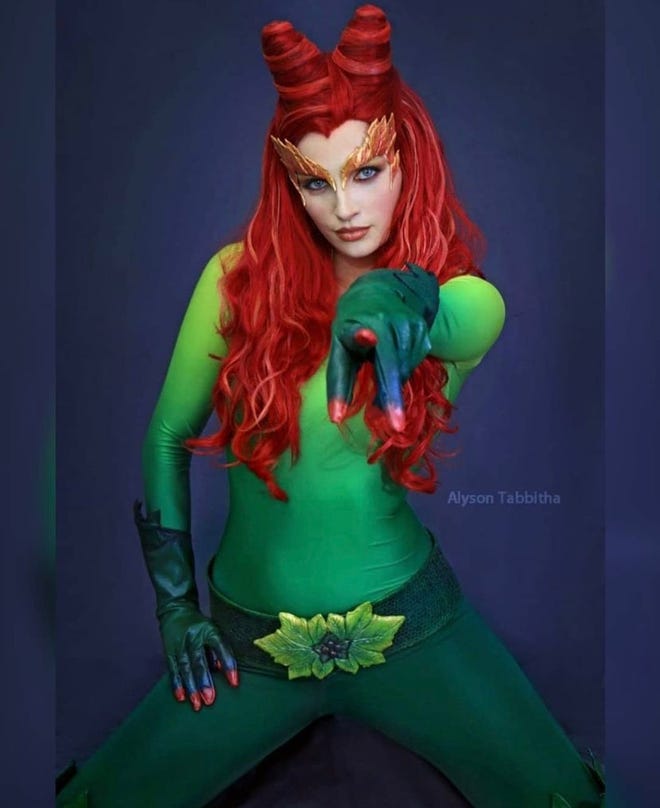 Alyson Tabbitha is back at it again with her shape-shifting powers! She's completely transformed herself into Uma Thurman's Poison Ivy from the film Batman and Robin. Let's hope she doesn't blow a pheromone kiss our way. We absolutely love this wig and how Alyson styled it. She carved two styrofoam egg-like shaped balls, hot glued them to the wig and then used more hot glue while she wrapped pieces of hair around them.
Her costume accessories like the gloves and boots are crafted out of thin textured vinyl with a slight stretch necessary for movement. For the belt, she cut out craft foam and sewed on fabric over it. On top of that, she glues on a textured trim that she first paints in black, then green, and then a light shade of gold to use as a highlight. She then glues the resin belt buckle she created from her own leaf mold.
For more information on how she made this cosplay and many more like it, check out her YouTube channel link in her bio for tutorials. When Poison Ivy wishes, she can be deadly to the touch due to the biochemical toxins in her body, giving her immunity to toxins, poisons, and viruses.
Graciethecosplaylass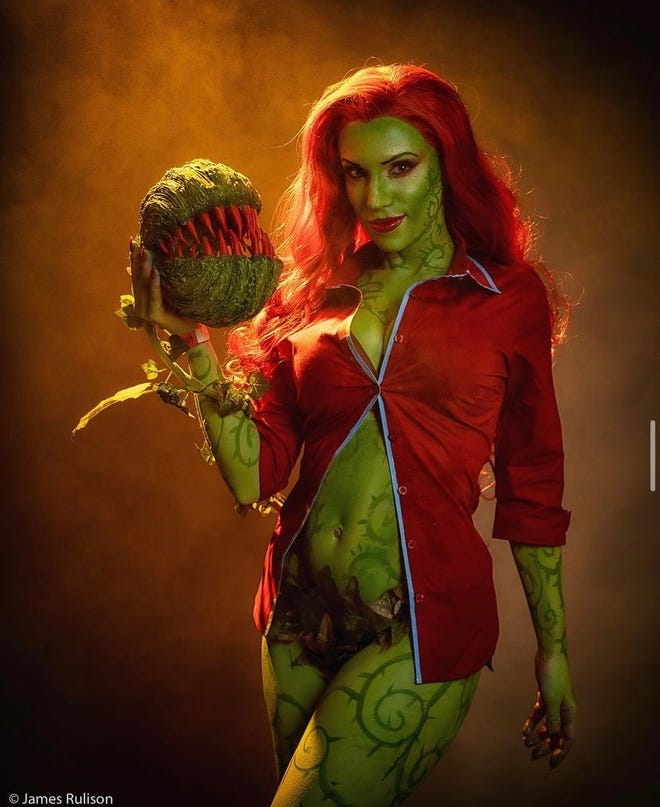 Every rose has it's thorn, and Graciethecosplaylass looks to have many! Her adaptation of Poison Ivy from the Batman: Arkham video game series has to be one of our favorites! Her plant friend is made out of a foam base with hot glue for vein texture and foam teeth. The body paint she used for this photoshoot was Woochi, but her personal recommendation is to use Mehron.
Gracie has been quoted as having a "love hate relationship" with body paint, but from the looks of it, she's pretty talented with a brush. Some of her body paint cosplays include Hell Boy, Starfire, and Marge Simpson. A little botanical monster named Harvest told us that Gracie's next body paint cosplay will be Darth Talon! So cool.
When Gracie isn't crafting her cosplays, she's baking some impressive character-inspired cakes. If you want to see more, check out her baking Instagram, @Graciescustomcakes. She just made two Star Wars cakes of Jar Jar and Baby Grogu, and they are unbelievably amazing! Poison Ivy has a green skin tone, but some versions of her character can alter their pigment to look more human.
Sorajas_artistry
Can we get an aloe-lujah for how intoxicating Sorajas_artistry's cosplay of Poison Ivy is from the Batman and Robin movie? With the plant puns aside, Sorajas_Artistry is a skilled costume designer and stylist who put a considerable amount of work into this cosplay. Once Sorajas_artistry cut one hundred plus leaves out of her fabric, she then trimmed the center out of them to replicate texture. She dyed fourteen yards of fabric alone to create her glorious cape and then tediously stitched all of the leaves onto it.
Costume designer Sorajas_artistry may actually have a natural green thumb. According to Instagram, the costume designer showcases several different plants that she has either propagated, created like her Kokedama Fern, or grown from her very own garden. She embraces and cares about nature, just like Poison Ivy.
Now, plants may have the majority of Poison Ivy's heart, but so does Harley Quinn. Ivy proved this affection for Harley when she injected her at-the-time girlfriend with the same chemical that made her immune to toxins. This ultimately saved Harley's life and gave her a new helpful power.
Princessmorganb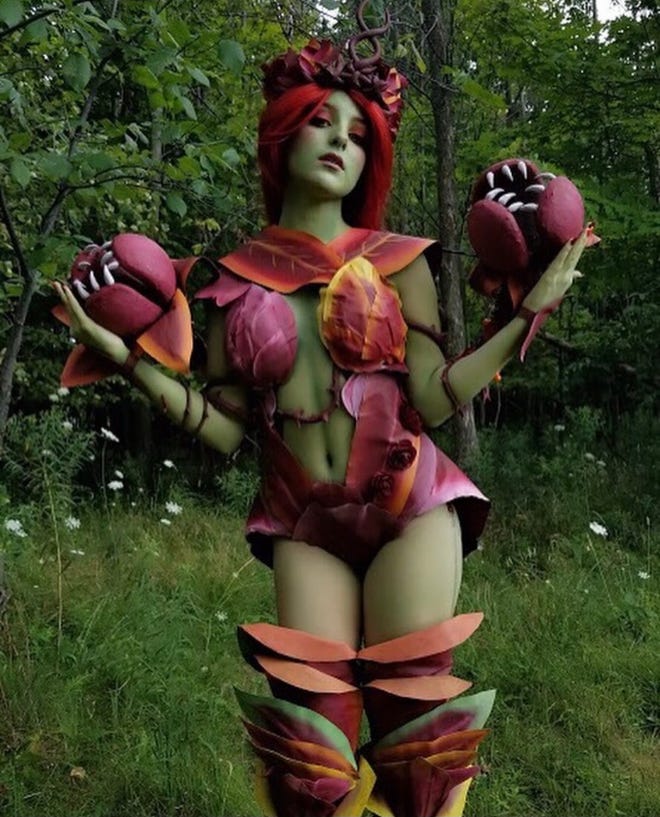 Princessmorganb could get away with petty tree-son with how incredibly stunning her Injustice 2 Ivy cosplay is! It's a crafting dream! The details are so intricate, everything is so stunning, from the kadupul flowers' crown to the tightlacing bodice. And we can't get over how amazing her foam work is. Her costume is covered in a leafy material that's actually satin fabric sealed with Modge Podge and painted over with acrylic paint.
For her body paint, she used Mehron Paradise and applied it simply with a flat makeup brush. Princessmorganb isn't just a crafting wizard, she's also a tattoo artist and an actress. Some of our favorite recreations from Princessmorganb are her Alucard from Castlevania, Ariel from The Little Mermaid, and Pidge from Voltron.
Poison Ivy can secrete various toxins from plants, including a chemical that causes anyone around her to become full of desire and lust. These pheromones allow her to control other people to do her bidding.
Bonus Cosplay: Misselliehoneybee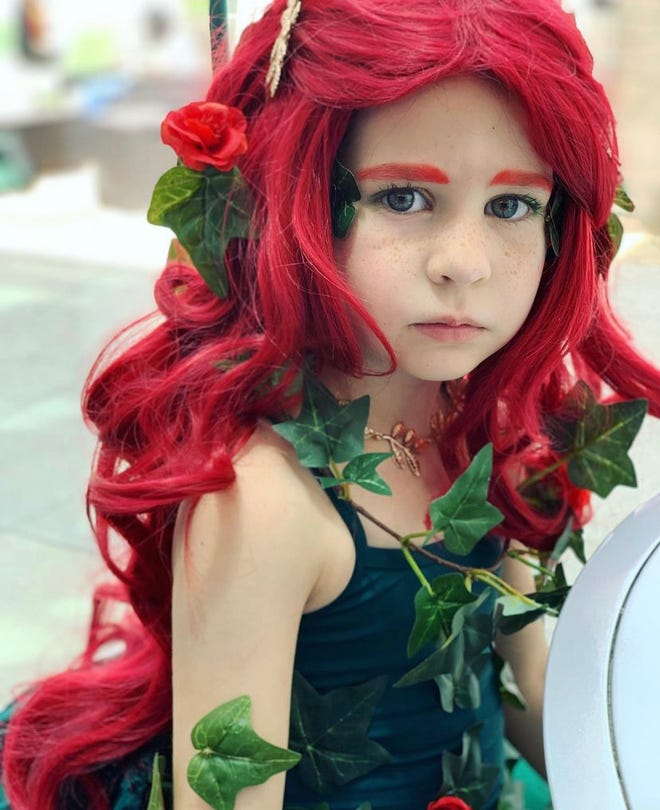 Last "bud" not least, keep an eye out for this actress in the making, it's MissEllieHoneybee! We love her version of Poison Ivy and how much she commits to her character while in cosplay. No matter the cosplay she wears, MissEllieHoneyBee performs to the fullest. If it's Harley Quinn, she's silly, and if it's Black Widow, she's very serious. This was the first cosplay Ellie and her mom made together. Our personal favorite touch is the beautiful fabric she used to create that gorgeous cape.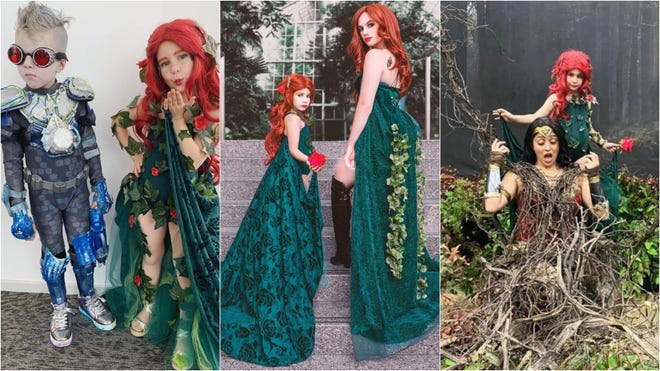 After her experience at LA Comic Con, she wants to upgrade the cosplay to make it better than before so she can wear it again like it's brand new. When Ellie isn't modeling her cosplays at cons, she's hanging out with her many cosplay friends! Check out her Instagram for her many disneybounds, creative cosplays, and all-around shenanigans!