Yes, Puss in Boots: The Last Wish is as good as people are saying it is
Starring Antonio Banderas, Salma Hayek Pinault, and Harvey Guillen, Puss in Boots: The Last Wish is proof that Dreamworks has still got it.
Buy your tickets for Puss in Boots: The Last Wish at Fandango or Atom Tickets.
---
Despite having a short 17-day theatrical exclusive before being released as video on demand, Puss in Boots: The Last Wish has still moseyed its way across the 100 million dollar domestic mark, making it only the fourth animated film to cross the 100 million line in North America since the beginning of the pandemic. And it looks like it's on the path to make more money in theaters, as word of mouth spreads.
Sure, when I heard that there was another Puss in Boots movie coming out, I planned to skip it. The previous movie didn't do all that much for me, and I've already spent too much of my life sitting through the drek that studios try to pass as children's movies. But then, I began to hear good things, and then great things, so I changed my mind and made a plan to see the movie.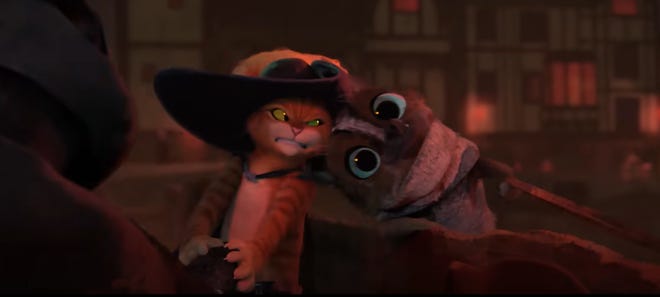 While I, like many others, enjoyed The Bad Guys (especially the animation and humor), Joel Crawford's Puss in Boots: The Last Wish outshines most children's animated movies from the past few years in its surprising dive deep into the titular character's newfound fear of death.
While I think that children's media featuring children and the problems that children face is important, it's recently felt like Hollywood thinks that's all that children's movies can do. But in traditional Dreamworks style, the problems the protagonists of The Last Wish are facing aren't all kids' problems and there are plenty of jokes and bits of dialogue that will go above kids' heads. What can appeal to kids in this movie, isn't a one-to-one ratio of relatability, but the bombast of the characters, the complexity of their dreams (kids can be empathetic to things they haven't experienced too), and the excitement of a magical quest to find a wish.
I'm often hesitant about movies where magic is presented as the answer to all problems, but Puss in Boots refuses to be so simple. And while some might consider the storyline pat, I think it earns the conclusion it reaches, and it's a fun (and funny) time too.
And of course, the animation is top notch. Nary a non-Disney film has escaped the earthshattering impact of 2018's Spider-Man: Into the Spiderverse (The Last Wish, in an earlier iteration, even had a shared director attached), and while The Last Wish doesn't copy that style, it does draw from it. From mishmashing animation styles to the little white motion lines that appear at heel clicks, the movie always returns to a central, slightly painterly style calling back to the film's 3D animation Shrek roots.
While there is a ton to praise about The Last Wish, what stood out to me the most was how thoughtful it seemed. Every character has their moment, and every moment has its place (and style). It is clear that the artists who made this movie cared about each decision they made. For those who are fans of American animation, it's a surprise and a delight to find this sort of quality filmmaking in a spinoff of a franchise that's more than twenty years old.
While the movie isn't perfect, nor is it a genre game changer like Into the Spider-Verse, it is a shining example of what movies for children (and for the whole family) can be. It's gorgeous, smart, mature, and it never talks down to kids, instead focusing on bringing them along for the ride.
It seems hyperbolic to say that between The Last Wish and The Nice Guys, Dreamworks is back, but the artistic (and now financial) success of this movie should rightfully be making decisionmakers pay attention (and hopefully make some changes too).
I was completely delighted with Puss in Boots, and I hope that it's the beginning of more movies that showcase this amount of love for telling stories with an attention to detail, where not every joke needs to cater to everyone, but where each character arc, each beat, each story is universal.
---
Puss in Boots: The Last Wish
is available on video on demand, but we recommend you see it at the movie theater if you can.
Buy your tickets for Puss in Boots: The Last Wish at Fandango or Atom Tickets.
---