Q Con - a LGBTQ+ comic convention is happening Saturday June 18 in Los Angeles area
Q Con is the first LGBTQ+ comic convention in Southern California in eight years.
Prism Comics is holding the first LGBTQ+ comic convention in Southern California since 2014. 'Q Con – A Comic Convention Celebrating LGBTQ+ Comics and Graphic Novels' is launching in West Hollywood, California on June 18, 2022, and you're cordially invited!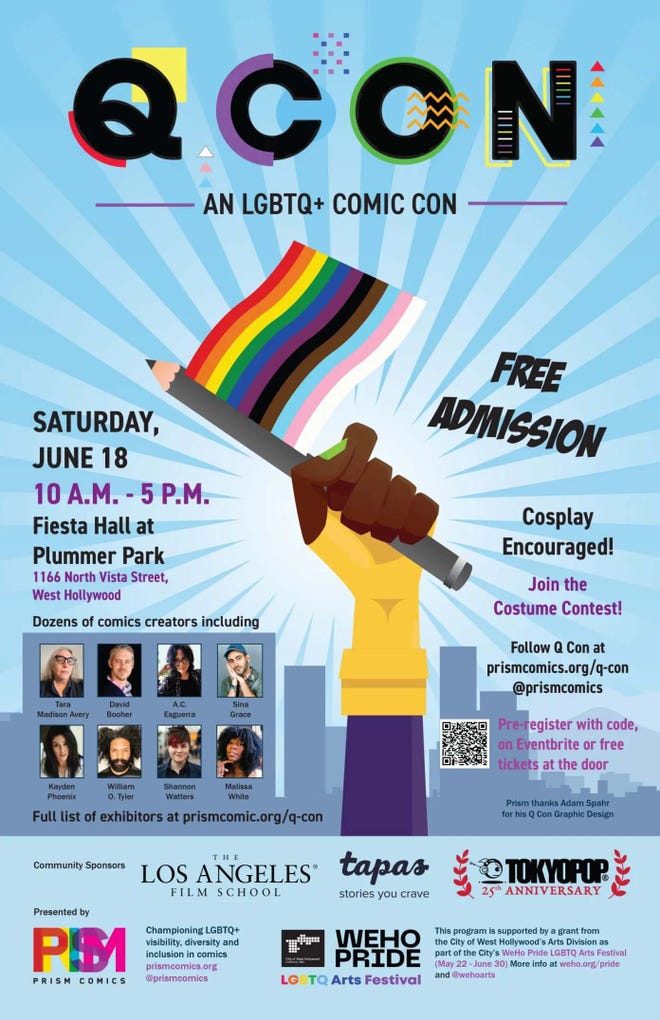 Q Con will take place as part of WeHo Pride LGBTQ Arts Festival, which runs from May 22 to June 30, 2022. The LGBTQ+ book fair will take place at Fiesta Hall at Plummer Park from 10:00 am through 5:00 pm. Q Con is a free event. However, you can pre-register in advance through Eventbrite, or you can obtain free tickets at the door.
What is Q Con?
Q Con will give visitors the chance to meet creators and get autographs and sketches, mix with other comic fans, and take part in the Q Con Costume Contest for fun and prizes! Best of all, the event is free and open to the public.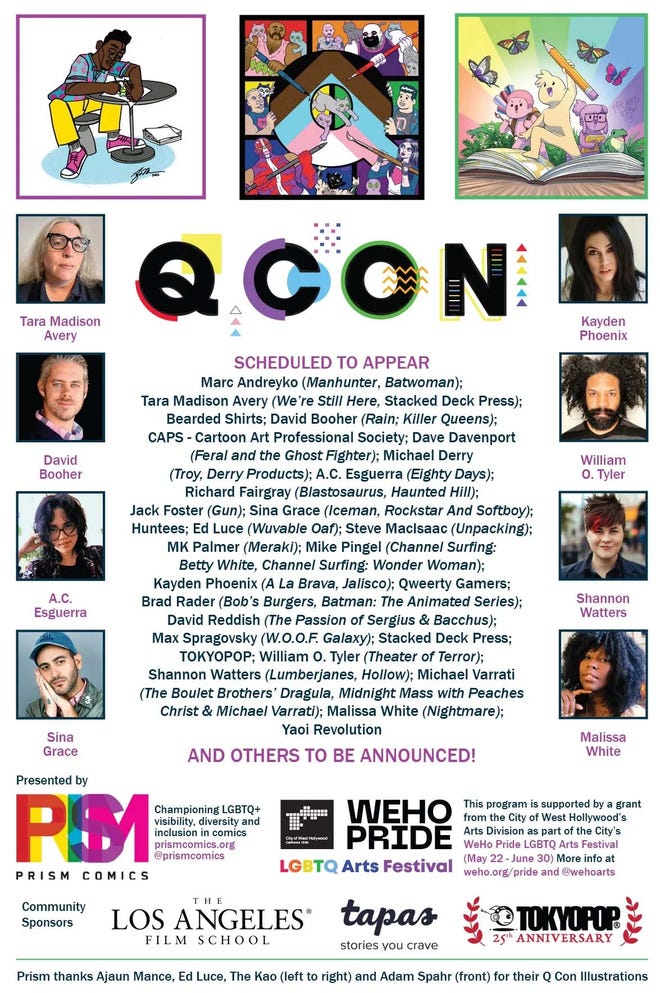 Comics creators and vendors scheduled to appear include: Molly Knox Ostertag (The Girl from the Sea, The Witch Boy) Marc Andreyko (Manhunter; Batwoman), Sina Grace (Iceman, Rockstar And Softboy), Tara Madison Avery (We're Still Here, Stacked Deck Press), A.C. Esguerra (Eighty Days), Shannon Watters (Lumberjanes, Hollow), David Booher (Rain, Killer Queens), Ed Luce (Wuvable Oaf), Steve MacIsaac (Unpacking), Kayden Phoenix (A La Brava, Jalisco), Richard Fairgray (Blastosaurus, Haunted Hill), Michael Derry (Troy, Derry Products), Dave Davenport (Feral and the Ghost Skater), Jack Foster (Gun), M.K. Palmer (Meraki), Brad Rader (Bob's Burgers, Batman: The Animated Series), David Reddish (The Passion of Sergius & Bacchus), Sonya Saturday (How to Wait, The Greatest Thing You've Ever Seen in Your Life), Max Spragovsky (W.O.O.F. Galaxy), William O. Tyler (Theater of Terror: Revenge of the Queers), Michael Varrati (The Boulet Brothers' Dragula, Midnight Mass with Peaches Christ & Michael Varrati), Malissa White (Nightmare), Christie Shinn (I Am Demon Bitch), Mike Pingel (Betty White Rules The World; Channel Surfing: Wonder Woman), Huntees, Stacked Deck Press, Cartoon Arts Professional Society, Bearded Shirts, Los Angeles Film School, Prism Comics, Qweerty Gamers, TOKYOPOP, Yaoi Revolution, and others to be announced.
What exciting things can you expect at Q Con?
There are a ton of exciting things that you can expect at Q Con, including a cosplay contest and raffle. And several creators are bringing their brand-new works to Q Con. For example, in addition to copies of Lumberjanes, Shannon Waters will have a brand-new zine revealing her secret life as an aclaimed Robin/Nancy fan fiction writer, Summer of '86, Vol. 1.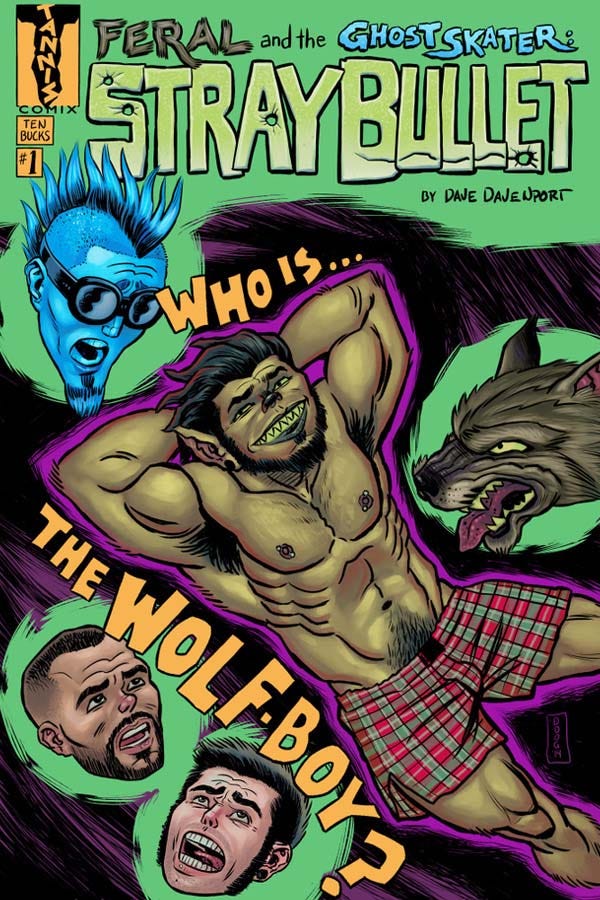 William O. Tyler and Dave Davenport are also debuting their new collaborative imprint, Tannis Comix, to create horror comics from queer and marginalized perspectives. Both Davenport and Tyler have their own separate stories to tell, but love coming together to create stories as well. The inaugural book from Tannis, which will be debuting at Q Con, will be a reintroduction to the story which earned Davenport the Prism Comics Queer Press Grant in 2015. Feral and the Ghost Skater: Stray Bullet #1, a 52 page, full color book that continues the story of characters the gay werewolf, the Ghost Skater, and Doug, first featured in Hard to Swallow comics. The book also features a back up story, titled "Loose," that takes Feral and the Ghost Skater on a fast and furious, inter-dimensional romp.
More stories are in the works from Tannis Comix, including Tyler's own Anxious Ax, which explores the horrors of anxiety from a Black and queer perspective, and an anthology of short comic stories created together by Davenport and Tyler.
What are the full deets?
Here are the details on where and where you can join Prism Comics for Q Con:
WHEN: Saturday, June 18, 2022 from 10 am to 5 pm
WHERE: Fiesta Hall at Plummer Park, 1166 N Vista Street, West Hollywood, CA 90046
WEBSITE: https://www.prismcomics.org/q-con
ADMISSION: Free Register in advance on Eventbrite or free tickets at the door
Q Con is made possible by a grant from West Hollywood's Arts Division, as well as support from Community Sponsors that include the Los Angeles Film School, Tapas, and TOKYOPOP.
[Editor's note: This article is a guest post by Rebecca Kaplan, one of the organizers of Q Con.]
---
Catch up on everything Popverse has published for Pride Month 2022 so far.