Meet Quee the Cosfailer, one of the 2023 Cosplay Central Crown Championships finalists
The winner of the Cosplay Central Crown Championships sem-finals from Austria's Vienna Comic Con is coming to Chicago's C2E2 2023 to win it all
Every year, cosplayers from around the world show off their creations at conventions - and the best of the best compete each year in a global tournament called the Cosplay Central Crown Championships. Each major convention has a semi-final where a winner is chosen, and that winner wins cash, prizes, and a round-trip ticket to the yearly finals - which take place this year at Chicago's C2E2 2023.
And in the build-up to the 2023 Cosplay Central Crown Championships finals at C2E2, we're talking to finalists from all over the world as they get into 'con crunch' mode before boarding a plane and meeting for one last, epic competition.
Today we're talking to Quee the Cosfailer, who claimed her place in the Crown Championships with a stunning rendition of Tiny Tina from Borderlands 3 at the recent Vienna Comic Con in Austria.
Popverse: Please introduce yourself and tell us a little about yourself as a cosplayer?
Quee the Cosfailer: Hey! I'm Quee, small cosplayer from Slovakia. I started with cosplay in 2012 but back then there were no fancy options in our country yet, and I knew nothing about sewing or crafting, so it was more like closet and fun easy costumes. As I fell in love with this hobby more and more, I self-taught myself how to do all creative processes, and even though I can't say I mastered them 100% yet (is it even possible?), it became a big passion. I have thing for cute but dangerous characters, and unnecessary big props are my jam too!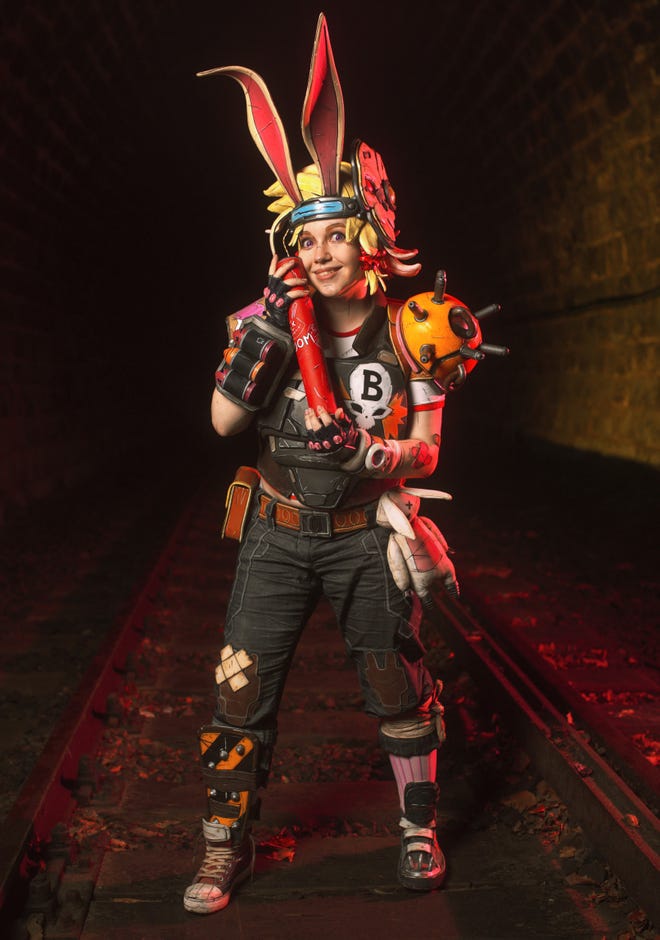 What was your experience like at the qualifier at VIECC?
I love attending cosplay competitions, I enjoy being on stage and to put together some short act to show my character to audience. I attended quite a lot of (usually local) competitions, as well as few international finals events. The qualifier for Crown at VIECC was a big thing for me, as I always just admired all competitors there and this was my first time trying to be part of it too. Damn, not gonna lie, winning it still feels bit unreal! But most thankful I am for how supportive and amazing looking all contestants I met there were.
What inspired you to make this costume?
The character as well as the fact I was admiring cellshaded Borderlands costumes for so long, that I realized I really wanted to try it myself. Choice of character was clear right at the moment I saw the Tiny Tina design in Borderlands 3, and as I love her crazy character and fun quotes in a game, I came to conclusion she would be great choice to roleplay too!
How did you create it?
The progress was way longer than I was planning, not just because I realized complexity of the costume later in game but also corona times came and I lost my drive and motivation to do progress for a long time. I saved way too many screenshots and pictures of Tina from every angle possible and was trying to get my motivation back through them. And I eventually did!
It was my first project when I used so much crafting with EVA foam, as well as my first time cellshading – and it was lot of fun and struggles in one. I used mainly EVA foam, EVA foam clay and lots of contact glue, acrylics spray and airbrush colors as well as acrylic markers to make it happen. For the sewing part, I tried to stay as authentic to original as possible, so thin jeans fabrics, fake leather and lot of patience, as I never sewed real jeans before. All patterns are self-made, by tracing old clothes to fit and armor/props are free handed and scaled like needed after. Neodymium magnets are what hold it all together, so almost everything is comfortably removable when needed. I really wanted to include some LED lights too, so I made my own circuit for the eyes in her mask.
Did the process teach you anything?
To not underestimate how much time cellshading technique actually takes! It looks like fun lines doodling, and while it's fun, it's very complex if you want it to look good.
Also reminded myself, that you are making magnets weaker when using heat gun near them, so… yeah, don't do that if you want them to work correctly!
What is your favourite part of the costume? And why?
I have very strong love and hate relationship with my foam wig. It's my favourite probably because I'm pretty proud of how it came out, it's made exactly for my head shape so it holds perfectly without attaching, but it gets very hot in it after a while, as it's more helmet than a wig. So, it's also my favorite part in "taking it off after" part!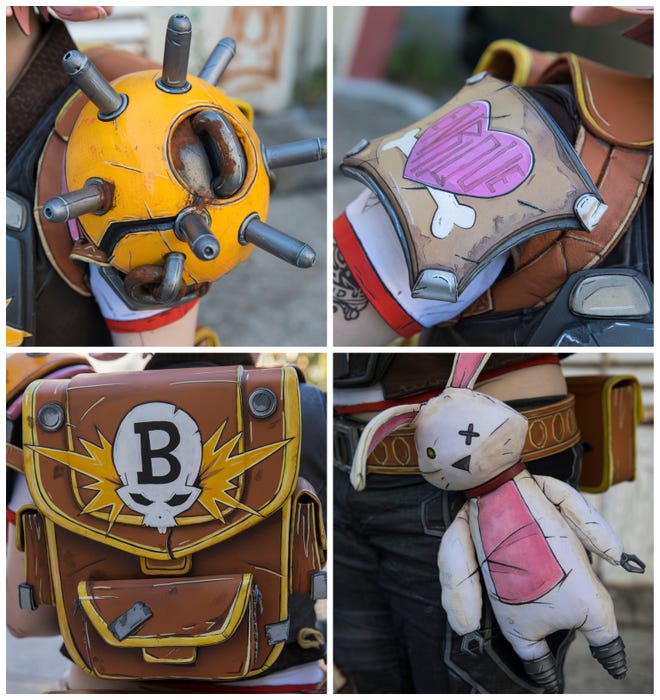 Are there any other details or features you would like to highlight?
The mask can hold on two places of head thanks to magnet mechanism, as in game, and all the armor and prop parts are also attached by neodymium magnets, all hidden away so nothing is visible even if all bags and props are detached from it. The pouches and backpack are openable. There's real rust on the shoulder armor and the hexagon pattern on her vests is airbrushed on the fake leather and fabric.
What are you most looking forward to about the final in Chicago?
I think the event itself as well for Chicago itself! I have never been to America before, so it's going to be new part of world to see and explore, and that's very exciting. And of course, to see all of the amazing cosplayers who made it into finals by my own eyes is gonna be great, I'm already fangirling now.
Any advice for anyone thinking about entering a competition like this?
Take your time while doing a competition worth build. I made the mistake in past by rushing things, and it never came as good as it could in the end. Entering bigger competition might seems overwhelming at first, but all other contestants are just cosplay enthusiasts as you are, and it's very likely you all gonna have fun in backstage and you will make some friends there. Stages might be intimidating at first, but more competition you try, the more you will get used to it! And the feeling after is worth it for sure.
---
The Cosplay Central Crown Championship finals will be one of many C2E2 2023 panels Popverse will be livestreaming this year. Here is a round-up of everything Popverse will be doing at C2E2 2023.