Rafael Grampá returns to the Dark Knight for a new mature readers Batman series
The four-part Batman: Gargoyle of Gotham begins in September
Everyone knows the origin of DC's Dark Knight, but in a brand new series for the publisher's Black Label imprint, creator Rafael Grampá is going to demonstrate that there might be more to the story than previously thought… and more than Batman himself believed, as well.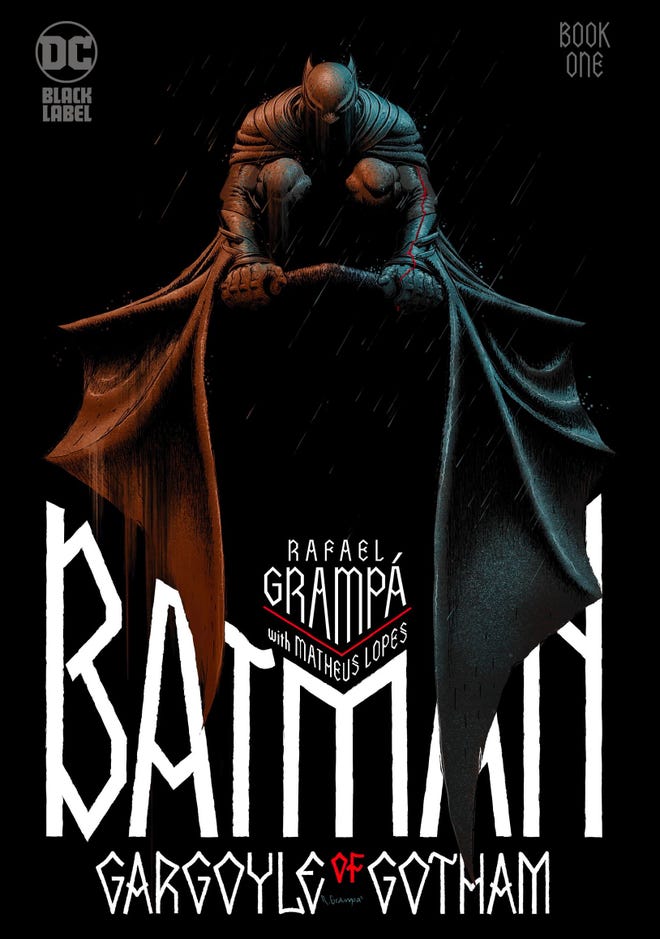 > The four-part Batman: Gargoyle of Gotham will launch this September, and see Grampá — known for his artwork on projects like
Mesmo Delivery
and
Dark Knight Returns: The Golden Child
, as well as covers for titles like Action Comics and Wonder Woman — write as well as illustrate a story that takes Bruce Wayne's alter ego in new directions… including surrendering the Bruce Wayne secret identity for good, the emergence of a serial killer that might be connected to Batman's own past, and the introduction of a new rogues gallery determined to drive the Dark Knight… well, batty. Here's a look at three new DC characters Grampa has created for the series: Crytoon, Moth-er, and the Virgin.
The creator says that the story all stems from his own take on the character's beginnings.
"When his origin was introduced in Batman #1 in the 1940s, Bruce Wayne swore revenge by the spirits of his murdered parents and—driven by his belief in an omen—became Batman," Grampá explained in a statement from the publisher. "For me, this subtle aspect of Bruce's belief system has always been the fundamental core of Batman, and through that lens I recognized this untold story. Batman: Gargoyle of Gotham explores 'who he is and why he came to be.' It makes my dream of bringing my own interpretation of Batman to life a reality as I delve into the darkest corners of his essence. I sincerely hope readers enjoy the ride."
Here's a look inside Batman: Gargoyle of Gotham #1:
Batman: Gargoyle of Gotham #1 won't just feature multiple variant covers — from Grampá, Jim Lee and Matheus Lopes, Frank Miller, David Finch, Priscilla Petraites, and Paul Pope — it'll also be available in a variant edition, with participating retailers being given the opportunity to offer a "noir" version of the issue, featuring the complete issue in black and white, showcasing Grampá's artwork. Here's all the covers released so far
The first issue of the series will be in stores September 16; like all Black Label titles, it is recommended for readers aged 17 and above.
---
This isn't the only Batman launch in September; in the mainstream DC Universe, Batman and Robin will launch as part of the Dawn of DC that same month.