Remembering Vincent Kukua, comics artist, professional, and community member
Vincent Kukua passed away at age 45 on October 4, 2022.
On October 4, 2022, comics artist and professional Vincent Kukua passed away in his sleep at age 45. Kukua was a comics mainstay, both as an artist and in roles as a production artist first at Image Comics and then later as a prepress technician at Oni Press.
Kukua's family has shared the following images and obituary to honor Vincent's memory:
"Vincent Matako Palani Kukua was born in Honolulu, HI on November 5, 1976, to Doris Kukua. The two relocated to San Francisco, CA in 1981 to share a home with Vincent's uncle and aunt, Larry and Arleen Kukua. During Vincent's teenage years they moved to Berkeley, CA, where Vince graduated from Berkeley High, class of 1995. During his college years, he studied at both the Art Institute of California - San Francisco and Academy of Art University. Vincent made the San Francisco Bay Area his home for much of his adult life until deciding to take the leap in moving to Portland, OR in 2017.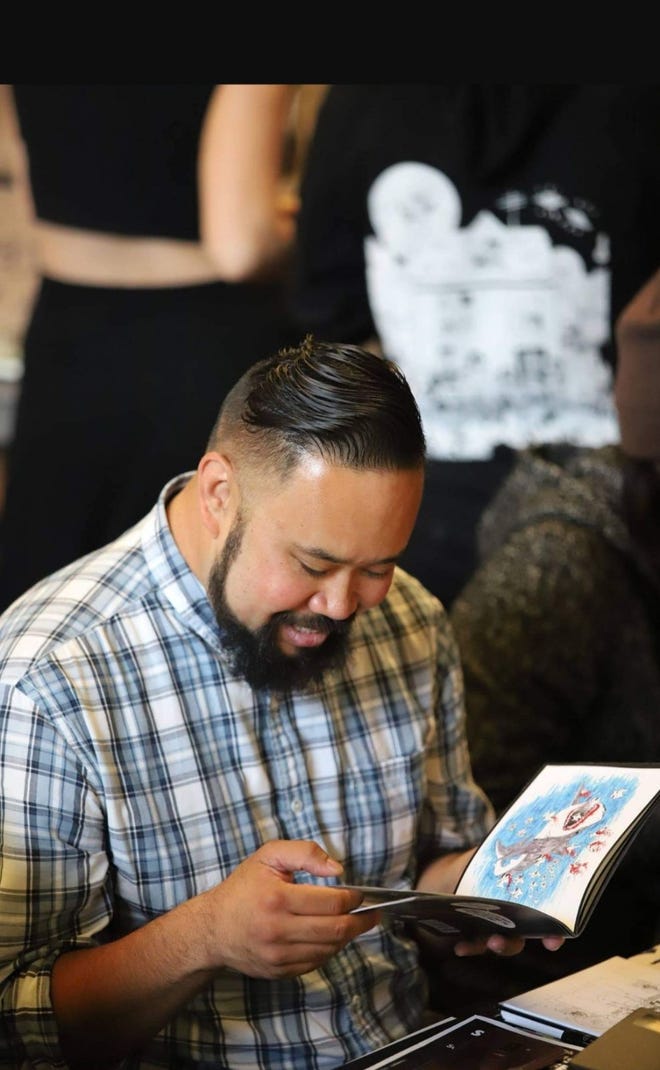 Vincent hit the comics realm with a passion and dedication reserved specially for those who see the world in a spirited and extraordinary way. His respect for the medium could only be matched by his reverence for his community and local art scene where he contributed nearly all of his time. His gentle, welcoming demeanor drew people together over so many years, which is why his sudden passing is such a deep and tragic loss for so many. The ways in which he supported his friends and family with immense compassion goes beyond words. He will be immortalized in the outstanding art he created and the plethora of friends whose lives he profoundly impacted in both subtle and grand experiences. His artistic expertise brought him to several comics companies such as Black Mask Studios, Image Comics, Helioscope, and Oni Press, where he was surrounded by friends and colleagues who recognized and championed his gifts. Representing his Hawaiian culture was an incredibly important value in Vincent's life, and he worked to regularly provide his talents to a variety of charitable organizations as a way of showcasing his pride.
To look at Vincent's artwork is to understand him completely. Where he was quiet and polite in person, his vibrant personality was poured into every illustration. Hundreds upon hundreds of beautiful, energetic, bold, and ultimately fun cartoons adorn Vincent's social media and occupy the pages within dozens of well-worn sketchbooks. Each drawing depicts his adventures in the Bay Area, Hawaii, and Portland, fantastical comic characters, an enthusiasm for sci-fi and horror movies, a variety of favorite foods, his cherished friends and family, and his unique view of the world. Even though Vincent may be gone, he left his life with every ink stroke for people to experience and remember him for years to come. To say he will be missed is an understatement.
He is survived by his grandmother, Midori Akita, uncle Larry Kukua, aunt Arleen Kukua, uncle Jimmie Kukua, and cousins Michelle, Charlize, and Eddie Toratani. He will be returned to the shores of Hawaii to join his beloved mother. His family wishes to extend a mahalo nui loa in their appreciation and gratitude for the outpouring of friendship and kindness for Vincent."