"I'm finding where my place is in the world of comics": Rina Ayuyang isn't done with comics yet
The Ignatz- and Eisner-nominated Filipina American cartoonist talks about the low stakes and high rewards of her career in comics
Around 2012, Rina Ayuyang considered pivoting away from creating comics. The Pittsburgh native was a little more than a decade into cartooning then, known amongst many in the indie comics world as an autobio cartoonist.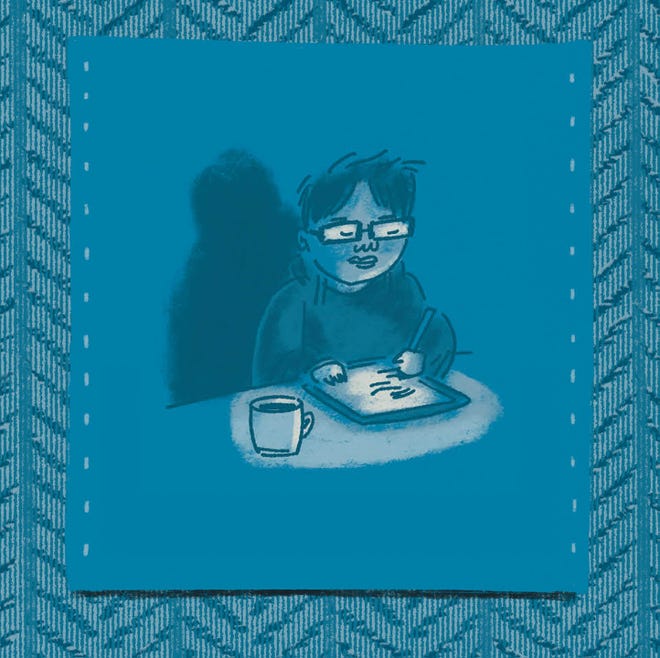 It was fourteen years after she graduated from San Francisco State University, and her catalog of work by this time included 15 self-published mini comics, about 20 one-shot comics published in critically-acclaimed anthologies, and Whirlwind Wonderland, her Ignatz-nominated debut graphic novel published in 2009 by Sparkplug Comic Books/Tugboat Press. She was co-hosting The Comix Claptrap, a podcast launched in 2008 with cartoonist Thien Pham that featured guest appearances by Josh Frankel and interviews with such Eisner Award-winning creators as Ebony Flowers, Jaime Hernandez, Sophie Yanow, and Adrian Tomine. She had also launched a small press, Yam Books, to distribute work of cartoonists she wanted to see published.
"I felt like I accepted the fact that maybe I wasn't going to be, or I couldn't be, a cartoonist full time," says Ayuyang. "I thought that maybe it's time for me to put my pen down." But not before she gave herself one more shot. She cold emailed publishing contacts, asking if they would be interested in publishing a graphic novel by her. One of those contacts was Tom Devlin, then executive editor at Drawn & Quarterly (D&Q). A week later, she received an email from D&Q publisher Peggy Burns.
"Peggy was like, 'Yes, yes! We want to publish you. Whatever you want to do,'" recalls Ayuyang.
In 2018, Ayuyang published her first book with D&Q called Blame This on the Boogie, a technicolor graphic memoir told over three acts and influenced by her love of music, dance, and musicals. Her second book with D&Q, The Man in the McIntosh Suit, released this May 2 and is a compelling, cinematic graphic noir set amongst the Filipino community of Northern California in 1929.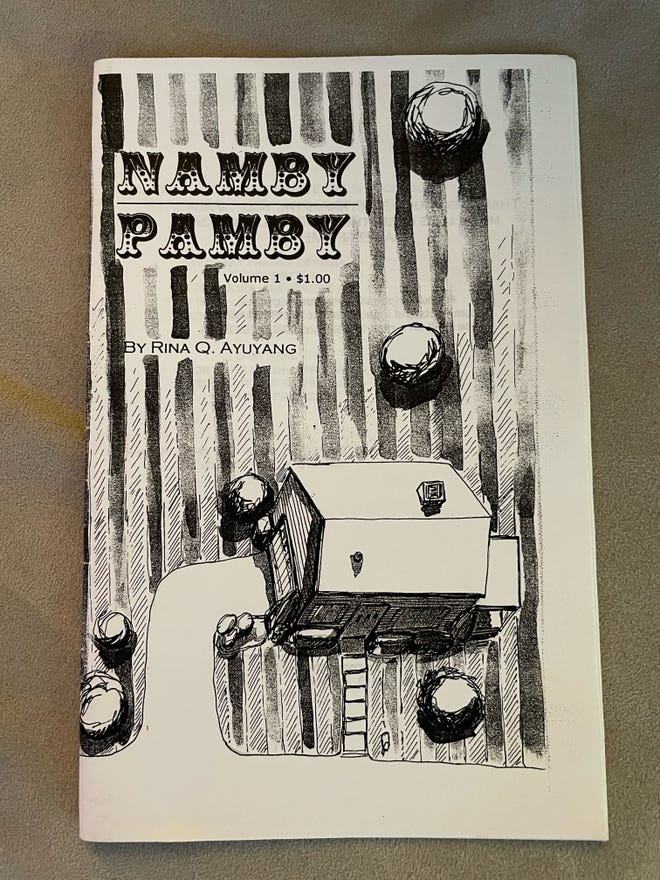 If that wasn't enough, Ayuang also has a poster comics series called Finding Filipino on display at transit stops on Market Street in San Francisco, as part of the San Francisco Arts Commission's 2023 Art on Market Street Poster Series Program. Each installation features one of nine illustrated vignettes that commemorate the history and contributions made by the Filipino community in San Francisco.
Popverse sat down with Ayuyang virtually to talk about her cartooning journey to date and what she's learned about the space she wants to take up in comics.
This interview has been edited for length and clarity.
Popverse:You self-published your first mini comic Namby Pamby in 2001. Was that your debut as a cartoonist?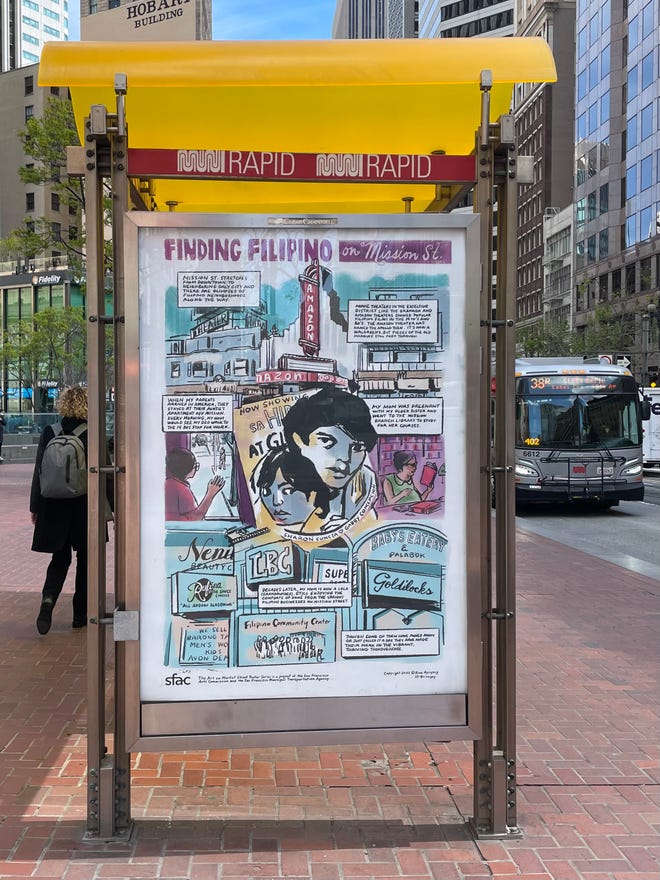 Rina Ayuang: Yeah, that was the year when I discovered comics as something that I could do as a career. Like any artist, you definitely have to hustle, and it's not an easy thing. So, it's hard to proclaim that this is going to be a career. But that was the year that I saw people making comics that I could relate to a lot more than the superhero comics I was used to seeing. I was in this world of other comic artists making mini comics at the same time. I didn't really know what I was doing, but it allowed me to tell stories through a format that I always loved as a kid.
You were living in the Bay Area by this time, which has a rich history of alt and underground comics. How did that help you feel like making comics was possible?
There was a huge comics community, especially in Oakland—I was in Oakland more so than San Francisco. There was Global Hobo run by Jesse Reklaw that Thien Pham was a part of; they did a distro of mini comics. They were based in Berkeley and Oakland, selling mini comics of different, local cartoonists. And they would have drawing nights—comics jams—that was a way for all cartoonists to get together. Initially, I didn't think I was good enough to go and then, I don't know how, I decided to go; I think it was more for a social visit. And Jesse Reklaw was like, 'Finally! You came. We've been waiting.' So, I just remember from the very beginning of how inclusive and welcoming comics, at least alt comics, was like.
This was before social media existed as we know it today. MySpace wouldn't come out until 2003, Facebook not until 2004. How did you get your mini comics out there?
A lot of comics artists would include their mailing addresses in their mini comics. So, I would write to people like pen pals, and we'd trade comics. Austin English was one of the early cartoonists I would trade with through the mail. There were also the beginnings of email, and message boards, and websites that reviewed zines. And also going to comic stores and seeing the mini comics section. Then, getting the nerve to go to a comics jam, and then a comics show.
It was very organic. And the community back then, we were like, 'This is low stakes for us.' This was way before the book market and schools and programs about comics artmaking. We were just this ragtag group making zines and mini comics, writing about whatever we wanted to write about. Like with the Hernandez Brothers, we were going to do whatever even if nobody's gonna see it, but if they do, that's cool.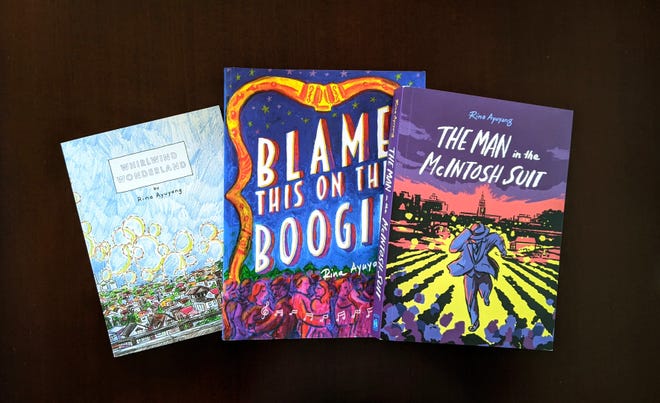 Did you balance cartooning with a day job?
Yeah. I have a BFA in a program that was sort of postmodern conceptual design and art, and there was this one area where digital video started, and then Photoshop and Director came into play, and how to use these new technologies to make art. I learned all of these tools that ushered in the dot-com age, and I was in San Francisco, and so I got a job as a web person, which I never thought I would see myself doing. I was just thrown into a career in web design. I was thankful for that because it sustained me until last year.
Cartooning as a career is hard to do without a day job, really, unless you get so many residencies, or so many advances. I mean, it's great when I see cartoonists do it, and I'm trying to figure out what's sustainable for me, especially living in the Bay Area. It's still a hard job to have on its own.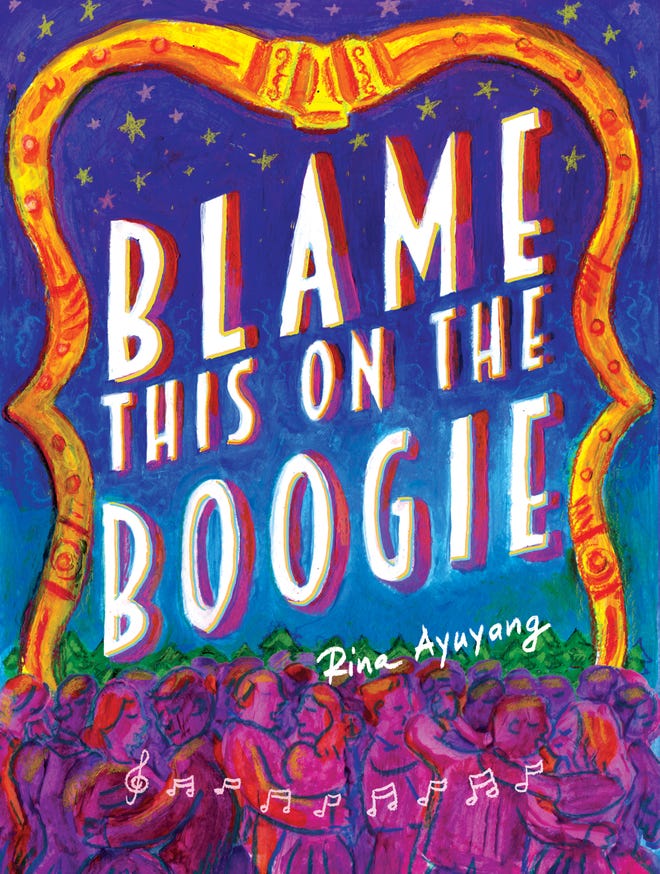 What happened last year that made you start cartooning full time?
I got laid off, which I saw as a sign of like, 'Okay, this is finally time for you to focus on your art, you've been waiting for this forever.' Also, the pandemic. A lot of things came into play emotionally. I was at a point where I felt I needed to really focus on the things that matter to me most—art making and my family.
Until The Man in the McIntosh Suit, your graphic novels have mainly been autobiographical and include comics you previously published elsewhere, like the Eisner-nominated short comic Beginning's End that published in Mutha Magazine in 2014 and appears in Blame This on the Boogie. Is it fair to say that The Man in the McIntosh Suit is completely original and your first long-form story that's fictional?
Yeah. It was originally going to be my second book or floppy through Dylan Williams' Sparkplug Comic Books. At that time [around 2010], I was watching a lot of noir, reading up on Filipino cartoonists, and reading—or trying to because I don't know Tagalog—the melodrama comics that came out of the Philippines from the 1950s to the 1970s. I had this idea that focused on a Filipino character who's an amateur detective, and it's set in San Francisco. We didn't end up doing it then, partly because Dylan had passed away, and also because I wanted to put real focus and research into it.
It was something I'd always wanted to pitch. So I pitched it to Peggy for my second Drawn & Quarterly book, and they said yes. I'm really thankful that they did because this is something that's not my brand at the moment. Besides being mainly autobio, I've done mostly short stories. So, there was risk involved. I'm thankful they were totally on board with me doing it. It's so different—the look, the format. Everything.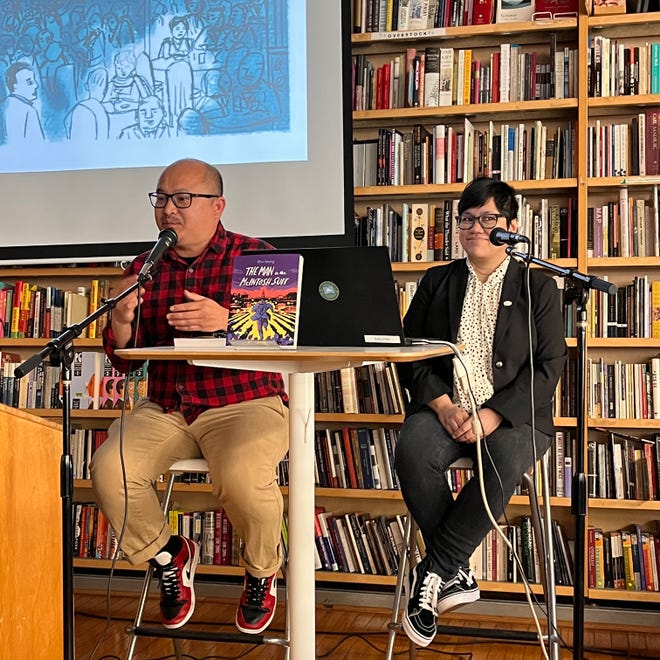 Now you're on a book tour for The Man in the McIntosh Suit and your comics art is on exhibit to the public along Market Street in San Francisco. How would you describe the stride you're in now, more than 20 years after you started?
I'm finding where my place is in the world of comics. I'm realizing what I want to use my comics for and that's to tell stories that haven't been told before, that come from heartfelt feelings and passions, and that are very artistically driven.
This year's TCAF was the first time I went back to an in-person comic show [since the pandemic], and I got to see cartoonists I haven't seen in five years or so. I was very grateful because it was like no time had passed and we were back at it. For me, fundamentally, comics has always been about community.
And I have plans for at least three books that I'd like to write. I feel, for the first time, that comics is the place for me to create art.
---
You can buy The Man in the McIntosh Suit from Amazon, Barnes & Noble, and Bookshop.org.
---
Maia Kobabe, in eir own words: The Gender Queer cartoonist talks about life and comics