Baseball legend Roberto Clemente faces the world in this exclusive excerpt from Sí, Se Puede
Take a look at how this new graphic history tackles the story of one of baseball's biggest icons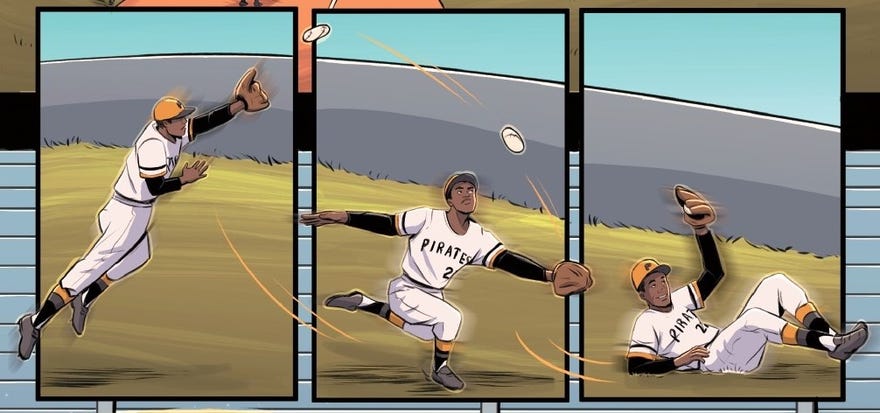 Julio Anta and Yasmín Flores Montañez's new graphic history Sí, Se Puede: The Latino Heroes Who Changed the United States tells the stories of significant Latine figures in America, touching on the lives of activists, politicians, and celebrities including César Chávez, Alexandria Ocasio-Cortez, and Roberto Clemente. This makes the graphic history not only an entertaining read, but also an educational look at an oft-forgotten part of American history.
Today, we're excited to share an exclusive excerpt from the upcoming book, with a chapter focusing on the story of baseball player and activist Roberto Clemente's life. Read the excerpt here:
Ten Speed's official synopsis of Sí, Se Puede reads:
"From community activism, to the halls of government, pop-culture, arts, and beyond, Latinos have shaped every aspect of American life. Nevertheless, these significant figures and their contributions are often left out of our textbooks. Sí, Se Puede, named after the "Yes, We Can" motto of the United Farm Workers, brings Latino history in the U.S. to the forefront.
"The book follows a group of Hispanic-Americans as they embark on an interactive museum tour to meet Latino heroes they may not have learned about in school. The high tech, immersive exhibit allows the tour group to virtually travel through time, visiting the Hispanic Union soldiers of the Civil War; marching with César Chávez and Dolores Huerta in the farmworkers struggle; going to space with Ellen Ochoa, the first Latina to leave Earth's atmosphere; meeting the youngest woman to ever serve in Congress, Alexandria Ocasio-Cortez; and more. This ensemble of unlikely friends discover the rich history of Latinos in the United States, and gain new insights into their own American experiences."
Julio Anta and Yasmín Flores Montañez's Sí, Se Puede: The Latino Heroes Who Changed the United States will hit shelves on October 10. It is currently available for preorder from Ten Speed Graphic at Barnes & Noble, Amazon, and Bookshop.org.
---
Popverse celebrates Hispanic Heritage Month!