Vault Comics reveals release dates for the sexy time-travel romp Sainted Love and YA mystery Lone
The Kickstarter hit queer time travel series and YA mystery title will both arrive in September
As if the crowdfunding success of Steve Orlando and Giopota's new queer time travel series Sainted Love wasn't exciting enough, Vault Comics is today announcing that the series will be available in comic book stores starting this fall.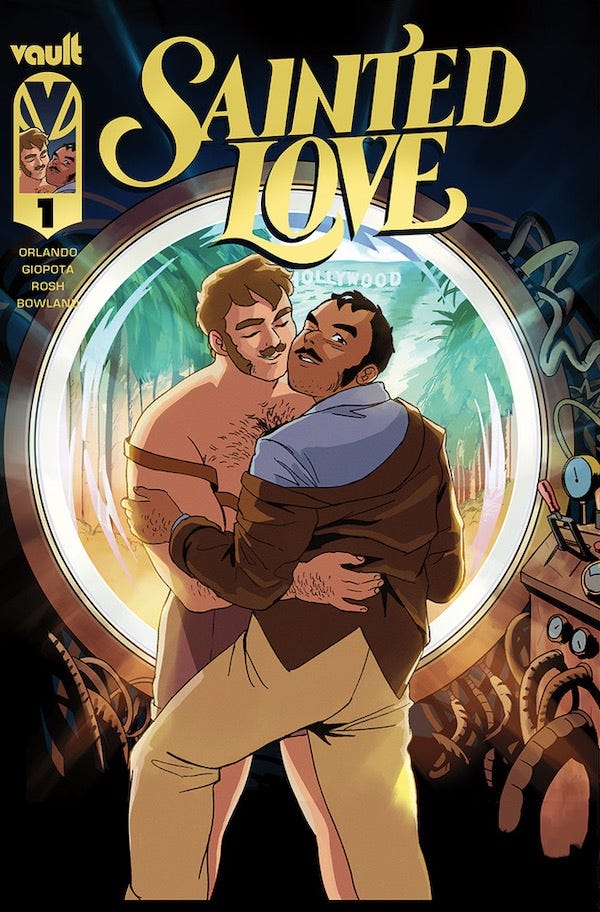 Described by the publisher as a "steamy time traveling adventure series [that is] equal parts romance and science fiction," the crowdfunding campaign for the title has already raised close to four times its original goal, proving that audiences really want to see queerness reflected through history thanks to the time-traveling Irina and Wolf — and the news that the title will be available in comic book stores starting in September will make the story even more available than ever before.
The book is "in a lot of ways, the book my whole career's been building to," writer Orlando said in a statement. "It's unabashed, it's bold, it's provocative, and it's sexy! It speaks truths through fiction, reveals history through fantasy, and is the proud, ass-kicking adventure that brings together the themes I've been building for years across many titles and publishers. Its two heroes criss-crossing to defend not just their love, but all of our loves, and all of our history. And God help anyone who tries to get in their way and erase it!"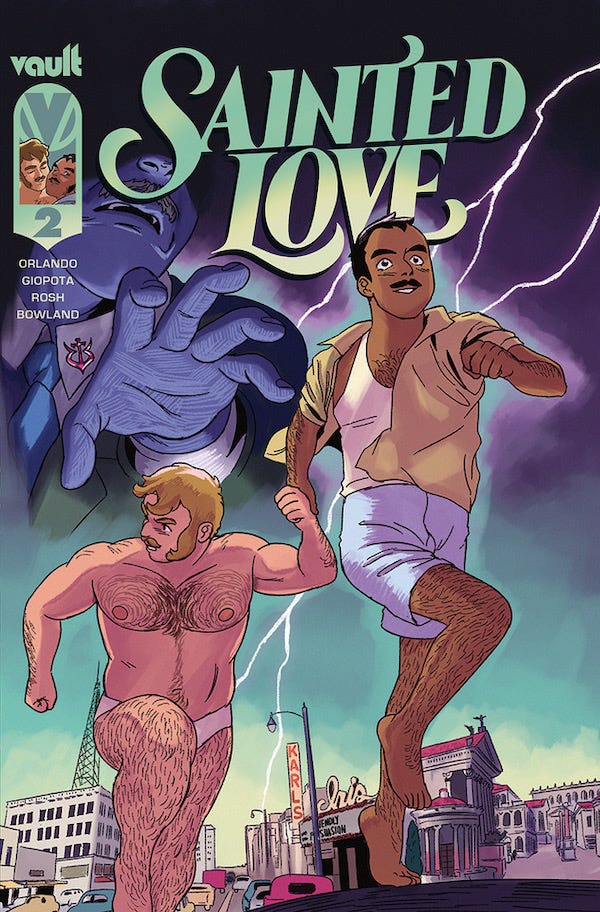 He's not alone in being so excited about the book, with artist Giopota describing it as "the dream project I didn't know I needed to work on," and adding, "This is only my first job ever for the US market and it's great that I'm having the opportunity to collaborate with a seasoned professional like Steve. I think I immediately clicked with him and found a method that allows us to work smoothly while having fun. Working with Vault Comics, a publisher so attentive to LGBTQIA+ issues makes me really proud, as my commitment to telling queer stories is the engine that drives me to pursue this career. I think the readers will be very entertained by this story, both for the twists and for the more romantic and even spicy scenes."
Sainted Love — which is still available to back on Kickstarter — will launch in comic book stores September 27.
Two weeks earlier, Vault will launch another new series, Lone — a middle grade supernatural mystery announced by the publisher last year. When eighth grader Alma wakes to find that the lake her town was named after has disappeared, and that no-one except her even remembers it, she enlists her best friend to get to the bottom of things. The only problem, other things have started to disappear, as well. Could Alma be next… or could she be the reason behind the mystery in the first place? Check out the covers to the first issue from series creator Angie Maria Hewitt and Nicole Rifkin below.
Lone will debut in stores September 13.
---
There's a lot happening with Vault, including a spin-off from its hit Barbaric series, titled Queen of Swords. Popverse has an exclusive extended preview of the book's first issue, right here.