Scooby Doo cosplay: Dress as Shaggy, Velma, or Scooby himself for halloween and cons
Want to dress up as Mystery Inc.? Then check out this guide!
It's almost Halloween, and for most cosplayers, that either means it's their version of Christmas, or it's another day in the life. No matter how you feel about the holiday, Halloween usually creeps up on you with hardly any time to spare to make or purchase a costume or even think of what you'll be! With so much going on, we've created an easy-to-follow guide to help you become your favorite Mystery Incorporated member!
Why did we make a guide for the Scooby-Doo gang? Well, they are about the most iconic group of mystery-solving friends who have graced our television and movie screens since 1969.
While staying relevant for all these years, each member has a unique style and character design that has made them timeless. And when it comes to dressing as this group for Halloween, splitting up team members can create duo looks for couples, friends, or enemies that are on-brand.
Also, if you have a group of six, have someone dress like a stereotypical bad guy (Ex: Jason, Ghost Face, or Frankenstein) for more fun! It'll make for an excellent unmasking picture too.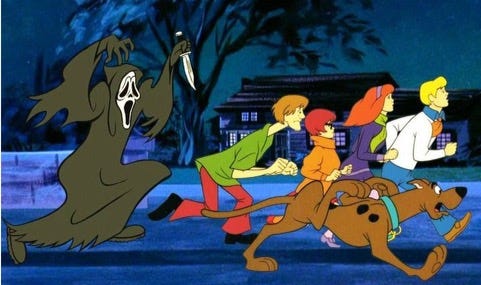 Before looking into our buyer's guide, look into upcycling cosplays you already have, checking out local thrift stores, and our absolute favorite, try your closet first!
Lots of items in our buyer's guide, you may already have! Utilize what's in your closet and improvise. Cosplay doesn't necessarily mean accuracy. If you happen to have a purple dress for Daphne minus the light purple stripes, you can still use it!
Plus, adding certain trademarks to your cosplay, like having Velma's glasses, Fred's ascot, or Shaggy's bell-bottoms, can make a whole outfit recognizable. And our number one closet cosplay tip is color matching your costume with what the characters are wearing.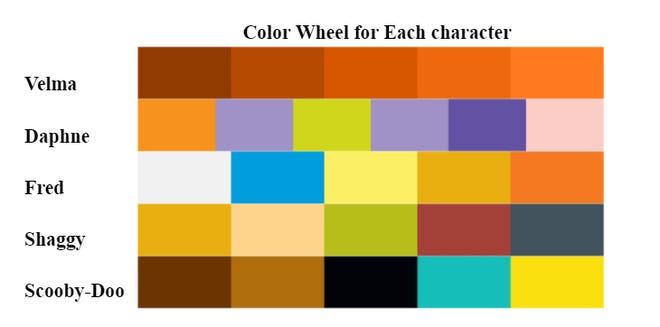 Pro-tip: These characters are timeless, and modernizing them is not only on-trend but can be cost-effective to your wallet. The Scooby-Doo gang's character designs are from the '70s, and finding authentic costume pieces may be out of reach; however, finding a green t-shirt to color code with Shaggy is more attainable.
For a modern approach to cosplaying the characters, we recommend checking out these Tik Tok accounts for inspiration Aarontichenor, Nawalsari, The.navarose, Aureareadykids, and Maxwellcockcroft.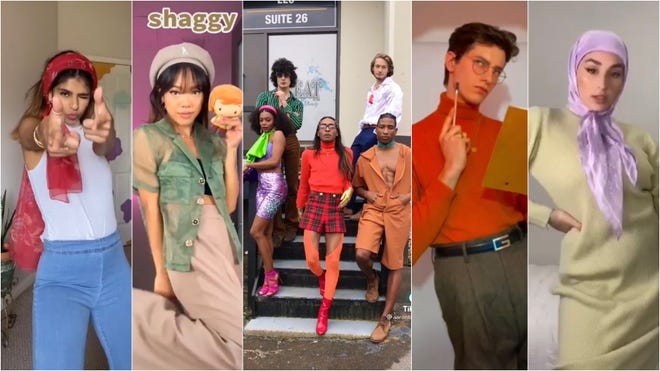 Now, onto our buyers guide!
Our guide is ultimately Amazon finds, and most of them are deliverable before Halloween if you're quick enough! We found cosplay items for the classic character look and a genderbend style. Mix and Match both styles to make your own unique design of the character!
Velma Dinkley
Taking on the role of "the brains" in most scenarios, Velma Dinkley is known to be an intelligent, quick-witted martial artist who typically solves the mystery. However, her style is more practical and perfect for sleuthing at night. The character keeps warm while staying classy with a chunky orange sweater, knee-high socks, and a skirt. However, if you catch Velma without her glasses, she's just about as unhelpful as Shaggy.
Velma's Catchphrase: "Jinkies!"
Classic Guide: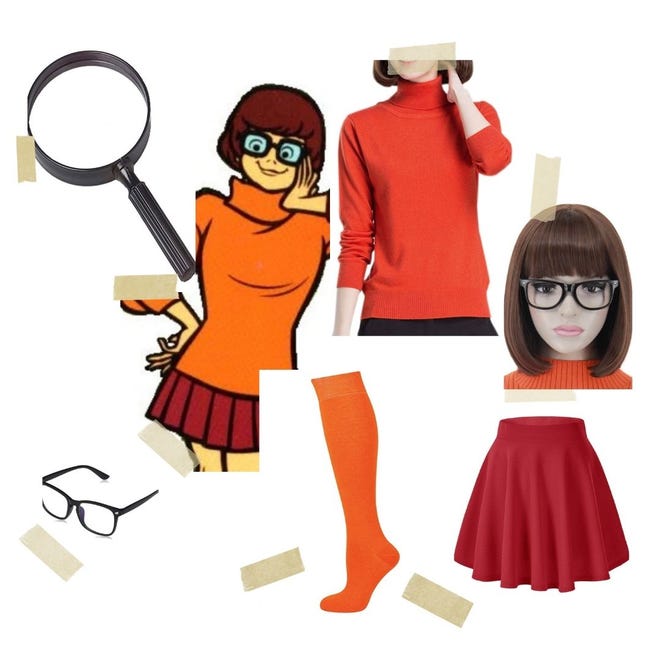 Genderbend Guide: Use the previous links for the glasses and the magnifying glass as key accessories for this style too.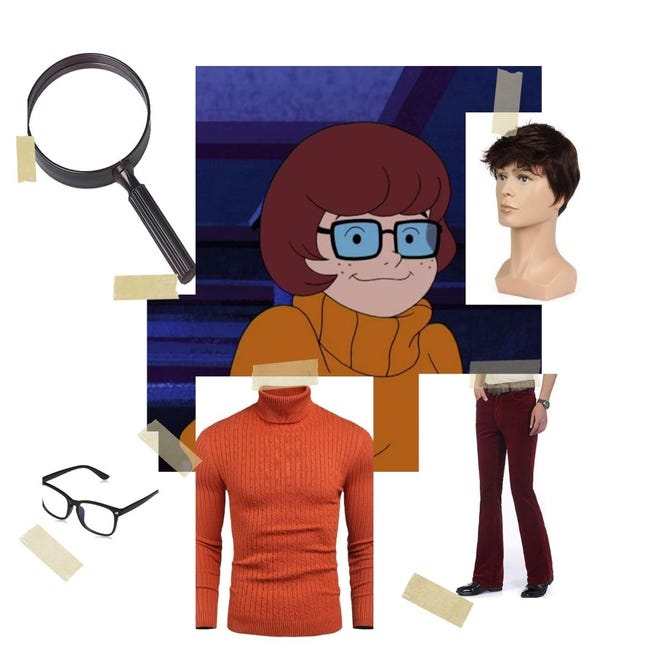 Daphne Blake
Daphne may have a knack for getting herself into danger, but after learning self-defense, she's become an essential member of solving mysteries! As a fashion-loving scream queen, Daphne uses her make-up accessories to open locked doors and cages. She may have a massive crush on Fred but would never admit it. Her outfit includes a purple long-sleeve dress, opaque tights, and a green scarf.
Daphne's Catchphrase: "Creepers!"
Classic Guide: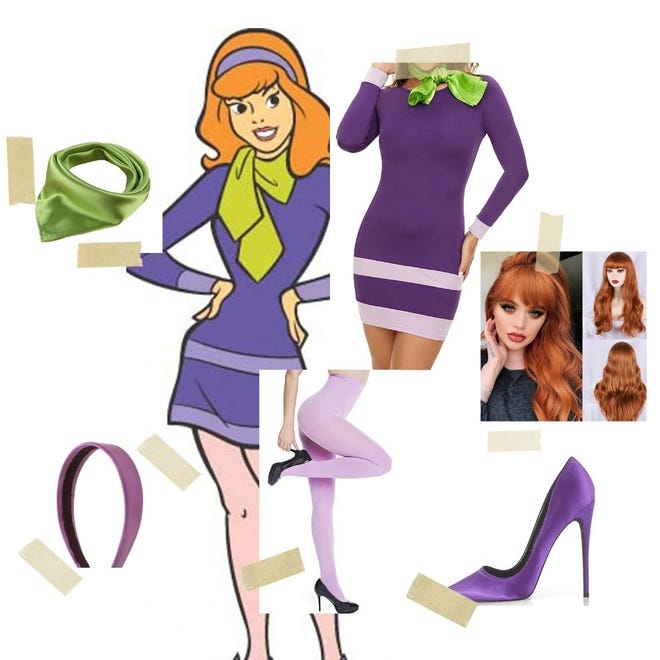 Genderbend Guide: Use the same ascot for the genderbend version.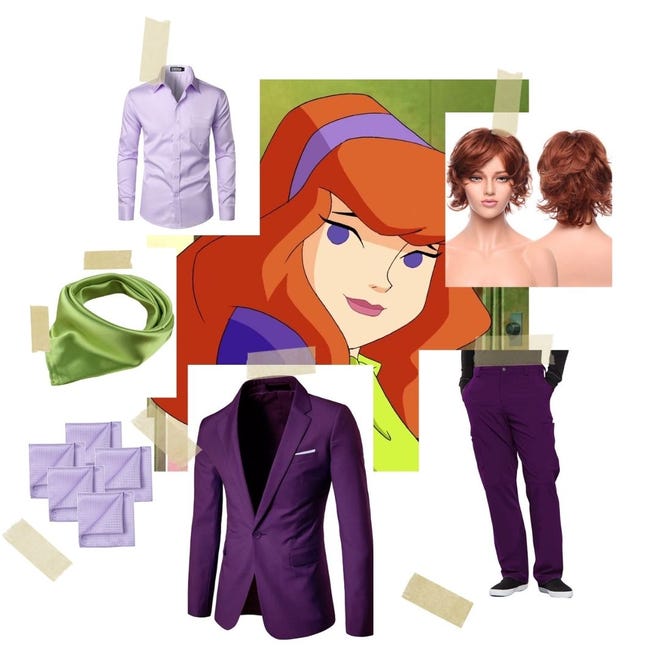 Fred Jones
Leading a group of Teenagers to solve mysteries and driving them around is a bigger undertaking than one may think, but Fred Jones is brave enough for the job! Though he doesn't like exploring alone, Fred considers himself a trap-master and has a bit of an obsession with nets. For his look, Fred matches his dress shirt and pants in either a light or navy blue, wears an orange ascot, and stays snug in a white sweater.
Fred's Catchphrase: "Let's split up, gang!"
Classic Guide: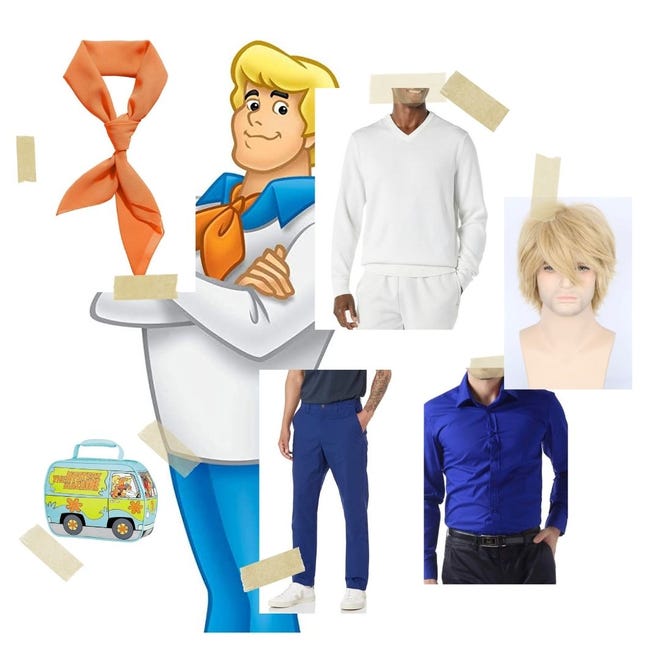 Genderbend Guide: The Mystery Machine Lunch bag can double as a purse or lunch bag in the future.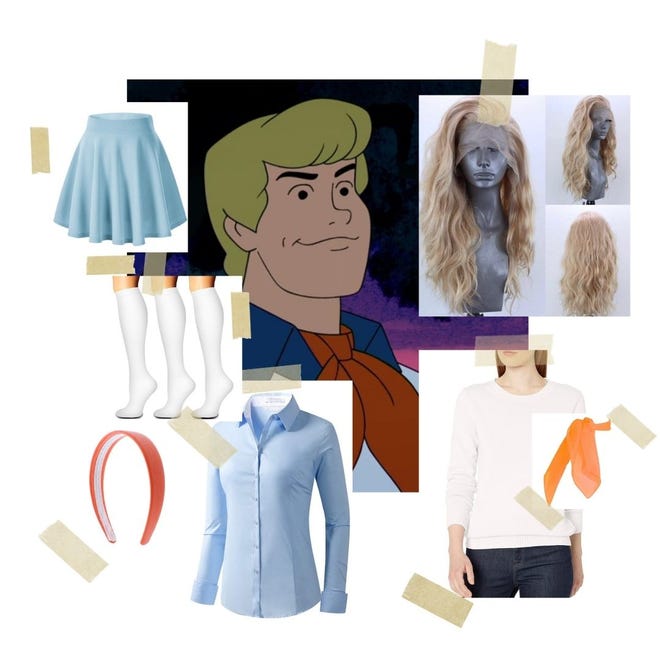 Shaggy Rogers
With an insatiable appetite and flair to be sacred, Shaggy Rogers never strays away from a meal or his best friend, Scooby-Doo. The character is a complete coward and would run away from a fight and save his skin rather than help his friends. However, a Scooby snack or a pat on the back can convince Shaggy otherwise to be brave. Shaggy is stereotyped as a hippy and wears bell-bottom corduroys, a worn-out green shirt, and his hair matches his name.
Shaggy's Catchphrase: "Zoinks!"
Classic Guide: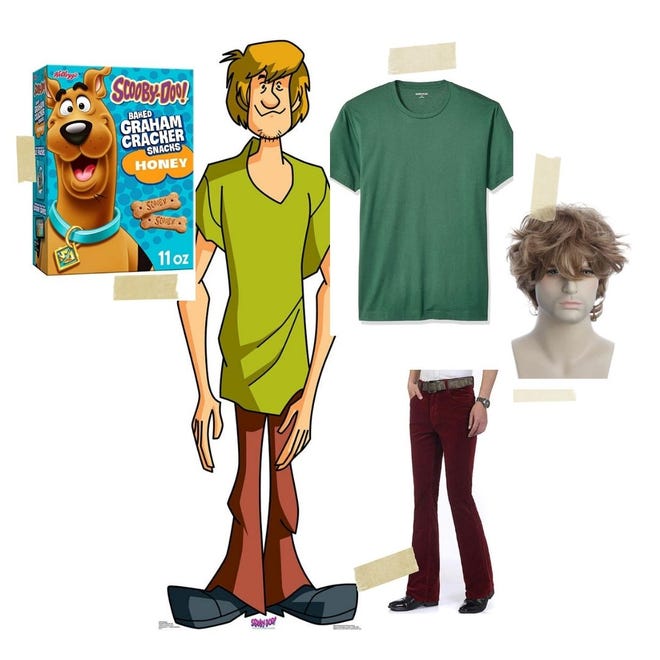 Genderbend Guide: Scooby snacks and Scooby plush can work with either version and the Scooby Snacks can be a cute add on for Daphne to have in her purse if you use one.)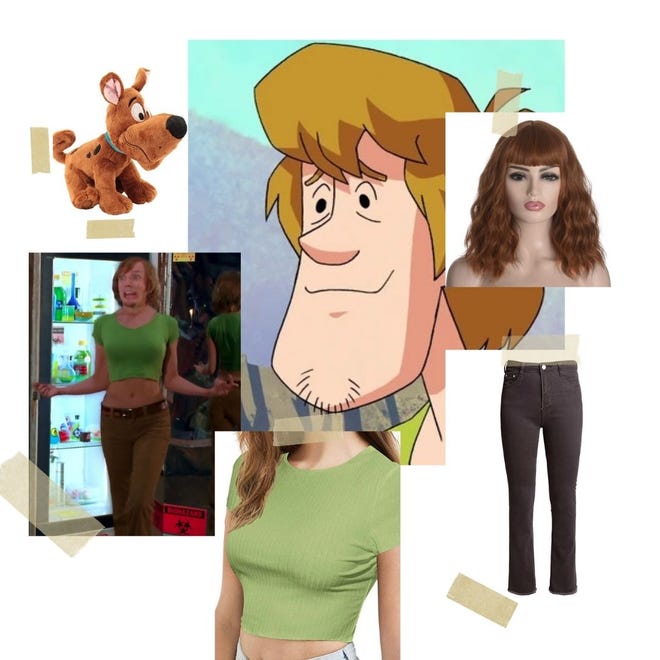 Scooby(Scoobert)-Doo
Scooby-Doo is a Great Dane who talks as much as he eats. As man's best friend and the gang's mascot, Scooby has extraordinary abilities like riding a unicycle, being a dance master, and having a prehensile tail. Like his best pal Shaggy, Scooby-Doo is scared easily but typically turns out to be the hero of the case. But, as anyone can see, he's a dog, so there are a limited amount of ideas for costuming purposes. We recommend a onesie for a friend or a cute collar and dog tag for a pet.
Scooby's Catchphrase: "Scooby dooby doo!"
Classic, Genderbed, and Pet Guide: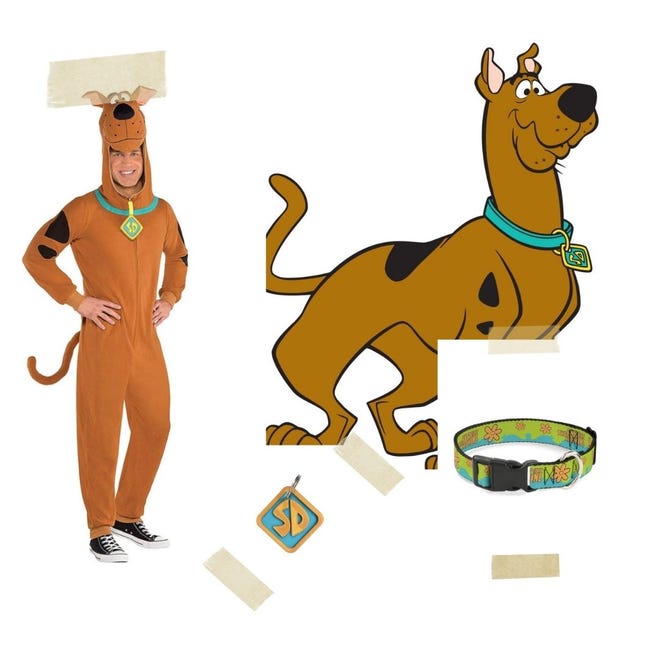 You are now ready to solve a mystery and become Mystery Incorporated's newest member with all of that information on how to dress to impress ghouls, goblins, and ghosts!