She-Hulk: Attorney at Law - Everything you need (and want) to know about the Disney+ show
She-Hulk: Attorney at Law release date, cast, director, and more
Jennifer Walters, after years of faded promises that span all the way back to the 1990 TV film The Death of the Incredible Hulk, has finally made it to the small screen and into the MCU in her own Disney+ series, She-Hulk: Attorney at Law.
For those who aren't familiar with the spectacular She-Hulk, Jennifer Walters is the cousin of Bruce Banner (a.k.a. The Hulk), who, after an emergency blood transfusion from Bruce, gets a less extreme version of Bruce's Hulk powers. Sure, She-Hulk turns big and green, but she doesn't change into an alter identity. She's still smart, and she's still in control— which is useful because when she's not superhero-ing, she's a lawyer who spends her time helping superheroes (and apparently supervillains as well) with their legal troubles.
With the first episode of She-Hulk: Attorney at Law now on Disney+, we've collected all the extra info about the show - from trailers and teasers to tidbits and details about the show, upcoming episodes, and its future inthe MCU.
She-Hulk release date
She-Hulk: Attorney at Law debuted Thursday, August 18 on Disney+. The show was originally scheduled for August 17 (a Wednesday), but was moved back a day to Thursdays - seemingly to not go head-to-head with Disney+'s other major new show, Andor. The series episodes are released once a week on Thursdays.
She-Hulk trailer
The second official trailer for She-Hulk: Attorney at Law showcases Jennifer Walters going through (and excelling at) Hulk training with her cousin Bruce Banner and dealing with the impact of being Emil Blonsky's lawyer. The trailer has a comedic tone that seems down-to-earth compared to previous Marvel Disney+ shows.
The first official trailer shows a pretty upbeat sort of superhero show (though Jennifer Walters doesn't seem quite ready to call herself a superhero yet). In the trailer, we see Jennifer Walters working with her cousin Professor Hulk to control her Hulk powers, her desire to be a "normal, anonymous lawyer," and a handful of her failed attempts at dating (and maybe even a successful one).
She-Hulk 'Car Crash' scene
In the comics She-Hulk gets her powers after getting a blood transfusion from her cousing Bruce Banner a.k.a. the Hulk. On August 12, 2022, Marvel put out a new clip from She-Hulk: Attorney at Law featuring Jennifer Walters and Bruce Banner chatting on a drive. Jennifer is talking her way through her gossipy theory about Captain America, when the car overturns, throwing Cheetos into the air. The clip stops there, but we can assume that this is the lead in to She-Hulk getting her powers. Watch the clip here.
She-Hulk 'Nailing It' clip
In this scene, Jennifer Walters as She-Hulk and the Hulk go through a training montage. It looks like She-Hulk has Hulk-ing all under control, but we suspect that Jenn will be having some problems of some sort, either with her powers or with the "target on your back and the backs of all the people you care about" that Bruce mentions, as the show progresses.
She-Hulk cast
She-Hulk's cast will be led by Tatiana Maslany (Orphan Black) as Jennifer Walters and She-Hulk. In the teaser, we've already seen Mark Ruffalo reprising his role as Bruce Banner/Hulk. Other confirmed cast members include Tim Roth (The Hateful Eight, Planet of the Apes, Lie to Me) as Abomination (reprising his role from the 2008 The Incredible Hulk. We've already gotten a bit of his MCU return in Shang-Chi), Jameela Jamil (The Good Place) as Titiana, Renée Elise Goldsberry (Hamilton, The Good Wife) as Mallory Book, and Ginger Gonzaga as Jennifer Walter's best friend Nikki. Benedict Wong has also been confirmed to reprise his role as Wong, Sorcerer Supreme.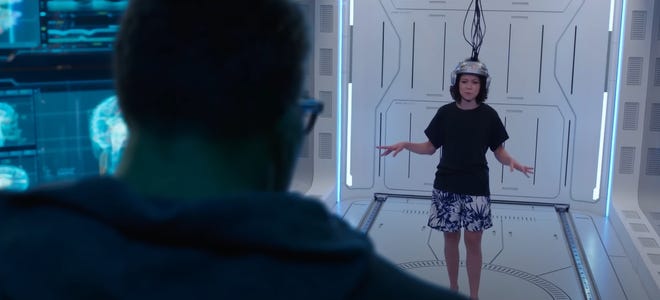 She-Hulk synopsis
The official synopses released by Marvel Studios reads, "She-Hulk: Attorney at Law follows Jennifer Walters as she navigates the complicated life of a single, 30-something attorney who also happens to be a green 6-foot-7-inch superpowered hulk."
From the bits of the show that we've seen so far, it looks like the first episode will focus on Jenn Walters finding 'balance' in her new life as She-Hulk. The tone will be quite a bit lighter than the other MCU fare, even including the more recent Ms. Marvel.
She-Hulk writers and directors
Jessica Gao (Rick and Morty, Silicon Valley, Robot Chicken) served as head writer on the first season of She-Hulk. Kat Coiro (Girls5Eva, Shameless, It's Always Sunny in Philadelphia) directed the first and final episodes (and four others) and served as an executive producer on the show. Anu Valia had also signed on to direct a few episodes of She-Hulk. Dana Schwartz, Melissa Hunter, Zeb Wells, Kara Brown, and Cody Ziglar write on the show.
She-Hulk episodes
She-Hulk will run for nine episodes. Each episode will come in at 30 minutes, which should fit well into the legal comedy aspect that has been announced. Here's the scheduled release date of each:
She-Hulk episode one: August 18
She-Hulk episode two: August 25
She-Hulk episode three: September 1
She-Hulk episode four:September 8
She-Hulk episode five:September 15
She-Hulk episode six:September 22
She-Hulk episode seven:September 29
She-Hulk episode eight: October 6
She-Hulk episode nine: October 13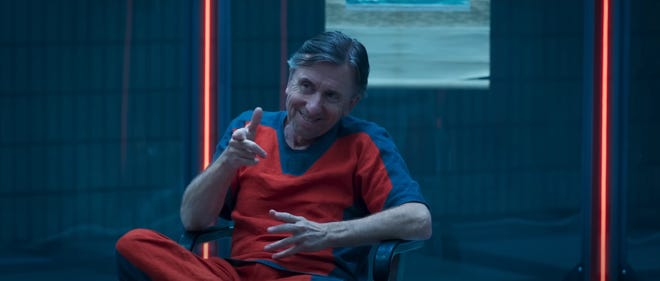 She-Hulk filming locations
Filming for She-Hulk's first season was slated to begin in July 2020 but was postponed due to the pandemic. Filming began on April 10, 2021 in Los Angeles and on April 12 in Atlanta, Georgia. Filming wrapped by August 26, 2021.
---
The curious case of Jane Foster's missing son.