ShortBox Comics Fair announces month-long 2022 digital event
The third year of the online convention promoting the best of new comics talent boasts more than 100 participants
Fall is around the corner, bringing with it everything we love about the season: the leaves changing color in the trees, the excuse to drink endless amounts of hot chocolate and pretend it's about the warmth and not the chocolate, and most importantly, the return of the ShortBox Comics Fair this October.
Beginning October 1 and running exclusively online, the third annual ShortBox Comics Fair ups the ante yet again with an expansive line-up of the next generation of comics creators showing just what they're capable of.
"What I love about going to a comic convention is discovering new artists and new art: being able to browse through all kinds of comics and seeing things I would never have come across otherwise. And that's exactly what ShortBox Comics Fair offers," said founder Zainab Akhtar in a statement. "What's special about our fair is that every single comic is a new work: something you've never seen before. Each exhibitor is debuting a brand-new, never-before-released comic, allowing us to put together a truly exciting array of fresh, independent comics, all gathered in one place."
The ShortBox Comics Fair has been an annual event since 2020, with Akhtar creating an online alternative to the traditional comic convention that showcases new and emerging comic book talent across the world. After the first Fair, which ran across the last weekend in October, last year saw the show grow to a month-long event. This year's show follows that model, running October 1 through 31.
"Being digital allows us to be inclusive of, and accessible to, anyone anywhere in the world," Akhtar explained. "Comics doesn't have a digital show or event, which is sort of flabbergasting to think about in the year 2022! Our aim with the fair is to become that flagship digital fixture in the comics calendar for both artists and readers. We hope to serve as a creative impetus for artists to make something new that they retain full ownership of, and be a date in the diary for comics fans every October."
More than 100 artists are participating in this year's Comics Fair, with each offering a never-before-seen comic book running between 16-100 pages which will only be available via the Comics Fair website. Participants for event are coming from all across the world, including the U.K., U.S.A., Hong Kong, Nigeria, Indonesia, Latvia, Malaysia, Pakistan, and Romania, as well as many additional countries.
More information about the event, including a full list of exhibitors, can be found at the official ShortBox Comics Fair site. The official poster for the event, by Jean Wei, is below.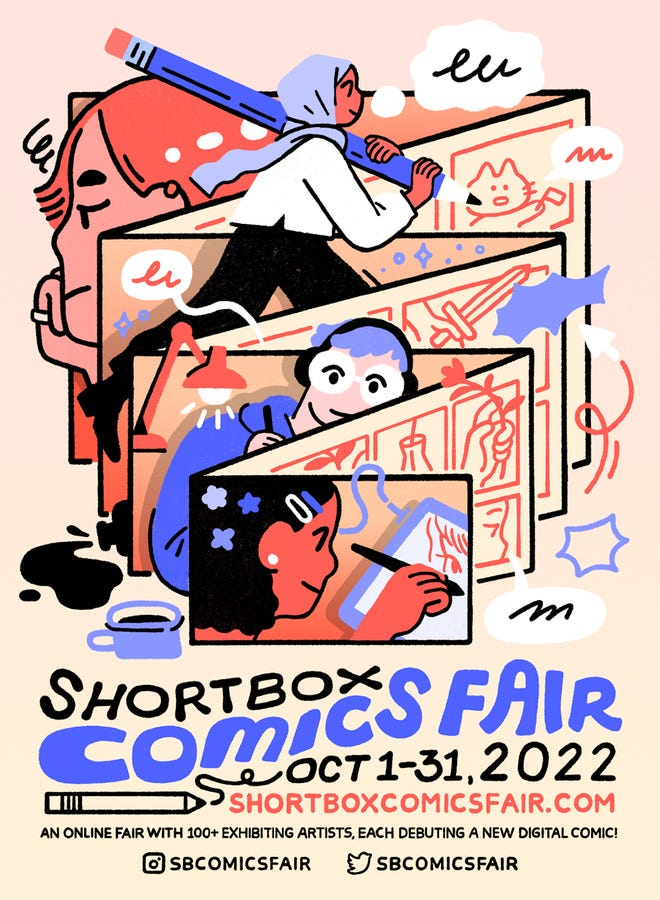 ---
Curious about other new comics talent? Perhaps you'll want to look at this anthology of stories created by students of Scott Snyder via his Substack mail.