A visit to the Society of Illustrators in New York City
Checking out From Brotherman to Batman, Nora Krug, and book illustration at the Society of Illustrators on the Upper East Side
The Society of Illustrators was founded in 1901 with a mission to "promote generally the art of illustration and to hold exhibitions from time to time." Over the years, they have boasted such illustrious members as N.C. Wyeth, James Montgomery Flagg, and Charles Dana Gibson. In 1981, the Society established their Museum of Illustration, which features art exhibits, education programs, and juried competitions each year. The Society of Illustrators and the Museum can currently be found at 128 E. 63rd street, and, during my recent trip to New York City, happened to be featuring two comics-related exhibits, as well as one exhibit that was not comics related, but poked at a question that often comes up in comics circles.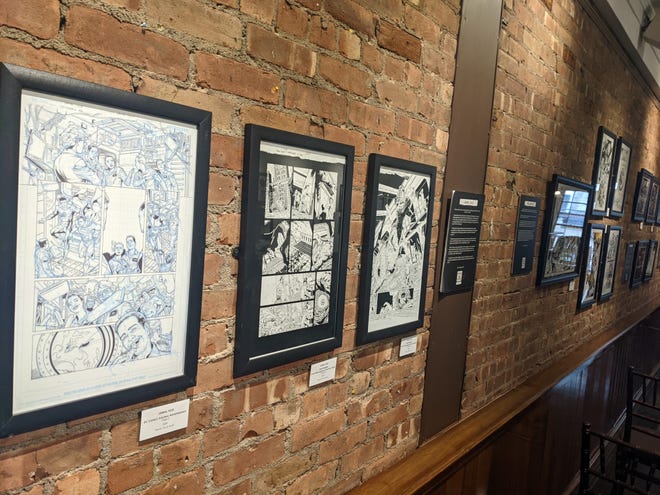 From Brotherman to Batman
The exhibit behind my trip to the Society was The Artist's Experience: from Brotherman to Batman, which was placed on the third floor of the Society, where there's a bar (and behind the bar, an actual Norman Rockwell painting called Dover Coach, which Rockwell donated to the Society when they found their permanent location). On exhibit were original comics pages, illustrations, and reproductions from artists Dawud Anyabwile, Denys Cowan, Afua Richardson, Alitha Martinez, John Jennings, Larry Stroman, Darryl Banks, Ronald Wimberly, Khary Randolph, Jamal Igle, Micheline Hess, Sanford Greene, Eric Battle, Marcus Williams, Chuck Collins, Damion Scott, and Robyn Smith.
In a statement from exhibit co-curator Shawn Martinbrough (who curated the exhibit alongside Karama Horne), "'The Artist's Experience: From Brotherman to Batman' is more than a celebration of the work of talented Black sequential artists from across the comic book spectrum… the exhibit is also an exploration of a myriad of art styles." And it's true, there is a wide range of artistic styles on display in Brotherman to Batman, from Ronald Wimberly (one of my favorites)'s scratchy pen art style to traditional bombasitic Big 2 style from Denys Cowan to the more contemporary illustrative style from Robyn Smith. What would have been nice would to have more written and historical context around each creator's work and maybe even some analysis on how the artists' work sit in conversation with the other work on display. However, just seeing the scope of comics art from black artists all in one place was quite cool.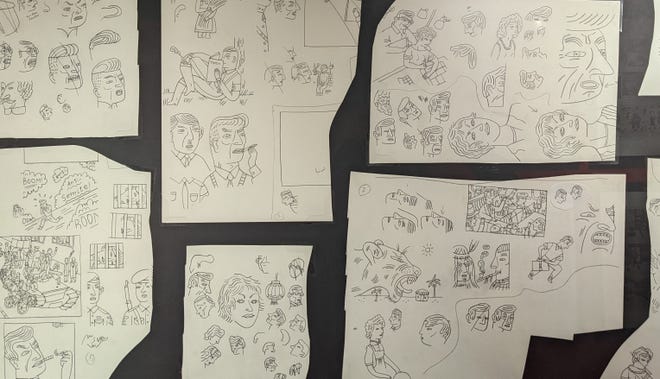 Illustrator as Witness
On the second floor of the Society was an exhibit of comics artist Nora Krug's work titled Illustrator as Witness (though the exhibit was mean to have closed in early October, so I am not sure if I was seeing the entire thing). Krug is known for her illustrations which have been published in The New York Times, the LA Times, and Business Week and her memoir Belonging: A German Reckons with History and Home. The exhibit featured reproductions and some original art, including a reproduction of each page from Krug's 10-page biography of Ena Takehiko, a Japanesse WWII Kamakaze pilot and survivor. This exhibit did an excellent job of showcasing the diversity and scope of Krug's work, from sketches to collage to traditional illustration.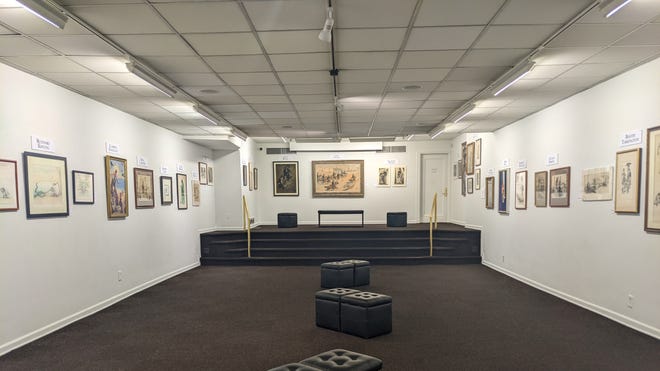 Artist vs. Author
Last but not least, was the Artist vs. Author exhibit on the ground floor of the museum, which was interesting and surprising, especially in the terms of the questions that the exhibit was posing. The exhibit featured literary illustrations that accompanied written work and featured artists like Fredric R. Gruger, Lynd Ward, Thomas Blackshear II illustrating the likes of Shakespeare, PG Wodehouse, and Toni Morrison.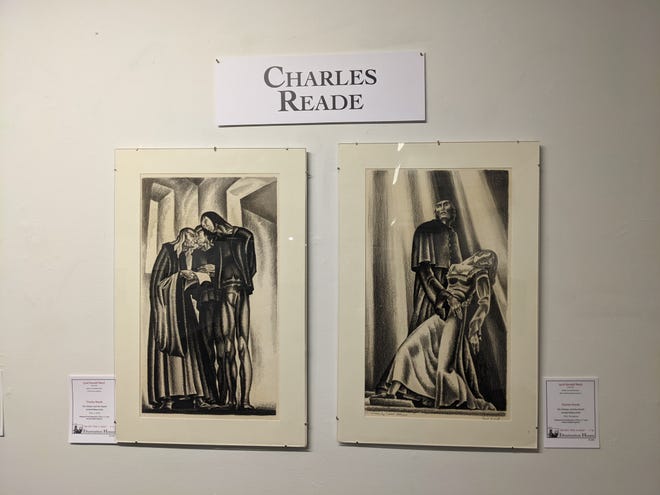 Exhibit curator Roger T. Reed writes, "Why 'versus'? Aren't the artist and author on the same creative team? For every case like F. Scott Fitzgerald gushing that Henry Raleigh's drawings are 'the best I've ever seen', we have also seen the author's cherished visual concepts complicated by the illustrator, who may alter a story's point of view, elevate a character, or provide missing settings and costumes. "The illustrator is drawing upon a different vocabulary, a different history, a different culture… This relationship between the co-creators of magazine and book entertainment is rarely explored in exhibitions, as often the art and literature worlds ignore each other… "As the curator of 'Artist vs Author' I am looking to bring the viewer back to the original marriage, for better or worse, of image and text."
This exhibit in particular was fascinating with the question that it posed for the viewer, especially when considering the contrast between interacting with illustrations of well known texts and unknown texts or by well known artist and unknown artists. The works were all interesting in their own right, but also inspired some new thought (at least for me) into the different ways to communicate meaning and aesthetic with image and text, even when considering prose.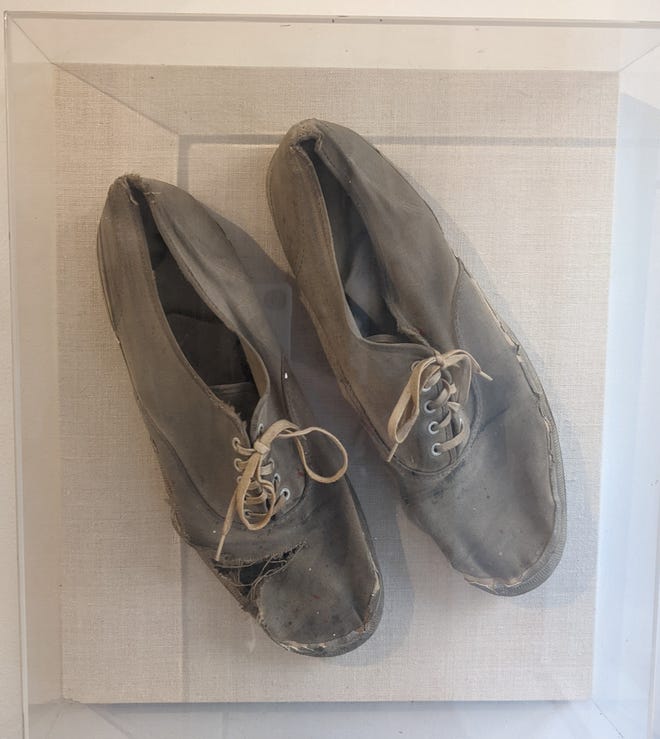 Worth the trip
Overall, with $15 admission fee for adults ($10 for seniors/students—undergraduates and below only, and free for kids under 10), the Society of Illustrator's museum is definitely worth a drop by for artists or fans of illustration. Three exhibits are certainly enough to take up an hour for fast skimmers and 2-3 hours for the slow perusers, and there are some really interesting other items on display—including a large Drew Struzan unpublished poster illustration for Harry Potter and the Chamber of Secrets and even the shoes that illustrator and past Society President Wallace Morgan was wearing when he came across the location for the Society.
And when you're done with looking at all of the art, the bar/café upstairs is a lovely space. Though food service has been paused due to COVID-19 concerns, cocktails and coffee drinks are available for purchase, and who wouldn't want to sip a latte in the company of the original art of Ron Wimberly and Norman Rockwell?
Check out the Society of Illustrator's website here. The Brotherman to Batman exhibit is on display until October 29, and the Artist vs. Author is on display until October 22.
---
In the city that doesn't sleep (or mask): A travelog of New York Comic Con .