Sorry, Breaking Bad fans: We're not getting a Heisenberg Jr. spinoff
Vince Gilligan hasn't 100% ruled out a return to the Breaking Bad universe, but he's moving on for now.
It's been a full decade since the Breaking Bad series finale aired, and it seems that diehard fans are willing to spend more time with some of its characters even after Better Call Saul's amazing 2015-2022 run. Long story short: the people demand more Breaking Bad spinoffs. But series creator Vince Gilligan is ready to move on.
During a (rather lengthy) tenth anniversary chat with Variety, he reflected on the series' final episode, some difficult decisions, and what might or might not happen within that world in the future. It's a great read for longtime fans of the Breaking Bad universe and anyone willing to learn more about where he's going next with his new sci-fi show.
About the finale, he was transparent about how proud he is of the final product, something not every showrunner behind a highly successful and long-running show can say after reaching the finish line. He even cracked a joke about Aaron Paul's "beautiful" teeth: "I'm very proud of it, and I have to stress that it was a group effort. I had wonderful writers and we strained our brains mightily to tie everything together. I think the one thing we got wrong was Aaron Paul's teeth. They're too damn perfect!"
Another highlight of the interview is how he admits starting the final season with a flash-forward was "the dumbest thing" he ever did: "There was a little bit of hubris on my part thinking we would figure it out. "We've got 16 episodes until the end. We'll get there!" We were still six or seven episodes away from the end and we still hadn't figured out where we were going with the machine gun. I remember saying, "Just for a thought experiment, let's pretend we never did that thing with the machine gun." I got really scared, but my writers kept me honest." It's important to underline how he keeps bringing up his writers' room time and again to sing the scribes' praises.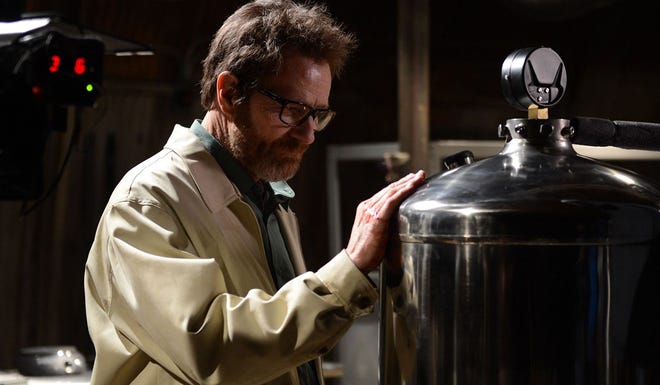 Of course, the conversation eventually got into what some of the most famous Breaking Bad characters could be up to after the credits rolled and the potential for more spinoffs. He admits he's thought about some of his favorite characters, but for now, he's not thinking about cooking up new shows just because there's an audience for them. More specifically, he talked about RJ Mitte (Walter White Jr.) and praised his acting abilities, but was quick to dismiss the idea of a "Heisenberg Jr." follow-up series: "That is doubtful as hell. The only attractive thing about that idea is working with RJ Mitte again because he's a wonderful actor and sweet guy. But that would be depressing as hell. That would be the wrong lesson from the show, if there are any lessons at all to be gleaned from it."
The conversation goes on for a while and gets deeper into the process behind some of Breaking Bad's biggest moments and decisions, so we recommend reading through the entire thing if you're a huge fan of the series. We personally agree with the sentiment of avoiding spinoffs unless they've got a pitch as killer as Better Call Saul's. It's not like we don't have enough interesting TV shows to look forward to.