Which is more popular: Spawn or its creator, Todd McFarlane?
Here's a question: what is Image Comics' biggest property right now?
The obvious go-to answer for most would be The Walking Dead; it's got multiple TV shows, after all – but, after the conclusion of the original series in 2019, it's far from a significant presence in the comic store. Maybe the title should go to Saga, you might think; after all, the series made headlines when it returned from years of hiatus at the start of 2022, and sales were apparently particularly brisk, with readers returning to stores for the first time since 2018 to pick up an issue. That's still not the right answer, though. Image Comics' flagship property is actually none other than one of the publisher's initial launch titles Spawn, even three decades after the book's debut – and it's not even close.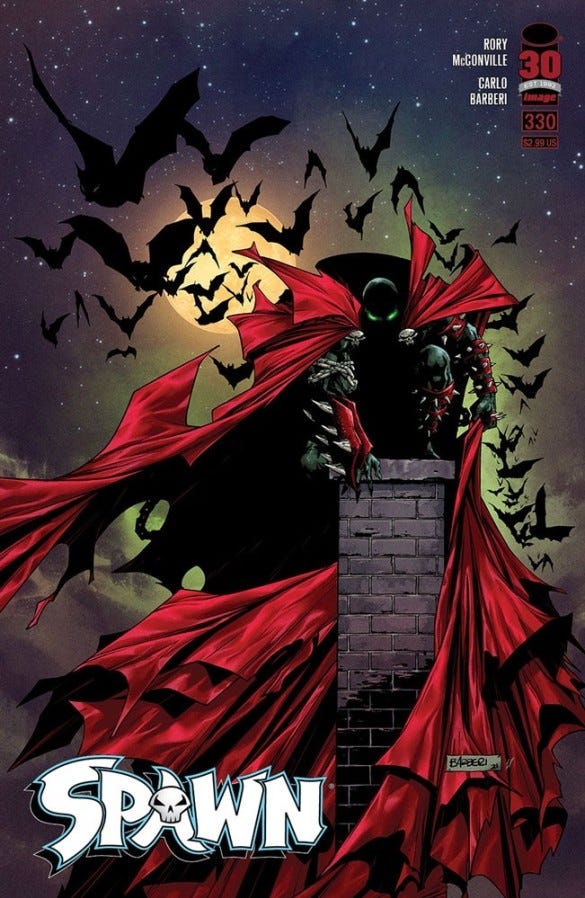 Consider this: every single month of this year so far, four separate Spawn titles – The Scorched, Gunslinger Spawn, King Spawn, and the original Spawn series – have placed in the list of top 10 best-selling titles from Image, outselling almost everything else that the publisher puts out with the occasional exception of Saga. Moreover, Spawn placed two of the three best-selling titles overall in Diamond Comic Distributors' end-of-year list for 2021 – the first issues of King Spawn and Gunslinger Spawn, which sold an estimated 480,000 and 339,000 copies in the North American market alone according to industry analyst John Jackson Miller – with the 300th issue of the regular Spawn title placing second on 2020's best-seller list, at an estimated 275,000 copies ordered in North America. Spawn is, unmistakably, a big deal.
The success of what's been given the umbrella title of Spawn's Universe – a one-shot of that name was released back in June 2021, heralding the launch of the three new series; it sold around 181,000 copies in North America, and was only outsold by the launch of a new Venom series from Marvel that month – arguably puts paid to a long running fan suspicion surrounding the character throughout his 30-year history: namely, that it's not Spawn that people are interested in, but instead his creator, Todd McFarlane.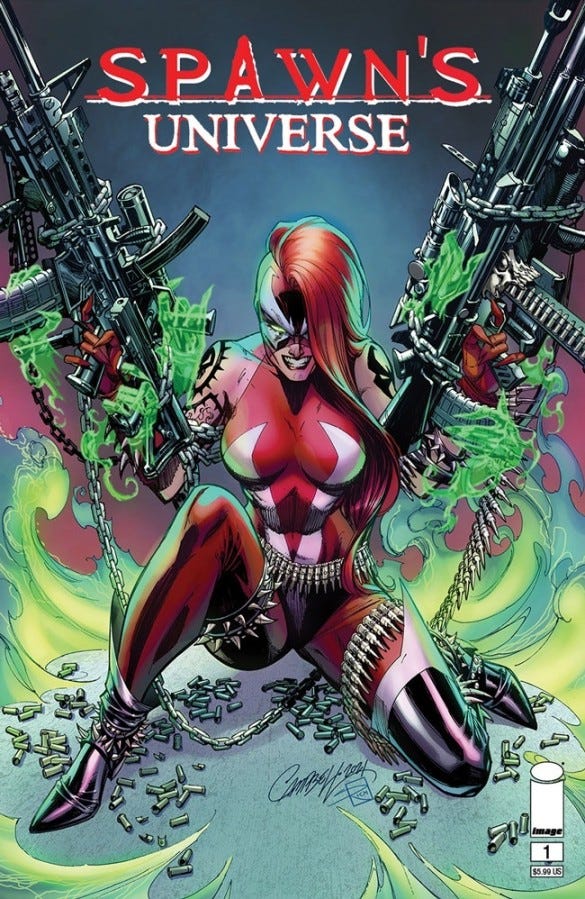 Certainly, that was the case when Spawn #1 was released back in June 1992. Spawn wasn't the first title released by Image Comics – that was Youngblood #1 by Rob Liefeld and Hank Kanalz, which came out a couple of months earlier – but it was arguably the most eagerly anticipated. The series marked fan-favorite McFarlane's return to monthly comics after leaving Marvel's Spider-Man the year before, following a dispute about censorship, and promotional artwork of the character accompanied initial press releases for Image's formation as a company. At the time, nobody knew who or what Spawn was, but with advertising taglines like 'Todd McFarlane returns with a vengeance!" it almost didn't matter; the creator's distinctive visual style, signature, and name recognition were enough to make an initial print run of 1.7 million copies sell out almost immediately.
Throughout the '90s, Spawn could reliably be found in the top 10 best-selling comics of any given month, even as Image Comics' overall heat started to fade; it wasn't until early 2001 when the title dropped out of the top 10, setting in motion a sales decline that would see the title drop to around 15,000 copies ordered by stores monthly – a level it would maintain for more than a decade, outside of any special event… such as, say, an anniversary issue that would see McFarlane return to illustrate the title, after stepping away from artistic chores for the most part since #24, all the way back in 1994, to take care of his growing collectibles business. (Greg Capullo would take over as series penciller, with McFarlane on partial inks, an arrangement that would remain until 2001; subsequently, a number of different artists have cycled through the series, including Angel Medina, Philip Tan, and Szymon Kudranski.)
The sales bump when McFarlane returned to draw an issue – even if it was just part of an issue, as with 2011's Spawn #200, which jumped more than 400% in terms of sales – would, admittedly, suggest that there's something to the idea that fans care more about McFarlane than they do Spawn; similarly, the lack of a particularly vocal Spawn fandom hints at something similar. After all, it's rare to see a significant discussion of the latest Spawn issue on social media, nor see much Spawn cosplay or representation at comic conventions. For a property that's not only survived 30 years, but is currently in the midst of a significant commercial renaissance, that feels almost impossible. So, surely, it's a love of Todd McFarlane that's driving Spawn's success, right…?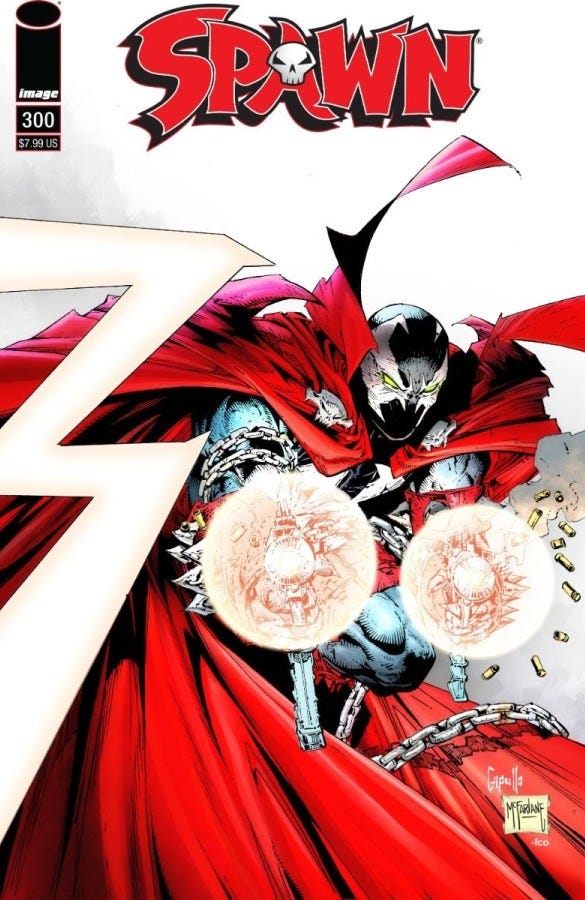 The problem with that line of thinking is that Spawn is currently more successful as a property than it's been in more than a decade – the average sale of any of the Spawn's Universe titles is roughly three times what Spawn was selling just five years ago, even outside of any of the massively successful launches – and McFarlane is, for the most part, uninvolved with it outside of writing the Gunslinger Spawn series and providing cover artwork for some issues of other titles, having stepped away from the central Spawn title earlier this year.
Instead, if Spawn has a creative guiding light currently, it's Sean Lewis, who's writing both The Scorched – a team title featuring different incarnations of Spawn – and King Spawn, which centers around the current version of Al Simmons, McFarlane's original version of the character. Otherwise, the creative teams feature Irish Judge Dredd writer Rory McConnville, former Marvel and DC artists Brett Booth, Javi Fernandez, Carlo Barberi, and Stephen Segovia, and occasional contributions from the likes of Aleš Kot, Sean Gordon Murphy, Donny Cates and more. However you choose to look at it, it's hard to argue against the idea that Spawn has outgrown its creator by this point, despite the significant draw McFarlane remains to this day.
So, what changed? What brought Spawn back into the spotlight in the last few years, and what has kept him there so strongly? As unlikely as it may seem, it might be as simple as reminding fans that the book existed.
2019 saw the release of Spawn #301, which earned the series a Guinness World Records title for the longest-running creator-owned comic book series; that issue, and the one immediately preceding, not only saw sales spike upwards for the obvious anniversary- and award related- reasons, but kickstarted the resurgence of Spawn's success overall; although monthly sales for the book fell after their release – unsurprisingly, considering both were amongst the best-selling issues for the year – they never returned to the nadir of sales for the title, instead settling around 35,000 copies and slowly climbing to their current point, somewhere around 45,000 copies monthly. Whether it was an uptick in quality, a turning point in the property's long-running theological war storyline that sees the war between Heaven and Hell populated by angels, hellspawn and the humans impacted by both, or something seemingly indefinible as being in tune with the zeitgeist, the two back-to-back big issues convinced readers that Spawn was something worth paying attention to again.
That's the kind of brand loyalty that other publishers would kill for… and at numbers that puts, say, Marvel's X-Men franchise to shame.
Somewhat amazingly, that 45,000 sales number is essentially matched by the three new titles launched between August 2021 and January of this year; to date, it's proven to be the level for the line as a whole, suggesting that not only is the core Spawn fanbase surprisingly solid – if anything, even growing ever-so-slowly – but that, unlike most franchises, fans are for the most part buying all of the titles across the board, at least for now. That's the kind of brand loyalty that other publishers would kill for… and at numbers that puts, say, Marvel's X-Men franchise to shame.
Again, all of this has been accomplished not only without a highly visible fan movement campaigning for Spawn, but without Todd McFarlane's involvement outside of writing one series and providing covers for others. On the face of all available evidence, Spawn's current success arrives without a gimmick or stunt at the heart of it; it's the real thing, just in time for the character hitting the three decade mark. It's the best 30th birthday present the franchise could have wished for, so, congratulations, Spawn: not only are you back in the hearts and minds of fandom, but now it's clear that fans love you for you.