Inside the Spider-Man variant birthed out of '90s sitcoms like Friends, Family Matters, and more with creator Jason Loo
Comic creator Jason Loo explains the origin of Spider-Friend
So no one told you life was gonna be this way. Your webs are broke, you're a joke, your credit score is DOA. Meet Peter Park. It hasn't been his day, his week, his month, or even his year. He's the newest hero in the Spider-Verse, but there's a twist – he lives inside of a late '90s sitcom. Spider-Friend makes his grand debut in Marvel's Voices: Spider-Verse #1, in a story written and illustrated by Jason Loo. What happens when the Spider-Verse intersects with the world of sitcoms? Let's find out!
Warning: Spoilers ahead for Marvel's Voices: Spider-Verse #1!
Creating Spider-Friend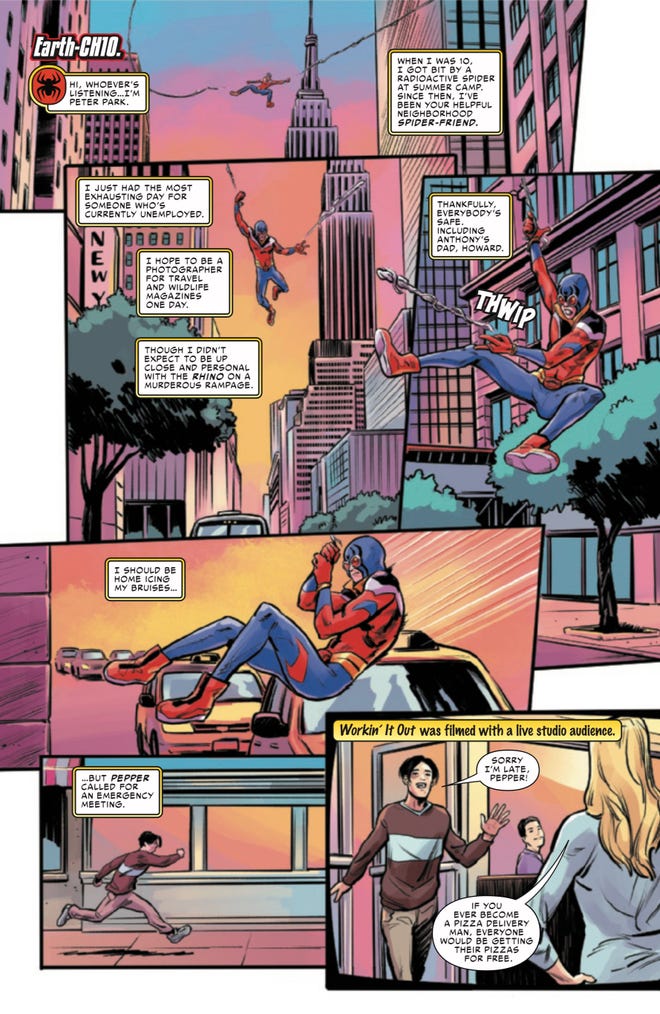 Spider-Friend is the brainchild of Jason Loo, an Eisner Award-winning creator known for his work on the digital series Afterlift. Popverse recently had a chance to chat with Loo about Spider-Friend's origins.
"My girlfriend was bingeing through all the Friends episodes," Loo says. "Every day I would come home and she was just watching Friends on her TV. Friends was always playing in the background. Before that it was Frasier, and before that it was Seinfeld. She was just going through the NBC sitcom lineup, and you write what you know. I figured wouldn't it be fun to create a character in that kind of world."
When Marvel editor Devin Lewis needed stories for an upcoming Spider-Verse one-shot, Loo had the idea to fuse superheroes with sitcoms.
"Devin Lewis approached me on doing a ten-page story where I would get to write and draw using one of the existing characters in the Spider-Verse, or create a brand new character. The first thing I asked was, have we ever seen a Spider-Man hero trapped in a television sitcom."
From there, Loo began to develop Peter Park's identity.
"When you're thinking of Marvel's Voices initiative of spotlighting diverse characters, why not make the lead character the token Asian actor of a sitcom who rarely gets to be seen on camera, rarely gets any lines, but off-camera he's somewhat spectacular."
When it came time to design Spider-Friend's costume, Loo embraced the conventions of the late '90s.
"The first few designs were mainly basic Spider-Man in different color tights in a sweater that you might see a Friends cast member wear. But Devin wanted me to really push it to make him more unique. So, I thought I would make him a product of his time, and really capture the fashion sense of the late '90s/early '00s with the windbreaker, the zipper collar, the Vans Airwalks sneakers, and the fanny pack."
Loo also made sure that Spider-Friend's costume included a loving tribute to his cultural identity.
"In terms of colors itself, considering that Peter Park is Korean-American, I threw in the colors of the South Korean flag, red, blue, white, and black, which coincidentally are the same colors Spider-Man uses."
Spider-Friend is filmed before a live studio audience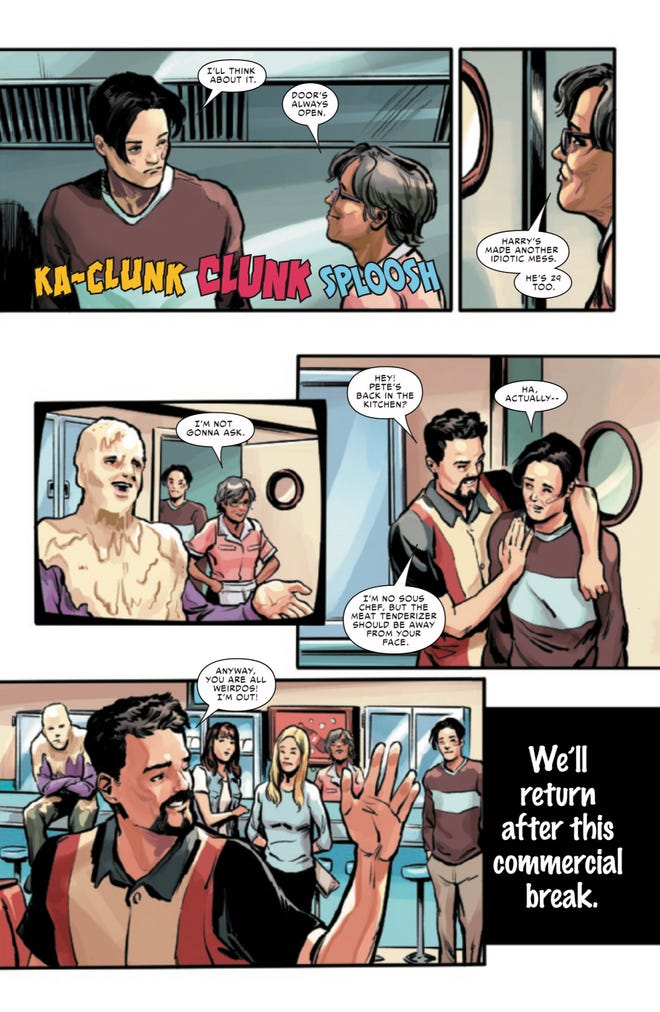 The story begins with a theme song sequence, which Loo wrote the lyrics to himself.
"That was the most thought-out thing I had to do. When you're going to be telling a story set in a TV sitcom, it needs an opening credits sequence. That was where I got to jampack all the ideas that I couldn't use and put them in the character intros. I was studying a lot of theme songs like Family Matters, Growing Pains, Laverne and Shirley, and Friends. I was studying the rhythm patterns. I spent a couple days just writing that out."
The theme song was more than a fun way to open the story, it also served as an interesting way to establish Peter Park's role in his friend group.
"He's at the bottom of the call sheet," Loo said. "When you look back at the opening credits, I made a conscious decision to show it. How many times does Peter Park show up in each shot of the opening credits compared to a lead actor like Anthony Stark, who is in practically all of the shots."
Loo went on to explain the relationship between Peter and his Auntie May.
"Auntie May is the adoptive mother of Peter Park. She runs the diner where all the friends hang out. She's the type of character in any sitcom that is the older person that offers advice to the characters. She's that wise person. I hope I get a chance to revisit these characters to tell of an origin story for Auntie May and Peter Park."
Will Spider-Friend be renewed for another season? According to Loo, that depends on fan reaction.
"I hope people who love him become very vocal about their love for him on social media so we can tell the editors that he needs more stories. Hopefully we can tell more stories in the Spider-Verse via Marvel Unlimited," Loo said. "I can't wait to see how the fans feel about Spider-Friend. I hope it hits the feels for them."
---
Meet Rek-Rap, the bizarro Spider-Man from the Limbo realm.