Five Spider-hero comics to read that aren't about Peter Parker's Spider-Man
Dive into the Spider-Verse with these spider-comics
Spider-Man gets a lot of love. In fact, he's a lot of fans' favorite hero, and he also serves as an entryway into comic books. However, sometimes it's good to look beyond the big. With Spider-Man: Across the Spider-Verse set to debut in June 2023, instead of focusing on the best of the best Peter Parker stories, we here at Popverse wanted to turn the spotlight onto stories about some other spider heroes.
Throughout Spider-Man's 60-year publication history, there have been plenty of spider heroes that have gotten their own ongoing titles, some spinning out of Spider-Man's flagship books, and others not connected to Peter Parker at all. And the exciting part is that a lot of these titles also happen to be great comics.
So, let's not waste any time and swing into the first series: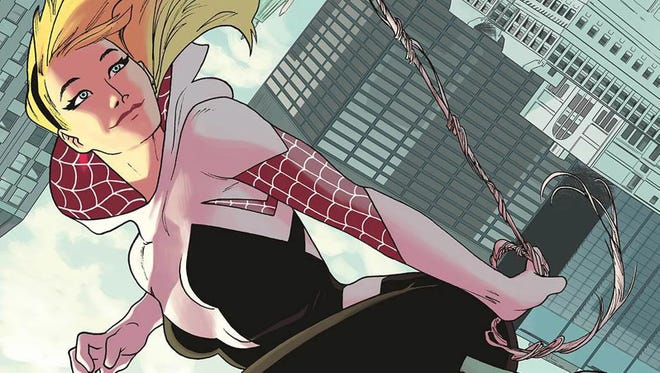 Spider-Gwen became an overnight sensation when her origin story premiered in Jason Latour and Robbi Rodriguez's Edge of Spider-Verse #2, a tie in to one of Dan Slott's biggest Amazing Spider-Man events (they even made an animated movie about it.) Spider-Gwen became such a hit that Marvel quickly green lit her own ongoing book.
The Spider-Gwen series embraced all of the elements that made the original one-shot so unique. It was a music-driven comic book with a cool style that allowed Gwen to finally take the reins on her own narrative.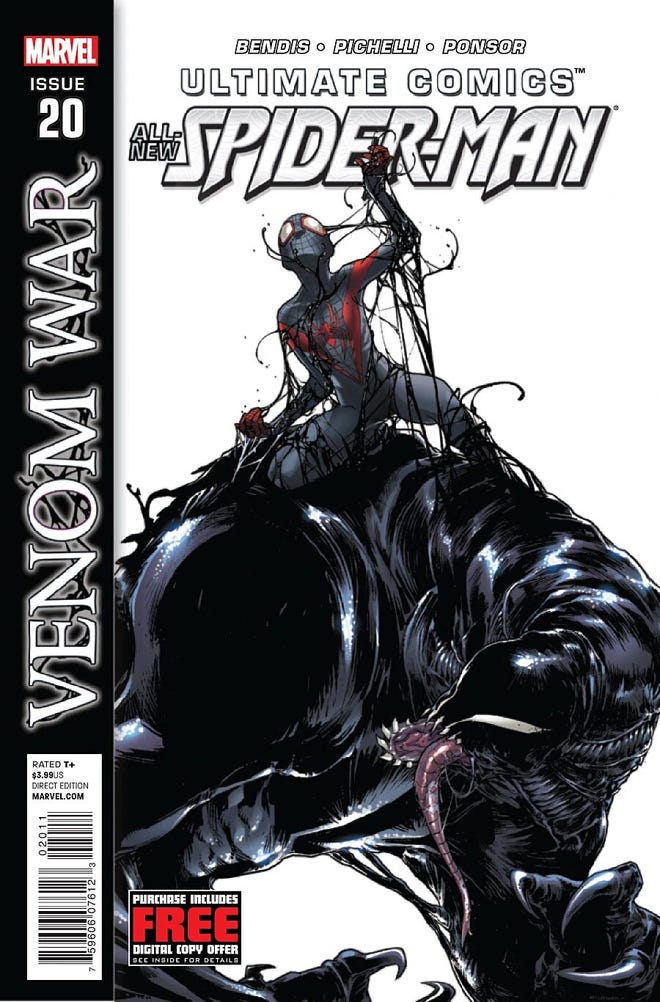 Speaking of alternate universes, following the death of Peter Parker, Marvel's Ultimate universe introduced a new hero to the scene. Miles Morales made his first splash in comics in Ultimate Fallout #4, and quickly spun into his own comic – Ultimate Comics: Spider-Man continued in Miles Morales: The Ultimate Spider-Man.
Throughout Brian Michael Bendis' run in the Ultimate universe, he and his creative partners kept turning the Spider mythos on its head, reinventing Marvel staples like Venom and S.H.E.I.L.D, while creating personal connections with these villains and Miles' supporting cast. This led to some especially fascinating stories with Miles' parents— which led to the type of relationship we never had the chance to see with the likes of Peter Parker. This new chapter of Ultimate Spider-Man really celebrated what made this universe so special with twist and turns on familiar story beats from a whole new perspective.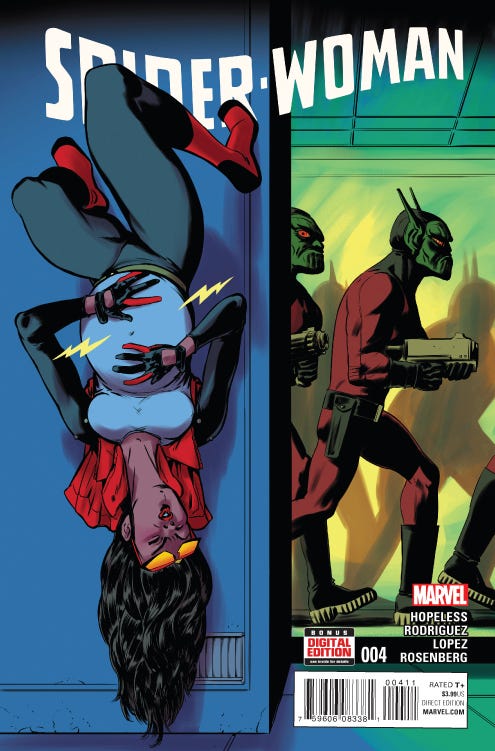 Spider-Woman may have a similar name to Spider-Man, but she's the Spider hero with the least connective tissue to the Spider-Verse. Jessica Drew first found her fame in the 70s and made her valiant return in the early 2000s, becoming a mainstay in the Marvel universe. She's had plenty of ongoing titles throughout the decades, but if I had to recommend only one, Dennis Hopeless and Javier Rodriguez's run has my biggest sign of approval. The book starts with Jessica nine months pregnant - a great way to start a new comic book title.
Unlike Spider-Man, Spider-Woman doesn't have much of a defined supporting cast, but Hopeless and Rodriguez do a great job at building a relationship between Jess and Porcupine (a D-list villain, who found his way towards the light). They also leave the revolving door open for friends like Captain Marvel to join the fun every once in a while.
Honorable mention goes to Karla Pacheco and Pere Perez's most recent run. It's a humorous, action-packed series that expands Spider-Woman's family and builds out that supporting cast even further.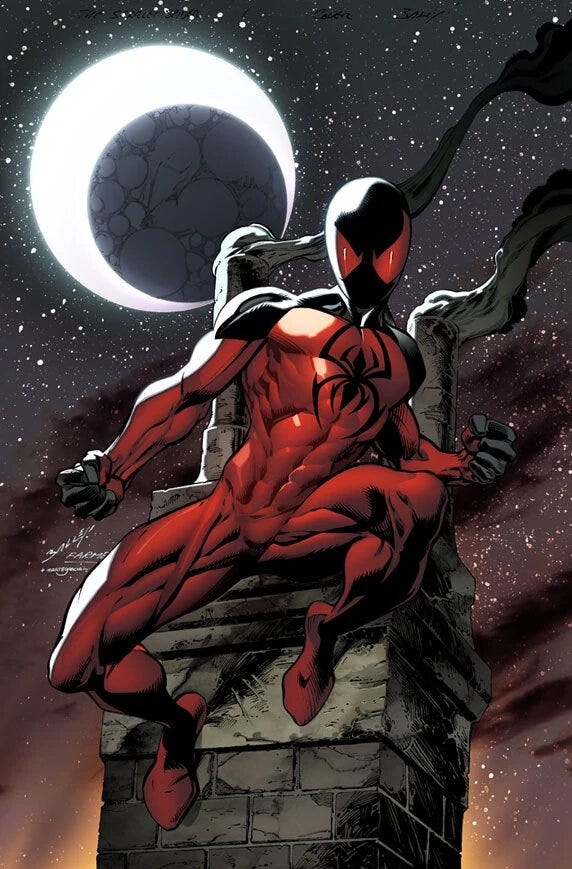 You may be thinking I'm talking about Ben Reilly, but there was actually another Spider-Man clone that took over the mantle of Scarlet Spider for a little while – Kaine. Way before the return of Ben Reilly, Kaine healed from his scars and wanted to create his own spider identity. In 2012, Christopher Yost and Ryan Stegman (pre Venom fame) launched a brand new series spinning out of events of The Amazing Spider-Man's 'Spider-Island.'
Scarlet Spider showcases the hero's journey of a once Spider-Man menace. And unlike 99% of Marvel comics, the series doesn't take place in New York. Instead, Kaine's journey of self-discovery takes him to Houston, Texas where he makes an unlikely friendship with a young girl named Aracely, who would later become Kaine's sidekick – Hummingbird. The Texas setting really helps this book stand apart from any other Spider book on the selves.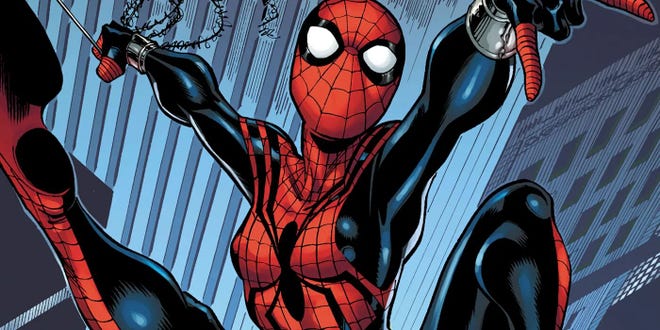 May "Mayday" Parker walked so Miles Morales and Gwen Stacy could run— or um…swing from buildings. Mayday was first introduced in 1998's What If? #105 , a one-shot that explored a world where Mary Jane and Peter's daughter didn't die. The comic was such a success that Tom DeFalco and Ron Frenz created a spin-off that lasted 100 issues, marking it the longest running female hero at Marvel comics.
What made this little-comic-that-could so special is that May truly embraced both qualities from Peter AND Mary Jane. She wasn't driven by trauma to be a hero, she was just raised with a sense of responsibility…Peter Parker is her dad after all. Spider-Girl features adult versions of Mary Jane, Peter Parker, and some of your other favorite Spider characters like Black Cat and Flash Thompson, but Mayday's story is always at the center, as she tries to find her own voice as a hero.
For even more spider fun, Spider-Man: Across the Spider-Verse comes out in theaters June 2, 2023.
---
T'Challa isn't the first - or the last - Black Panther. Meet them all -
Black Panther: a history of the mantle