Spider-Verse: The villains, anti-heroes, and antagonists of Spider-Man: Across the Spider-Verse
The big bads and little bads of Spider-Man: Across the Spider-verse
Miles Morales' latest trip back to the Spider-Verse introduced several new faces into his side of the multiverse. From familiar favorites we've met in the many iterations of Spidey through the years to new characters and anti-heroes we're already falling in love with, how much do we know about the latest additions to the Spider-Verse's impressive roster?
We were recently granted early access to the film's behind-the-scenes book, Spider-Man: Across the Spider-Verse: The Art of the Movie so we know a thing or two.
The Vulture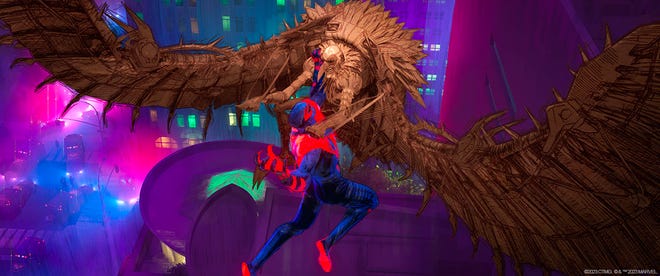 The Vulture is the first villain we meet in this sequel film during a fight sequence with Gwen Stacy in Earth-65. Audiences are already familiar with The Vulture as the main antagonist in 2017's Spider-Man: Homecoming, but this variation of the villain is significantly different from his said live-action counterpart. As pointed out by Gwen during their fight, this Vulture looks like a sketch taken out of a great artist's notebook.
"The main inspiration for the Vulture was, of course, the drawings of Leonardo da Vinci, from his Codex Atlanticus work," Designer Mauro Belfiore shares. "This inspired me to create the look of the Vulture's flying machine, as well as da Vinci's caricature work, which I used as a reference for Vulture's face."
The Spot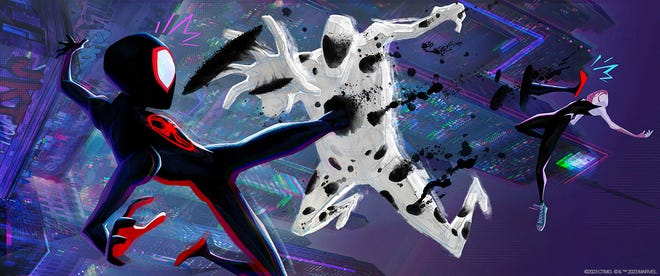 Otherwise known as Dr. Jonathan Ohnn, The Spot can create and open interdimensional portals, which allows him to travel across the multiverse. The film's producers describe him as among the "best villains" and point out that Ohnn was technically also in the first film—as mentioned in the movie, he was in the Super-Collider when Miles blew it up. Describing The Spot as a villain in a league of his own, producer Avi Arad shares, "Visually, he fit perfectly since he was able to manipulate black holes and dark matter, creating an eye-popping feast for the eyes anytime he's on screen." The Spot starts as a clumsy and almost comedic villain before he realizes the extent of his powers and how he can use the holes across his body to go between dimensions.
The team also credits The Spot's success to actor Jason Schwartzman, who voices the character in the film. "He [Jason Shwartzman] improvises a lot of his dialogue and can turn a line into a paragraph of gems to pull from. He not only brought a lot of comedy to the character but also helped us form the nuance of Spot's psyche," editor Mike Andrew says.
Miguel O'Hara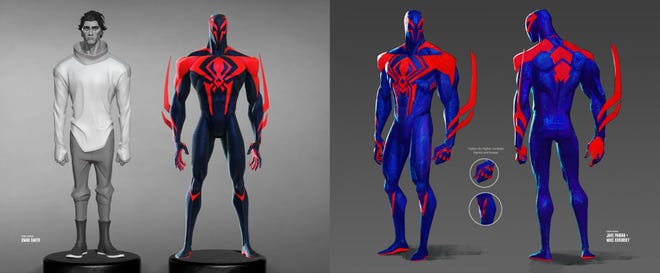 Miguel O'Hara briefly appears in the first film and is among the sequel's major players. Since that quick cameo in the first movie, Miguel has been busy after having elected himself as the leader of an interdimensional Spider Society, where he's put himself in charge of ensuring everyone follows their collective canon. Unlike most of the other Spider-People, Miguel has depth and darkness to him, which according to artist Kristafer Anka, is in line with his vision of making Miguel the "aggressive spider."
"He takes his job, his physicality, and his presence very seriously, and we wanted everything to express that. Miguel is scary when compared to the other Spiders!" Anka adds. This reflects in Miguel's character design.
"The weight of responsibility and duty must be reflected in his eyes and in his attitude, since he is in charge of keeping the multiverse safe from chaos. And, also, he had to have the appearance of an authentic Mesoamerican, which gave him a very special character," Artist Jesús Alonso Iglesias says, agreeing with Anka.
According to the book, Miguel's comic styling challenged them with having to come up with an all-new inking technique that would capture his nuances and complexities. To add to this, they also had to work on an additional crisp and lighter aesthetic in scenes where Miguel is with his daughter.
"It [the scenes with Miguel's daughter] allows us to see a softer side of Miguel—letting our audience know what he's gone through and is missing, and adding more depth to a character we will seemingly be seeing more of," Executive producer Rebecca Karch Tomlinson explains.
Read more about Spider-Man 2099 / Miguel O'Hara here.
LYLA
LYLA is Miguel's close confidante and AI assistant. Her name stands for Lyrate Lifeform Approximation, and she's tasked with working closely with Miguel to track down enemies and even keep his records. Director Kemp Powers describes her as Miguel's "closest" and perhaps "only" friend. For LYLA, visual effects supervisor Mike Lasker notes that the team primarily drew inspiration from existing search engines and other animated characters: "You can describe her [LYLA] as equal parts Cortana [AI character in the Halo games series] and the Great Gazoo [Fred Flinstone's alien buddy]!"
Jessica Drew / Spider-Woman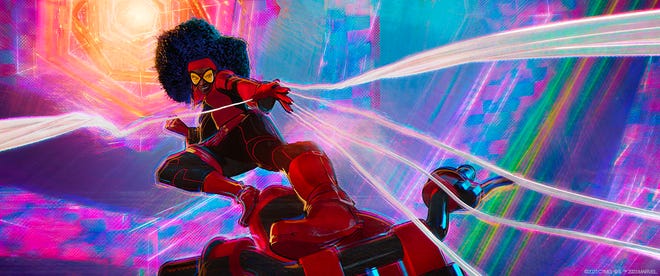 Jessica Drew is an easy fan-favorite from this sequel film and is described by the producers as arguably the strongest and most impressive iteration of the character to date. "This is a very different version of Spider-Woman than I think people are accustomed to," says director Kemp Powers. "She is very noticeably pregnant while she is fighting crime, and she's just a badass. She's one of the only spider people who isn't living a double life."
Jesús Alonso Iglesias, who worked on Jessica's suit, shared how much he enjoyed working on both her and the diverse characters for this sequel film: "I think it is time to widen the range of characters in animation and do it in a correct way, avoiding falling into stereotypes that honestly don't suit anybody anymore. Working on Miguel, Pavitr [Prabhakar], and Jessica, among others, gave me and the rest of the team a chance to do that."
Read more about Spider-Woman/Jessica Drew here.
Miles G. Morales / The Prowler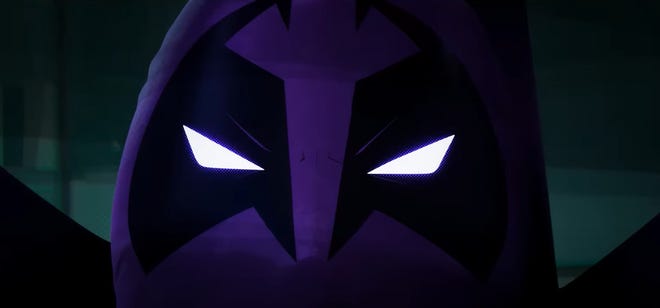 The film's biggest plot twist comes in its final act when Miles is left stuck in Earth-42, where he meets an alternate version of himself the production team internally calls "Miles G. Morales." In this version of Earth, a radioactive spider never bit Miles, so he has no powers and instead takes it upon himself to become the vigilante, otherwise known as The Prowler, with the help of Uncle Aaron.
The Prowler grew up under very different circumstances following the loss of his father. His art style and stoic expressions greatly vary from Earth-1610's Miles, who, for this sequel, was partly based on basketball player Kawhi Leonard: "We studied high school photos of basketball Kawhi Leonard and noticed he had wide shoulders that were already pretty developed. We ended up giving Miles much wider shoulders and made him about a foot or so taller, but he's still skinny—a little more muscular, but he hasn't filled out yet," designer Josh Moshier shares.
Read more about The Prowler / Miles G. Morales here.
---
Get ready for the next film with our guide to Spider-Man: Beyond the Spider-Verse.