Spy × Family's Megan Shipman and Natalie Van Sistine have too much to read, everyone
As revealed at Emerald City Comic Con 2023: Don't mention fantasy romance; it can be a problem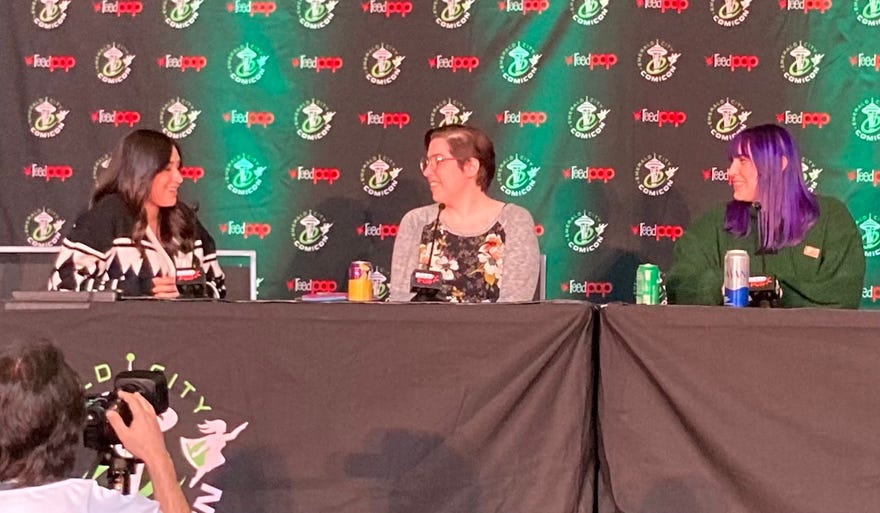 The sound of Seattle got a little bit better Saturday afternoon, when Spy × Family voice actors Megan Shipman (Anya) and Natalie Van Sistine (Yor) took to the Pine Stage at Emerald City Comic Con 2023, for an hour long panel moderated by Popverse's own Veronica Valencia.
"I've gone from never having gone to a convention to this, and it's been a wild ride," Van Sistine tells an excited Pine Stage crowd. "I read the manga when I first auditioned, and I've really fallen in love with the franchise. I feel like I've been a collective hallucination with all of you, and I never want to wake up."
The mention of reading the manga during the audition process prompted a discussion about whether or not anime voice actors tend to read the manga associated with their shows. Shipman admits that she hadn't read the Spy × Family manga until after she got the role — at which point, "I went to the bookstore and got them all," she says — but she did have the best excuse: "I'm kind of picky in what I have because otherwise it's a slippery slope. Everyone [in the audience] laughs, because they know what I mean."
(As someone with an extensive to-read pile just from this convention alone, I certainly do.)
Van Sistine agreed that it's important to be selective about what to focus on, saying that their shared fandom of the Spy × Family manga "is an atypical example" of how things normally work. "If we bought all of the manga for everything we're in, I'd look like a hoarder [and] I'd be deeply in debt," she admits. "Normally, I really don't like reading the manga that I'm in."
Shipman went on to say that her love of reading is, in fact, a pretty expensive, out of control habit — but one that she's not willing to address just yet. "I stopped by one of the booths [at a convention] and the writer was like, 'Do you like fantasy romance?' and I bought all of them. I didn't mean to do that!" she joked. "I buy so many books, and I read them. Don't get me started on light novels! And maybe fan fiction…?" When the crowd let out a collectively knowing chuckle in response to the latter, she stared into the crowd and calming announced, "Don't laugh. You read it too."
Beyond discussing reading habits and their love of working with voice actors they'd previously been fans of — "This is wild, because you grow up listening people and now I get dinner with them! It's like, 'this is just a Tuesday night.'" said Shipman, while Van Sistine added, "It's a dream scenario where some of our favorite people are so kind to work with" — the hour-long panel was filled with advice on getting started as a voice actor, the two actors' own fandoms and series they love (Gundam!), and a surprising admission of what the hardest part of being an anime voice actor can be, at times: matching the energy of the original Japanese voice tracks.
Van Sistine mentioned that a scene where Yor believed that Lloyd was going to break up with her — prompting an anxiety-ridden monologue, because of course — was one of her most challenging scenes to work on so far. "The Japanese voice actress is doing some really hysterical things and I'm sitting there enjoying it and at the same time going, 'I don't know how I'm going to be able to deliver that kind of energy,'" she revealed. "Sometimes, I'm just, 'this is the energy I'm going in with. I'm going to open my mouth and something's going to happen.'"
"They're so phenomenal, they're hilarious," Shipman agrees of the Japanese vocal tracks. "We love those performances and it's so important for us to match that and do it well."
---
Everything Popverse is up to this Emerald City Comic Con.