Star Trek: Another crossover between Lower Decks and Strange New Worlds teased at NYCC 2023
Mike McMahan says the Strange New Worlds/Lower Decks crossover was "so meaningful" to the Lower Decks team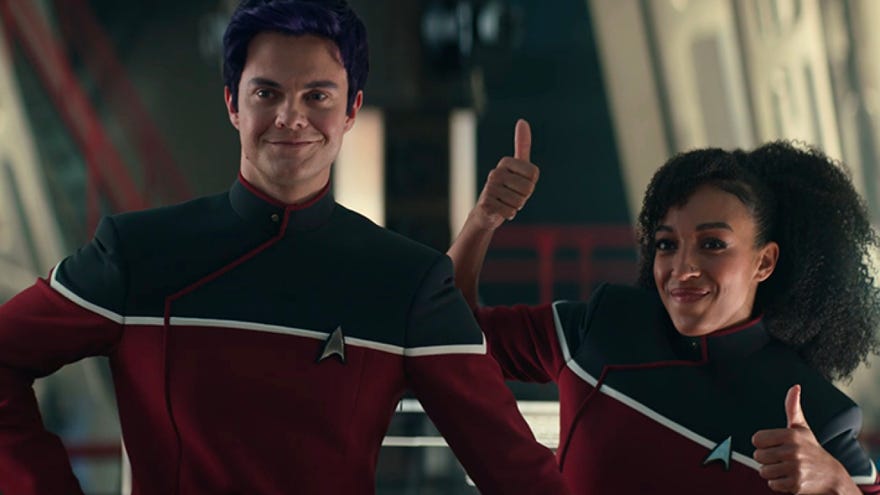 At the Star Trek Universe panel at New York Comic Con 2023, Star Trek: Lower Decks showrunner Mike McMahan and Strange New Worlds showrunner Akiva Goldsman shared behind the scenes stories of their groundbreaking Paramount+ crossover episode, "Those Old Scientists." Asked about whether the crossover had been difficult, Goldsman revealed that the initial idea came unexpectedly out of a tedious bit of Star Trek bureaucracy. Faced with every Star Trek showrunner constantly fighting to use different legacy characters, Star Trek universe overseer Alex Kurtzman forced all of the showrunners to have a monthly Zoom meeting, "where we could explain not only why we should have Wesley Crusher, but why they shouldn't."
But unexpectedly, says Goldsman, "we all kind of decided that we liked each other." And so they started to think about ways they could collaborate.
For a while, Goldsman and his co-showrunner Henry Alonso Myers imagined a crossover that would be entirely animated. But as it turned out, one of Strange New Worlds' writers also wrote on Jack Quaid's live action Prime Video show The Boys, and another knew Lower Decks very well. So they came up instead with the idea of bringing Quaid and Tawny Newsome's Lower Decks characters to the live-action world of Strange New Worlds.
McMahan says getting to be a part of the crossover was a profound experience for him and the Lower Decks team: "To have Tawny and Jack there, to have Mariner with Uhuru, it was so meaningful to us." The planning process also allowed he and members of his team to "look behind the curtain of how they make Strange New Worlds," which he said was "wild."
But then, to his horror, McMahan was unable to come to the set for the actual shoot because of a Covid scare. During the shoot, he said, "It was just photo after photo of Tawny and Jack hanging out with [director Jonathan] Frakes! And having such a good time! It was like they were doing it on purpose!"
"Can we do one more crossover so I can come?" he asked Kurtzman. Kurtzman replied immediately and to huge fan cheers: "Yes. Absolutely."
Does that mean that we should start watching the skies for something being announced soon? After all, the third season of Strange New Worlds and the fifth season of Lower Decks are both currently in the works as we type...!
---
We love Star Trek: Lower Decks a lot. If you don't, we'd like to convince you otherwise.