Star Wars: What happened to Sabine's FIRST mission with Ahsoka to find Ezra Bridger?
Sabine Wren's return in Ahsoka feels like a reprisal of the Star Wars: Rebels finale. But is it?
It was five years ago that we last saw Sabine Wren before her live action debut on Ahsoka, in the series finale of the animated Star Wars: Rebels. After a climactic battle to liberate the planet Lothal from Imperial occupation shortly before the events of the original Star Wars film, the finale skips past the entire trilogy to show us the fates of at least some of our protagonists, including Ahsoka deuteragonist Sabine Wren.
Our Mandalorian soldier turned anti-Imperial graffiti artis Sabinet was left to watch over Lothal after her crewmate Ezra Bridger sacrificed himself to hyperspace. In voiceover, Sabine tells us that the Empire never really returned to Lothal after they fought them back, and her watch over the planet was mostly uneventful… until the day a familiar figure returned.
"As for me, I used to think that Ezra was counting on me to protect Lothal," Sabine tells us in voiceover. "The planet and the people he cared for so much. But one day, I realized there was more to it. There was something else I was meant to do."
"Ezra's out there somewhere," Sabine continued, following Ahsoka from the tower where she had kept watch over Lothal during the war. "And it's time to bring him home."
That was the last line of the series, and the last we heard of Sabine Wren. When early looks at Ahsoka revealed Sabine and Ahsoka's presence together in that very same tower, it felt as if we were picking up right where Rebels had left off. But something was out of place. Their clothing wasn't the same. Sabine's hair was much longer, and colored differently. Could what seemed at first glance like an adaptation of a scene we'd encountered before be something else?
Star Wars: The Search for Ezra, take one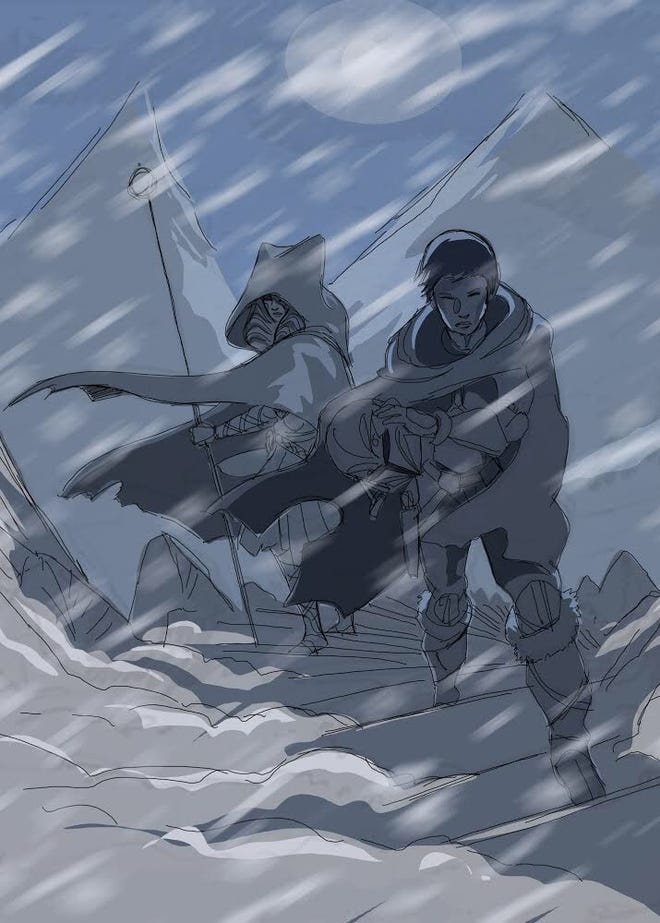 In the first two episodes of Ahsoka, we learn the truth: that these meetings between Sabine and Ahsoka in that same tower on Lothal were two different occasions, years apart. That Sabine had already embarked on her mission with Ahsoka to find Ezra, and it had ended in failure. More than that, Ahsoka had taken Sabine on as her own apprentice, training her to use Ezra's lightsaber as Sabine made her own modifications to it.
In 2019, on the one year anniversary of Star Wars: Rebels' finale, series creator Dave Filoni shared the above sketch of what he imagined Sabine and Ahsoka might have been up to at that moment in time.
"I tried to think of something to sketch for all of you today," Filoni wrote, "but I couldn't come up with something from the past, so I drew a possible future instead. It's always good to check in on old friends, don't you think? No, this is not a new show, just a drawing I did today for you, the greatest fans there are."
To date, this is the only glimpse, and just a possible one at that, of Ahsoka and Sabine's first mission to save Ezra. How that fell apart, and why Ahsoka walked away, is something we still don't know. But Ahsoka's tendency to walk away from a story just before the cameras start to roll has always been the core of her intrigue. If you're wondering what happened, well… that's the same question we had about Ahsoka through Clone Wars. And in Rebels. And now, however improbably, in the show named for Ahsoka herself. Perhaps that's what Sabine's true function as the secondary protagonist here is – to maintain that question of a mystery gap in Ahsoka Tano's timeline which has always defined her allure. We've got a whole season to find out.
---
---
Get ready for everything coming up with our guide to upcoming Star Wars movies & TV shows, or dive into the past with our Star Wars watch order.