Everything we know about Andor Season Two
After an incredible first season, what's coming up on Andor? Here's all the scuttlebutt.
The new Star Wars streaming show Andor took the world by storm last fall, giving off huges Blade Runner vibes as it contemplated life in a universe conrolled by fascism and an inordinate amount of chrome.
The series, which stars Diego Luna as Cassian Andor, has been imagined as a two season show by its creator, Rogue One co-writer Tony Gilroy. Here's the catch-up on season one, and everything we know so far about season two. Spoilers for season 1 ahead.
What happened in Andor season 1?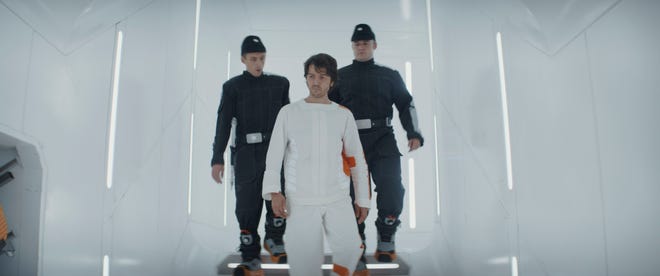 Andor season 1 tells the origin story of Cassian Andor in the early days of the Rebellion. As we meet Andor, he is searching for his long lost sister, and ends up killing someone whose death ends up drawing the attention of idealistic Imperial officer Syril Karn. In the end, Andor only escapes the Empire's grasp with the help of Luthen Rael, a mysterious old man who asks him to help a group of insurgents he has funded to rob an Imperial base.
Over the course of the season, Andor comes into contact with a number of different groups—insurgents, imperials, and prisoners—and slowly confronts the truth that there is no way to avoid facing the Empire.
The show also introduces a number of other characters— Dedra Meero, the ambitious Imperial officer who first discovers the possibility of an organized rebellion going on beneath the surface around the galaxy, and her boss Major Partagaz, who believes in her; Senator Mon Mothma, who is secretly funding Luthen's missions, but is now in danger of being found out; on-again/off-again insurgent couple Vel Sartha and Cinta Kaz; the people of Andor's adopted planet Ferrix, most especially his friends Brasso and Bix Caleen; and Andor's adopted mother Maarva, whose death ends up inspiring the people of Fellix and Andor both to finally rebel.
When is Andor season 2's release date?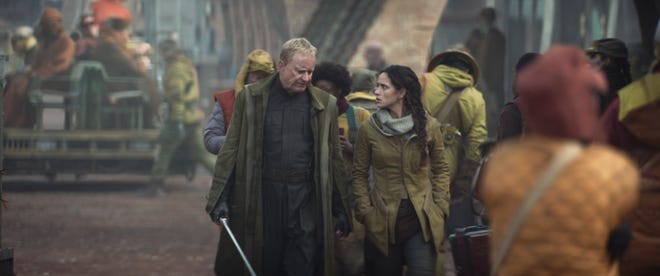 At Star Wars Celebration 2023, showrunner Tony Gilroy announced that the show is currently filming, and that they're hoping for an August 2024 release.
(Yeah, it's more than a year away. *heavy sigh* On the upside, if this season is any indication it's going to be really, really good.)
What is the plot of Andor season 2?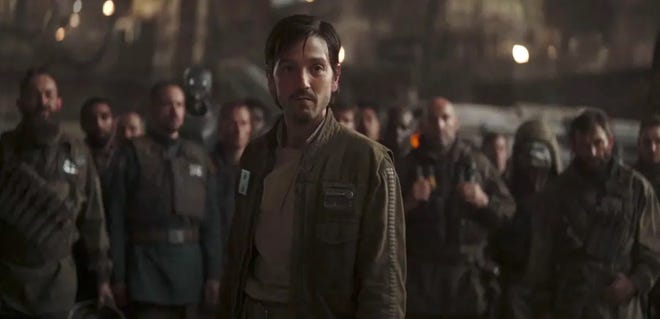 While a lot of the details on Andor season 2 are unkonwn, we do know a couple really significant things. First, the season starts one year after the events of season one, with Cassian now firmly established as a rebel terrorist. The 12-episode season will cover four years of time, with each block of three episodes covering one year. As a whole, the season will tell the story of how Andor learns to lead and gain the trust of his comrades, while Mothma and Luthen try to get factions that are otherwise deeply opposed to trust and work together.
Part of the story, Gilroy says, is about the effects of time upon the Rebels. "What does time do to these people?," Gilroy asked Rolling Stone. "People grow up, and people get tired, and people betray each other, and people change their minds, and people get weak, and people get crazy."
Gilroy has also promised that where Andor season one was mostly focused on human characters, season two would definitely bring the aliens. Also, one of the settings will be Yavin 4, later the home of the Rebellion when Luke gets there!
Who is in the Andor season 2 cast?
While casting has not been officially announced yet, it seems reasonable to expect Stellan Skarsgård (Luthen Rael), Genevieve O'Reilly (Mon Mothma), Denise Gough (Dedra Meero), Kyle Soller (Syril Karn), Faye Marsay (Vel Sartha), Varada Sethu (Cinta Kaz), Ben Miles (Tay Kolma), Anton Lesser (Major Partagaz), Adria Arjona (Bix Caleen), and Joplin Sibtain (Brasso) will all rejoin series lead Diego Luna for season two.
Will we see Rogue One's Jyn Erso?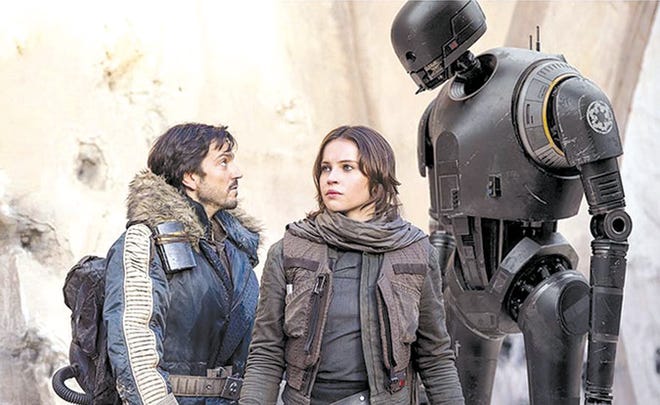 It seems unlikely that Felicity Jones will appear again, as Jyn Erso doesn't join the Rebellion until that film. But we do know that her protector, Forest Whitaker's violent resistance fighter Saw Gerrera, will appear. So at some point will reprogrammed Imperial droid K-2S0, voiced by Alan Tudyk, as he and Andor are the firmest of friends by the time Rogue One begins.
Other members of the Rogue One team may appear as well. In fact Duncan Pow, who plays Andor's Rogue One teammate Ruescott Melshi, has already been introduced into the series as the prisoner who ends up with Andor after the Narkina 5 prison breakout.
Is there an Andor season 2 trailer?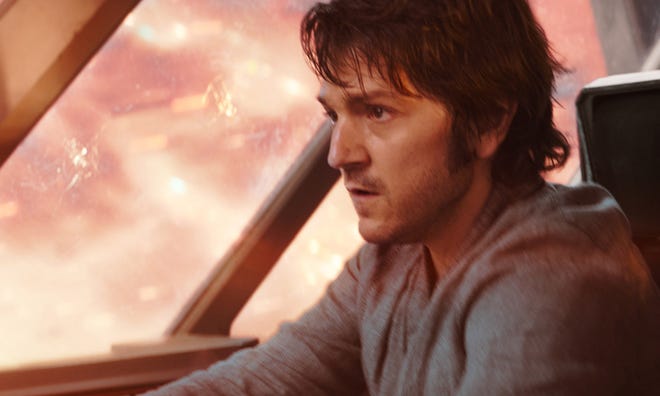 Nope, and probably not for a long while, although Star Wars Celebration Europe is April 7-11th, 2023, so who knows!
Where does Andor season 2 take place in the Star Wars timeline?
Andor season two begins four years before the events of Rogue One. Given the fact that the season is meant to cover four years of time, it could very well be that the series ends near or with Andor's first scene in Rogue One.
Who are the Andor season 2 writers and directors?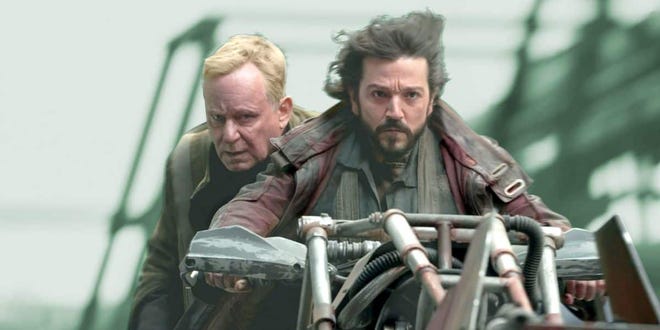 Showrunner Tony Gilroy will be joined once again by his brother Dan and Beau Willimon to write season two. The season will also bring on Tom Bissell (The Mosquito Coast).
In terms of directors, season two boasts a whole new group, including Janus Metz (True Detective), Alonso Ruizpalacios (Outer Range), and Ariel Kleiman (Yellowjackets), with Kleiman directing the first and final three, in other words, the first and fourth year of the series, and the other two directing their own three block year in the middle.
How many episodes will there be in Andor season 2?
Like season one, season two of Andor will consist of twelve episodes.
Is there an Andor season 2 poster?
Not yet.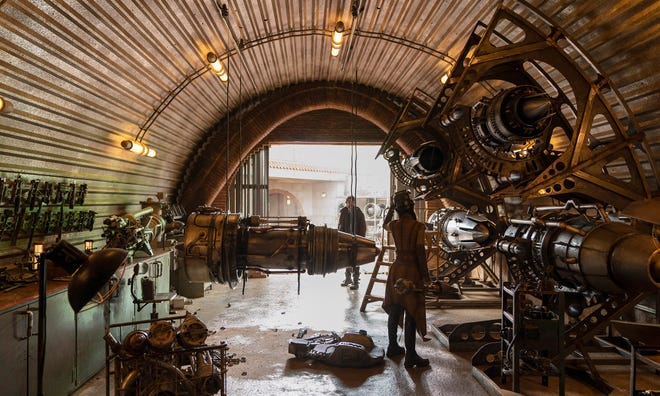 Where can I watch Andor?
The darkest part of a long time ago in a galaxy far far away can only be seen on Disney+.
---
All the new and upcoming Star Wars movies and TV shows on the horizon