Star Wars Celebration Mandalorian: A Conversation with Pedro Pascal, Jon Favreau, Grogu, more - Live Coverage
Popverse brings you live coverage from Mando+ at Star Wars Celebration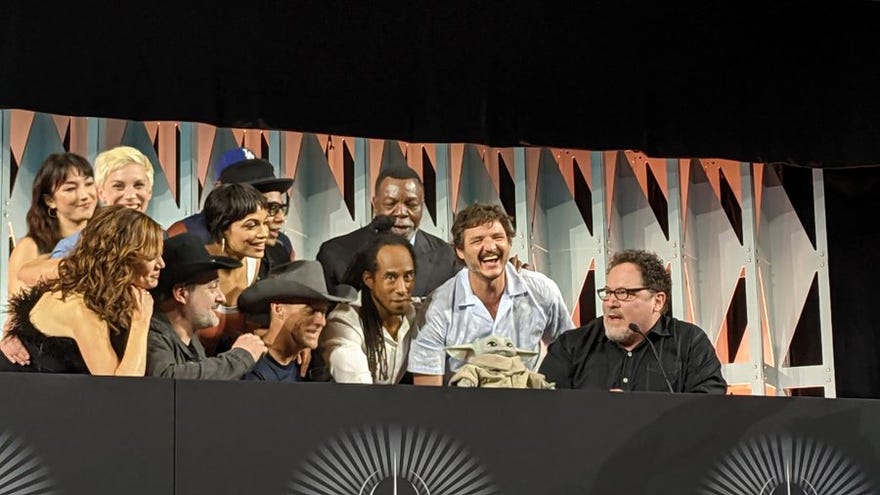 The Popverse team has taken the halls of Star Wars Celebration by storm, and we're having a really awesome time running around the convention floor, attending panels, and checking out (and sharing) all the amazing experiences that Celebration has to offer.
Join us as we sit in at the Celebration stage for the much-anticipated panel about the Mandalorian, featuring Jon Favreau AND Dave Filoni. We're pretty sure that with these heavy hitters, we'll get an announcement or two, so make sure to stay tuned as we bring you live coverage on this page.
The official panel description from the Star Wars Celebration website reads, "In their first appearance at Star Wars Celebration since the premiere of The Mandalorian, join Jon Favreau and Dave Filoni with special guests for a lookback and a look ahead at what's to come."
Popverse will be liveblogging the entire panel as it happens, so keep an eye on this page to follow along with what's happening with Mando+ or come back later to this page to read a moment-by-moment breakdown of all of the best bits of the panel.
---
If you want to follow along with Popverse as we romp around Star Wars Celebration and share the coolest stuff, check out the roundup of our Star Wars Celebration 2022 coverage.
Our live coverage of this event has finished.
Popverse is in our seats and excited for this Mandalorian panel!
We are up front and center (and while we won't be able to post any video from the panel :(, we WILL be telling you what is going on and what we're gonna see!)
They're playing Weird Al's The Saga Begins!
A surprising amount of people know all of the lyrics- impressive!
Panel is beginning to a mashup of some very recognizable Göransson music...
Execultive Producers John Faverau and Dave Filoni are in the house!!!
People are standing and cheering!!!
"To me it's been a dream come true. I've always loved Star Wars. I grew up watching Star Wars... I wanted to really pare it down to a few characters... so we had something to grow." Favreau says in response to a question about what it feels like to have launched the new Star Wars world of television.
Filoni adds, "Star Wars TV, I'm all for it all day long."
"I was just glad it was in the first episode," Filoni says about keeping the secret of the appearance of The Child/Grogu in the time coming up to The Mandalorina's premiere.
About the future of Star Wars television, Filoni says "More!"
"I think that those chaptered stories are very fun to write and very fun to explore what those characters can do, and there's this adventure spirit to writing them," Filoni says about the freedom of telling Star Wars stories in a serialized form of television.
Pedro Pascal is on the stage!!! The crowd is going WILD.
(He is wearing glasses and a white button up shirt, for those who are wondering)
About Djin being separated from lil Grogu, Pedro Pascal responds, "It's very hard to be separated. It's the closest I've ever come to being a dad."
Pedro Pascal introduces Brendan Wayne and Lateef Crowder, the two stunt doubles for Mando to the stage.
"Everybody is so generous... it's just fun. We could play cowboys in space!" Wayne shares about his experience.
Crowder and Pedro Pascal had worked together on two projects before, including Kingsman!
"I learned so much from the two of them... basically how to share skin with them," Pedro Pascal shares about Crowder and Wayne
Crowder shares a story about training Pascal on Kingsman, when they were training, and Pascal turned to him and asked, "You know what? You want to just get a burger for lunch?"
"They're some of the most talented people I've ever worked with," Crowder shares.
"It's always been apparent to me the responsibility we had in creating The Mandalorian... because you [the fans] all matter to us... I think about it every day when I'm on set," Wayne shares.
GIANCARLO ESPOSITO is here as WELL AS CARL WEATHERSSS!!
"I want the child" Esposito shared, "I want the child within me to come back through the child within Grogu. And that child has been reunited with the big boy here through the experience of this show."
"I make up a backstory for myself and sometimes it doesn't quite coincide with what the backstory really is..." Esposito shares about his approach.
Giancarlo Esposito shares a moment when Jon Favreau told him that he "trusted him" in his performance, and how that moment uplifted him and elevated him and changed him as an actor.
Emily Swallow, shares a story about how a fan asked if she had ad-libbed the line "This is the way," and she wondered how far that rumor would go if she had let it run.
"This is why I love getting to inhabit her space. She's so good for me because she is so grounded, she is so patient, she is so wise," Swallow shares about her character, the armorer.
Swallow shares about her experience filming episode 3, how her character stopped a fight by reminding everybody that the Mandalorian had "taken the same vows everyone had, that he was one of them. He had made the same sacrifices." And how the armorer reminds us about the importance of community.
Carl Weathers, "Are you at a playoff game? What is this with all these people? This is phenomenal," Weathers says to the crowd.
Carl Weathers has the most incredible voice!!
"I owe at least 90% of what you see on the screen to Jon Favreau, because... if Jon hadn't invited me into this, I wouldn't be sitting here right now," Weathers shares. "His support along the way with Dave's and more recently in the last season with Ricks, has just been phenomenal," Weathers shares.
"I can run faster than you," Weathers says as he hints at a "spoiler" to Dave Filoni before announcing The Mandalorian will be back for season 3. "You got me," Filoni laughs.
"It's a wonderful sandbox to play in," Weathers says about directing on The Mandalorian.
Temuera Morrison has joined the panel to a LOT of cheers!
Morrison is dancing! Beautifully!!!
He bows to Esposite before reutnring to his seat and giving Carl Weathers a high ten!
Energy is up in the room!!
"Just thought I'd wake everybody up," Morrison shares.
"We have a lot of crew and people behind the scenes out here with us," Morrison points out. "I want to acknowledge everyone from our crew."
"Yeah we got some lyrics for the last episode," Filoni confirms about the changed Göransson theme in the last epsiode of The Book of Boba Fett.
"He's so creative, he's so prolific," Filoni says about Göransson. "He has so many different aspects, so when he first pitched the Boba Fett theme, there were lyrics which we saved for the last episode."
Two more people are coming out-- Katee Sackoff and Rick Famuyiwa (now joining as Executive Producer on season 3)
"For some reason, Jon saw my film Dope and said 'That's Star Wars material," Famuyiwa jokes. But on a more serious note, he shares that "I remember waiting in line for [Star Wars] with no idea what I was going to see. But the moment I first saw the opening crawl and that Star Destroyer going across the screen, my life was changed."
Famuyiwa says "no," he cannot say anything about the themes of the next season. Fabreau responds, "Good job."
"We're almost through," says a hilariously stressed Filoni as another question about the next season is asked.
"The fact that you love her, flaws and all, means the world," Sackoff shares.
It looks like we're going to get to see the footage shared at the Lucasfilm panel on Thursday (including Sackoff)
The footage shows the Mandalorian being rejected as a Mandalorian by the armorer and deciding that he's going to go back to Mandalore. We see Katie Sackoff, Carl Weathers, Grogu, and lots of other small creatures as well!
Apparently... this was DEFINITELY longer than the footage shown on Thursday.
"That's the plus in the Mandalorian+," Filoni jokes.
"Really well. I'm very happy. Because nobody knows anything about that or where it could possibly be filmed," Filoni responds when asked about Ahsoka.
"Really well. I'm very happy. Because nobody knows anything about that or where it could possibly be filmed," Filoni responds when asked about Ahsoka.
Rosario Dawson is here today, now joining the panel.
She has a short haircut and is wearing a white and orange dress (For those interested)
"Luckily we don't shoot on Saturdays," Dawson shares, as the reason why she is able to join the panel today. "Last night was the end of our third week."
"When they had called me about this, they had drawn... more images of me as this character," Dawson shares after a story about how a fancast image got her notice and later on the creators' notices as well.
Chopper (aka C1-10P) has joined the panel!!
"You need to get back to set buddy," Filoni says to Chopper who is zooming about the stage. "You have a lot of work to do."
C1-10P has left the building.
They're about to share an image (which we unfortuantely, cannot share with you) . It's a "real early" teaser
The Ahsoka teaser shows Hera and Sabine
Natasha Liu Bordizzo who plays Sabine has joined the panel
Natasha Liu Bordizzo on working on set says, "So much I could say," Filoni interrupts, "Not that much!" Lio Bordizzo shares, "I feel like I've been adopted into a new family. I feel like that with everyone I work with but also the fans... I have never experienced anything like this... I know how much Sabine means to a lot of people in this room, and watching Rebels, she's come to mean a hell of a lot to me too... I think you guys are going to be really excited about the journey she's about to have."
There's one more character that might be able to make it. GROGU is here!!!
He is taking a look around the whole room, and now he's sitting down at the table in between Jon and Dave.
"Now our new show My Three Dads," Pedro jokes, as the cast and creators crowd around for a photo opp with the adorable Grogu.
You've gotta see it to believe it (we'll have the photo up in a mo-- we live by the whims of wifi)
They play the Mandalorian footage one last time to close out the panel.
Thank you for following along with our live coverage! Popverse will be covering Celebration all weekend, check out
our roundup of news