Star Wars Celebration Attack of the Clones 20th Anniversary Celebration - Live Coverage!
Popverse brings you live coverage from the Attack of the Clones 20th Anniversary Celebration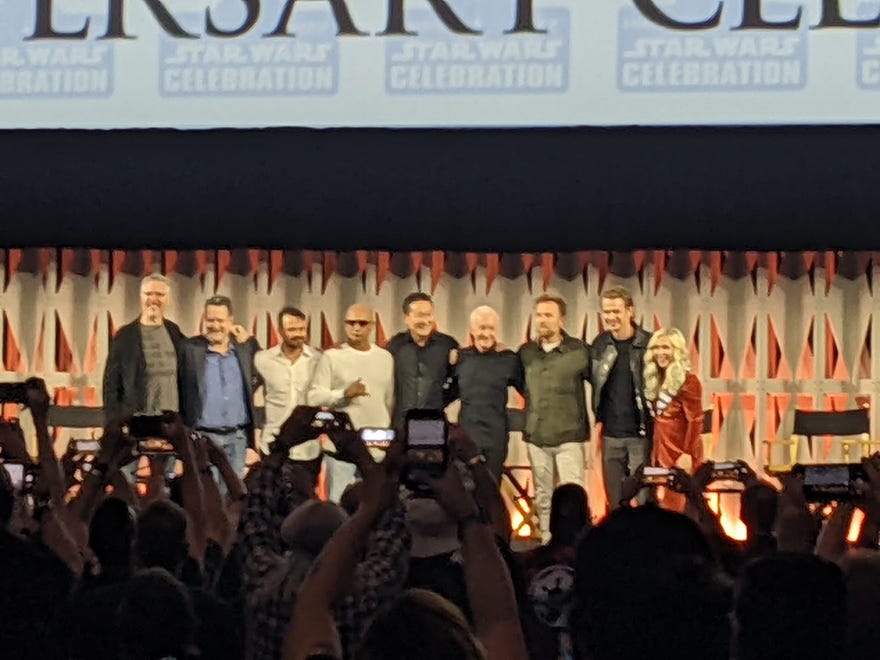 The Popverse team has made its way to Star Wars Celebration, and we're having an incredible time roaming the convention floor, peeking into panels, and checking out all the amazing experiences that Celebration has to offer.
Join us as we sit in on one of the most exciting panels of the weekend-- the 20th anniversary celebration of Attack of the Clones! We're sure to hear all about the making of the classic and hopefully get to see some familiar Jedi-faces.
The official panel description from the Star Wars Celebration website reads, "The shroud of the dark side has fallen! Join us as we celebrate the 20th anniversary of Star Wars: Attack of the Clones, the movie that not only introduced a lightsaber-wielding Yoda, a coming-of-age Anakin Skywalker, and clones, it also ushered in a new era of digital cinema, which two decades later has become an industry standard. Special guests and behind-the-scenes content will be revealed in this can't-miss commemoration of the 2002 epic. "
Popverse will be liveblogging throughout the entire panel as it happens, so keep an eye on this page to follow along with what's happening at the 20th anniversary celebration of Attack of the Clones, or come back later to this page to read a moment-by-moment breakdown of all of the best bits of the panel.
---
If you want to follow along with Popverse as we run around Star Wars Celebration and share the coolest stuff, check out the roundup of our Star Wars Celebration 2022 coverage.
Our live coverage of this event has finished.
We are in our seats! Can't wait to start!!
Ashley Eckstein has just hopped on the stage as the panel's host!
The anniversary celebration starts off with a short dramatic trailer showing favorite familiar faces like Padme and Mace Windu!
Now we're moving into a video from George Lucas, which was special to him because it was "The first film ever shot digitally... and now everyone is doing it digitally."
Anthony Daniels is walking on the stage, looking delighted to be here. Fans have their lightsabers in the air.
Daniel Logan and Temuara Morrison have also joined the panl
When talking about the evolution of performing C3P0 Antony Daniels says, "If you come to my show tomorrow in the other theatre, you will hear all about it... it's very complicated."
"I went to wardrobe, and they said they didn't have any costumes left. It was a soldier, and they went to a lot of effort, it was a little tight arouond the neck," Daniels continues about showing his face in Star Wars for the first time.
"We went backwards in time, to make it more elegant," Doug Chiang, designer recalls.
Chiang says, in response to a question about analog tools, "When I started working with George, I wanted to go old school. So I deliberately put aside all the digital tools." For the first year, he went back to pencil and paper.
The "Like a Bantha" dance HAS happened onstage. Just letting y'all know.
"He wanted to create the idea that Jango Fett, his armor became the evolution of the Stormtroopers," Chiang mentions about the shifting of the t-visor shape and the downward mouth of the troopers over the films.
Ashley has asked for Clone Trooper cosplayers to stand up and show off their costumes!
Temuera Morrison talks about how he saw some clips of himself that he thought weren't quite close enough, and he decided not to mention it to George Lucas... Only to, later on, have to fly all the way from New Zealand to film that very same close up he had wondered about.
Temuera Morrison, jokes about filming, "I did have hair back then... I really was enjoying the movie until that Mace Windu guy showed up."
"I'm sure they said ACTION, but I'm just standing here looking like an idiot," Temuera Morrison shares about filming while wearing his helmet.
Temuera Morrison talks about how he would think about what Clint Eastwood would do. "Clint Eastwood would do nothing."
Daniel Logan remembers his time on the set, "It was an amazing time."
Ashley takes a moment to remember Jeremy Bullock, who passed away in 2020. Morrison honors him with some of his own memories of the great actor, and ends with the Maori saying, "Sleep the long sleep... God bless you, Jeremy. He's with us today, with us in spirit. "
Daniel Logan jokes, when asked a question, "Daniel Logan's boring, we see who the better clone is!"
Daniel Logan on meeting Temuera Morrison. "The thing that most people don't realize is that there isn't many other New Zealanders, especially of Maori descent who has achieved what Tameura has done. . When I met him, I had no idea who Ewan McGregor was or George Lucas was.. I wanted to meet Temuera Morrison."
"It was the greatest scene in Attack of the Clones!... now I'm the baddest bounty hunter in the galaxy! Peace out Jango!!" Daniel Logan responds when asked about how he prepared for the very emotional moment of picking up Jango's helmet.
"I didn't know he had his head chopped off!" Daniel shared about the sad scene. At the premiere, "I'm the only one who went 'Yes!!' Not knowing what George had done. 'I'm gonna be in Episode III! Hit the jackpot!'"
John Knoll (production visual effects supervisor on Clones) shares about shooting Attack of the Clones in digital, "I was pretty enthusiastic about the whole idea of switching to digital for shooting... one of the things we discovered was that we could see things more clearly even though technically it was lower resolution."
Knoll's background was in practical effects, so "I'll always jump at the chance to build minatures and put them in the work."
"I had to have crews running day and night to be able to shoot all the elements of this," Knoll continues about the complexity of the film.
Matthew Wood (supervising sound editor) "A lot of the crazy ideas we had for shooting video or using audio [Lucas] would back financially"
"We had crazy things like, in the speeder chase, we had the sonic charges, the BRANG, the big sound there. That was just born out of-- we were trying to find a sound for the initial explosion," Knoll says about the big swings they were allowed to take in the films.
Wood and Knoll talk about how sound "makes the picture better," and how picture can chagne the way the sound works.
Apparently the sounds of fruit bats and mating penguins were used in making the some of the sounds in the film!
Ewan McGregor and Hayden Christiansen have arrived!!
"It's just a distant memory now," McGregor says about filming the scene with all the water coming down with Temuera, "I don't really remember much about it."
"Star Wars took in bulldozers to take our [Moulin Rouge] sets down so they could get to work," Ewan McGregor rememebers.
"I mainly remember our scene in the doorway," Ewan says to Daniel. "When I come to their door, the first time I meet you. George wanted you took look somewhat suspicious of me. You were only wee." Daniel was 13. "I just lent down to him, and I said, 'When I open the door, act like I've done a terrible fart. Just try it... it totally worked.'"
"People said that I brought the mullet back, you know. I don't think it ever left," McGregor says, when a promotional picture is shown on the big screen.
When asked about the on-screen relationship between Obi-Wan and Anakin, Christiansen shares, "For me, the master apprentice aspect, I really looked up to you, and that, I think lent itself to the work. And Eqan was so gracious with me and really took me under his wing."
"You have to have a level of trust," McGregor adds, speaking about the trust needed in the fight scenes.
Christiansen, "For me, getting to work with George Lucas and follow his lead and bring this character to life was easily the biggest honor in my professional career... I've always felt a little indebted to him. '
"We still want more stories told in this world because we love it." McGregor says. "When you got George to laugh, he could REALLY go."
Anthony Daniels shares a favorite moment on set, when Ewan McGregor told him, "'I can't believe I'm in a scene with C3-P0,' and I was thinking, 'I can't believe I'm in a scene with you.'"
Daniels also shared about when he would appear on set in his C3P0 suit, and George Lucas would see him and say "Now Star Wars has arrived."
Anthony Daniels gets a standing ovation from the crowd, for being there since the beginning of Star Wars.
Thank you so much for following along with Popverse's coverage of the Attack of the Clones 20th Anniversary. If you'd like to follow along with the rest of our coverage, check out
our coverage roundup.