Star Wars Celebration From a Galaxy Far, Far Away to a Disney Park Near You - Live Coverage
Popverse brings you live coverage from the Disney Park panel at Star Wars Celebration 2022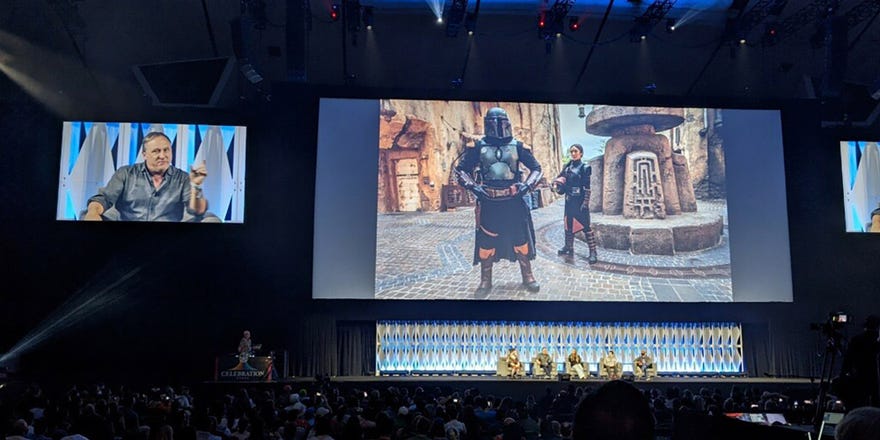 The Popverse team has taken the halls of Star Wars Celebration by storm, and we're having a really awesome time running around the convention floor, attending panels, and checking out (and sharing) all the amazing experiences that Celebration has to offer.
Join us as we sit in on a panel all about Disney Parks and the history of those awesome Star Wars experiences that we all love. Make sure to stay tuned as we bring you live coverage on this page.
The official panel description from the Star Wars Celebration website reads, "A chronological journey through Star Wars experiences at Disney Parks around the world, starting with the earliest collaborations between Disney and Lucasfilm, Captain EO and Star Tours, leading all the way through to the newest immersive experiences, Star Wars: Galaxy's Edge (Walt Disney World and Disneyland resorts), Star Wars: Galactic Starcruiser (Walt Disney World Resort) and Star Wars: Hyperspace Lounge (Disney Cruise Line), featuring some of the key team members from Walt Disney Imagineering and Lucasfilm."
Popverse will be liveblogging the entire panel as it happens, so keep an eye on this page to follow along with what's happening at To a Disney Park Near You live, or come back later to this page to read a moment-by-moment breakdown of all of the best bits of the panel.
---
If you want to follow along with Popverse as we romp around Star Wars Celebration and share the coolest stuff, check out the roundup of our Star Wars Celebration 2022 coverage.
Our live coverage of this event has finished.
We are seated at the panel now! Can't wait to see what exciting reveals they have for us today!
Our host Amy Radcliffe has just stepped onto the stage!
The panel makes up of Scott Trowbridge (Walt Disney Imagineering), Tony Baxter (Retired Walt Disney Imagineering), Matt Martin (Lucasfilm), Ann Morrow Johnson (Walk Dinsey Imagineering) and Asa Kalama (Walt Disney Imagineering).
"We actually did a lot of the storytelling albums for Lucasfilm," Tony Baxter shares about the beginning of the relationship between Disney and Lucasfilm.
Tony Baxter shares about pitching Star Tours and Splash Mountain, which would take at least three years to launch. Hearing this Michael Eisner mentioned getting together Francis Ford Coppola, George Lucas, and... Michael Jackson to put together a movie (which wouldn't take three tears to get together).
"Everyone was there," Baxter recalls the launch of Star Tours, "If you look carefully at that picture, you can see the notes on the stage"-- for Michael Eisner who struggled to remember the names of the droids.
Scott Trowbridge talks about the new updates to Star Tours, especially the fun of having a Rebel Spy (there are many rebel spies in the aduience, according to hands raised)
"I think we could do some more," Matt Martin mentions when it comes to updating Star Tours even more.
"One of the great things about this format is Star Wars storytelling is continuing to grow and expand, and Star Tours can expand with it," Trowbridge says.
Star Tours is turning 35, so Tony Baxter is heading to that celebration panel! But there's plenty other stuff to chat about.
Matt Martin shares about Star Wars Weekends and bringing fans together to celebrate the franchise the way that everybody wanted to.
On the newest cruise ship the Disney Wish, there will be a new place called Star Wars: Cargo Bay which will focus on the cute critters in the Star Wars universe, Trowbridge shares
On the newest cruise ship the Disney Wish, there will be a new place called Star Wars: Cargo Bay which will focus on the cute critters in the Star Wars universe, Trowbridge shares
Yes, there will be Porgs!
There will also be a Hyperspace Lounge. Through porthole windows, you'll be able to see "long vistas of some of our favorite Star Wars planets."
About Galaxy's edge, Trowbridge shares, "I think the core idea behind this is not to just remember somebody's Star Wars, but to give everyone an opportunity to live our own Star Wars."
Asa Kalama shares his excitement about designing Star Wars buildings and ships-- "We make these incredible fascilities-- but spaceships! How cool of a job is that?"
"We don't get to edit. Our edits are made with jackhammers and bulldozers," Trowbridge shares about the process of building these experiences.
"We probably went through 30, 40 different test recipies before settling with the ones we went with," Trowbridge shares about developing blue and green milk
Asa Kalama shares that one of the most difficult talks they had waas to bring the Millenium Falcon to life, into an "Actual, engineered thing."
Scott Trowbridge announces an upcoming new playlist from DJ R-3X, so keep an eye out for some new galactic music!
Matt Martin shares about how exciting it has been to make stories about characters from the parks experiences.
Some new stories coming up!
Soon, visitors to Disney Parks will be able to use wrist bands to join the Batuu Bounty Hunters Guild!!! from Asa Kalama
There is a new PhotoPass AR lens that will allow you to become different Star Wars species! This is available at Snapchat until July 7th and in the MyDisneyExperience App permanently..
Ann Morrow Johnson shares about the Star Wars Galactic Starcruiser, which is sort of like a cruise model experience, but "It's Star Wars, so not everything is going to plan."
(On that mix that's going to be released soon, expect some music from galactic superstar Gaya too!)
If you can't make it to the Halcyon cruise, you can check it out in the new animated Lego Star Wars Summer Vacation!
There will be a contest with the publishers of Star Wars The Princess and the Scoundrel (which features the Halycyon) for a chance to have your honeymoon on the Halcyon. Check out the details at the link below. Contest dates: May 27-August 19, 2022. www.readstarwars.com/honeymooncontest
NEWS: Starting tomorrow, Boba Fett and Fennec Shand will make their appearances as characters at Disney Parks!
And soon, the Mandalorian will make his appearance too!
Thanks so much for following along with our live coverage of this Disney Parks panel. Check out
our Celebration roundup
if you want to see what else we've been doing.