Legendary Star Wars composer John Williams returns to conduct surprise orchestra performance at Star Wars Celebration
John Williams conducts full orchestra playing classic Star Wars music on Celebration Stage during Lucasfilm showcase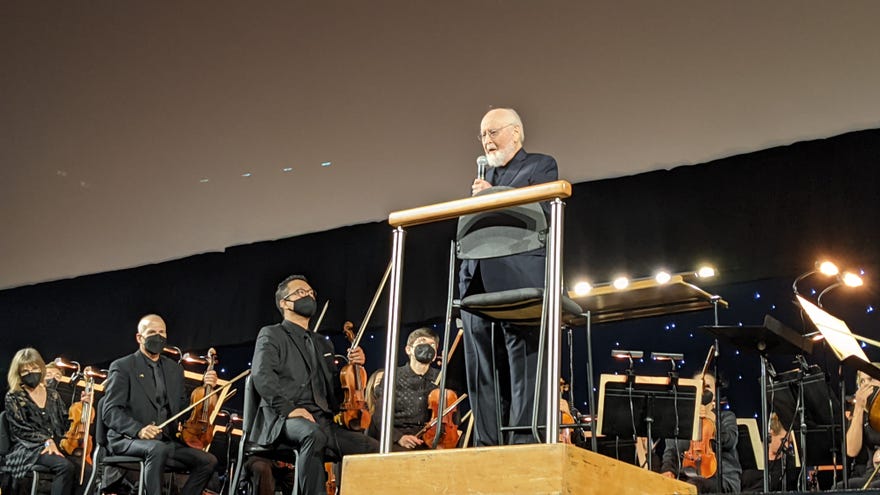 During the Lucasfilm Showcase panel of Star Wars Celebration 2022, Star Wars fans were treated with the major surprise-- a full orchestra performance (from the Pacific Symphony Orchestra) of the as-of-yet unreleased Obi-Wan Kenobi theme from the upcoming Disney+ show, conducted by the maestro himself— John Williams. Williams also played the Indiana Jones theme, which was followed by Harrison Ford coming out on stage and chatting a bit about the upcoming Indiana Jones movie (releasing June 30, 2023) the orchestra also played the Imperial March!
John Williams is the most well-known Star Wars composer, writing the iconic scores of all nine films in the Skywalker saga (which includes the original Star Wars trilogy, the prequel trilogy, and the sequel trilogy). Williams is also known for scoring blockbusters including E.T. the Extra-Terrestrial, Jaws, and Jurassic Park.
This surprise concert comes at the perfect time, as Disney+'s Obi-Wan Kenobi premieres this weekend, with a theme composed by John Williams, who, according to Obi-Wan composer Natalie Holt (Loki), was interested in the project because Williams had never written a theme for Obi-Wan for the Skywalker saga films.
Here's a little info pulled from the Pacific Symphony Orchestra's website: "The Pacific Symphony is a symphony orchestra located in Orange County, California. The orchestra performs at the Renée and Henry Segerstrom Concert Hall as a part of the Segerstrom Center for the Arts in Costa Mesa, California."
---
If you're interested in reading the rest of Popverse's coverage of Star Wars Celebration, check out our roundup here.